Tingkat Kapabilitas Tata Kelola TI Pusat Teknologi Informasi dan Komunikasi Universitas Sam Ratulangi
Wella Wella

Universitas Multimedia Nusantara

Anasthasia Tampi

Universitas Multimedia Nusantara
Abstract
This study discusses the state of IT governance in colleges that are outside Java, Indonesia, Universitas Sam Ratulangi. This study also aimed to provide recommendations for improvement that IT governance in the region there are more improved. COBIT 5.0 be used to measuring the level of IT governance capability. Within this framework, there is measurement tool called Capability Level, which is a model capability that can help process of defining and understanding the processes of an organization. 7 of 37 Enabler Goals / Processes owned COBIT 5.0 are the main purpose of universities, among others: Ensure Risk )ptimization (EDM03), Ensure Resource Optimization (EDM04), Manage the IT Management Framework (APO01) Manage Human Resources (APO07), Manage Risk (APO12), Manage  security (APO13), and Manage Changes (BAI06). The results of the evaluation of the measurement capabilities of IT governance at universities in Manado stop at level 1, with a score that is not so good in all of its processes, with an average score obtained is 50.87. Having in mind the scores obtained, it can be given recommendations for the improvement of higher education in the city of Manado, so that IT governance in the region there equate with IT governance in Java.
Index Terms — Capability Level, COBIT 5.0, IT Governance.
Downloads
Download data is not yet available.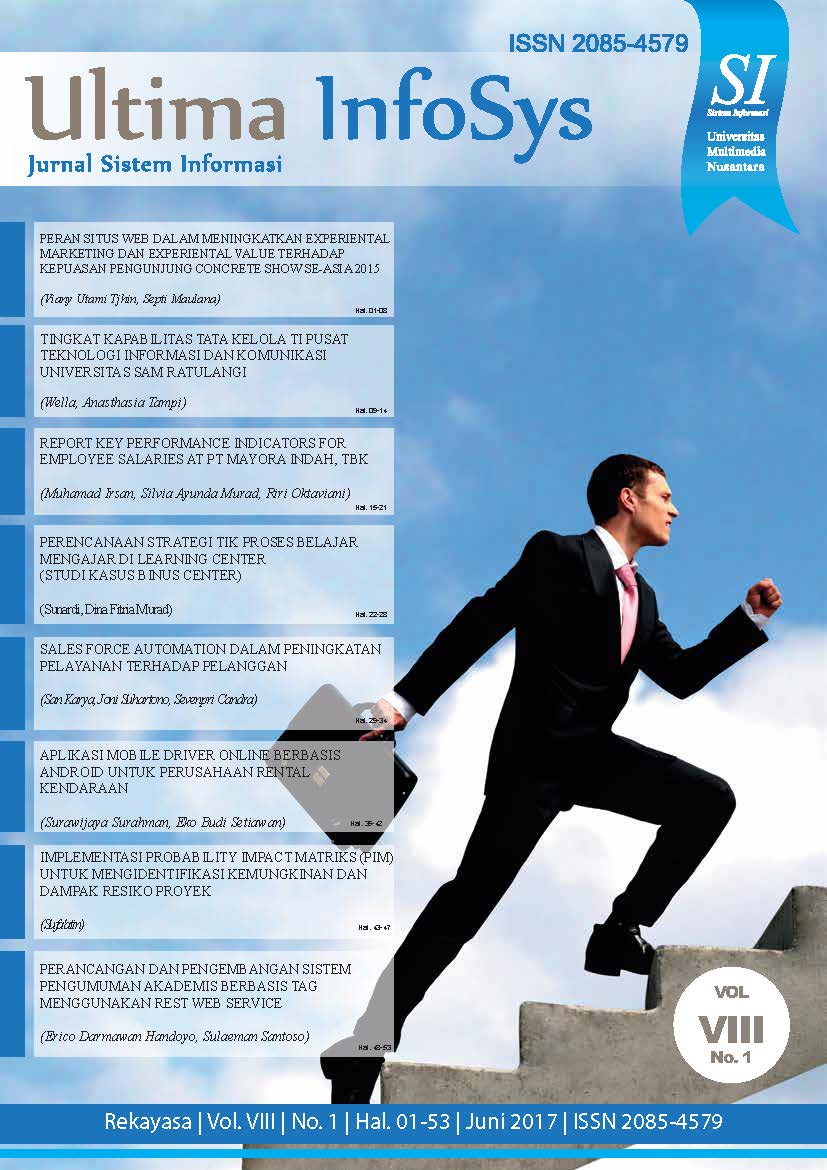 How to Cite
Wella, W., & Tampi, A. (2017). Tingkat Kapabilitas Tata Kelola TI Pusat Teknologi Informasi dan Komunikasi Universitas Sam Ratulangi. Ultima InfoSys : Jurnal Ilmu Sistem Informasi, 8(1), 9-14. https://doi.org/https://doi.org/10.31937/si.v8i1.550
This work is licensed under a Creative Commons Attribution-ShareAlike 4.0 International License.