Implementasi Scrum Model Development Pada Monitoring Inventory Control Cleaning Equipment dan Chemical PT. Explore Global Solution
Meta Amalya Dewi

Tanri Abeng University

Rani Andriyani

STMIK Raharja Tangerang
Abstract
The rapid technological advances have driven many service companies to take advantage of technology to improve their services. PT. Explore Global Solution, a cleaning service company with a manual hygiene control monitoring system through record keeping using ledgers and forms provided by the company, so that the company's activities have not run optimally, it is necessary to design the information system with the availability of time for 10 weeks, This research is done by using the method of exploration and application development with scrum model. The end result of this research is web-based applications that can improve operational performance, especially logistics division, with completion time of 373 hours or equivalent to 5 working days 8 hours per day is 9 weeks 3 days.
Index Terms—stock, request, backlog, sprint
Downloads
Download data is not yet available.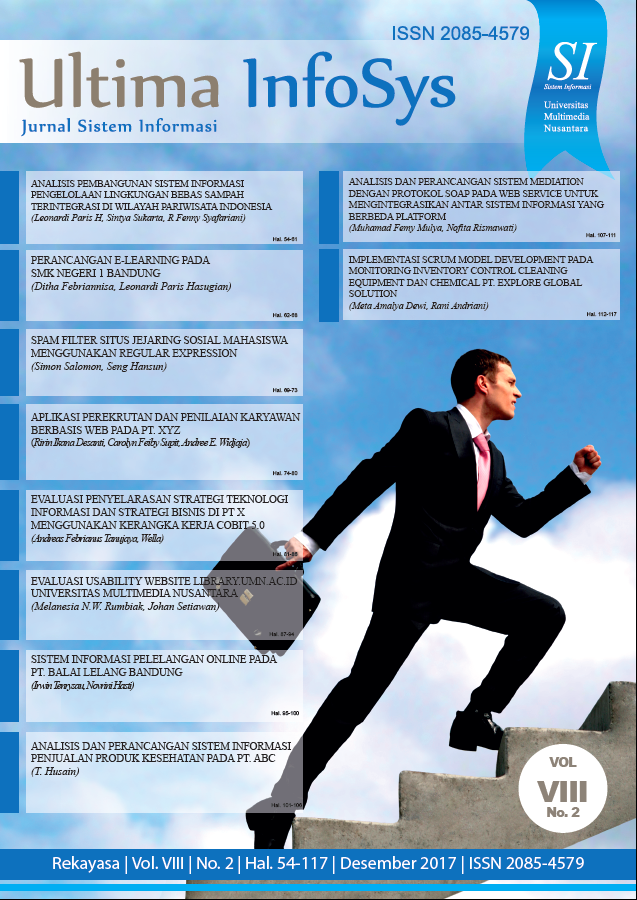 How to Cite
Dewi, M., & Andriyani, R. (2017). Implementasi Scrum Model Development Pada Monitoring Inventory Control Cleaning Equipment dan Chemical PT. Explore Global Solution. Ultima InfoSys : Jurnal Ilmu Sistem Informasi, 8(2), 112-117. https://doi.org/https://doi.org/10.31937/si.v8i2.669
This work is licensed under a Creative Commons Attribution-ShareAlike 4.0 International License.