Implementasi Monitoring Kualitas Udara Menggunakan Peramalan Exponential Smoothing dan NodeMCU Berbasis Mobile Android
Kurniansyah Pratama

Universitas Komputer Indonesia

Eko Budi Setiawan

Universitas Komputer Indonesia
Abstract
Poor air quality threatens the health of all living things from humans to plants. Most people don't know that the air they are breathing may be polluted. WHO said that 92% population in the world are living in the area with poor air quality that exceed the safe limit from WHO. Carbondioxide is one of many dangerous gas that must be considered by human. It can cause serious problem to human health. Industries are contribute to carbondioxide concentration in air. The purpose of this system is build the tool using NodeMCU microcontroler to measure the air quality in some place. This system can inform the user about air quality in their place by using Android smartphone. The forecast feature can be used to prevent the dangerous air quality.
Index Terms— Carbondioxide, Air Quality, Android, Forecast
Downloads
Download data is not yet available.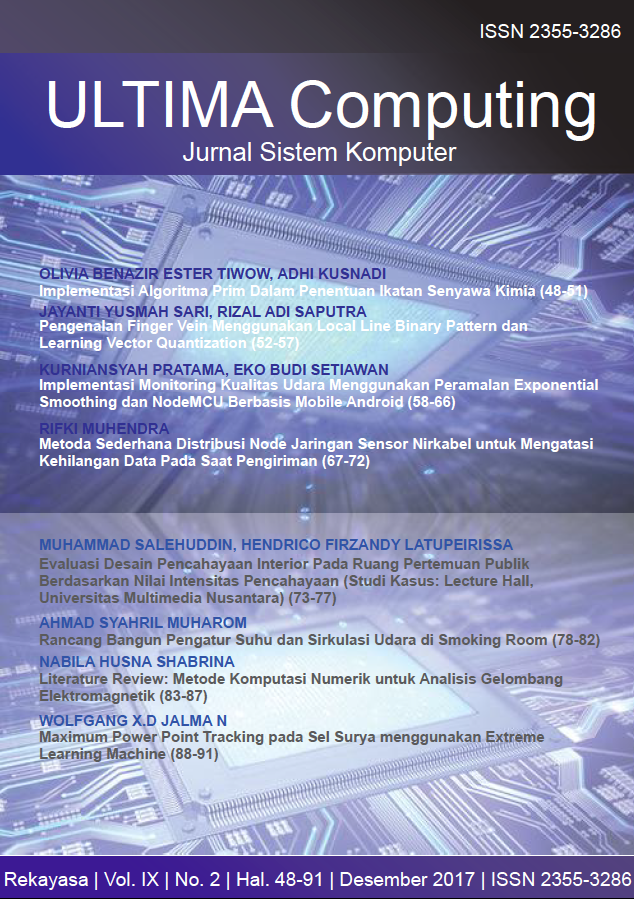 How to Cite
Pratama, K., & Setiawan, E. (2018). Implementasi Monitoring Kualitas Udara Menggunakan Peramalan Exponential Smoothing dan NodeMCU Berbasis Mobile Android. Ultima Computing : Jurnal Sistem Komputer, 9(2), 58-66. https://doi.org/https://doi.org/10.31937/sk.v9i2.656
This work is licensed under a Creative Commons Attribution-ShareAlike 4.0 International License.