Maximum Power Point Tracking pada Sel Surya menggunakan Extreme Learning Machine
Wolfgang Jalma

Universitas Multimedia Nusantara
Abstract
Maximum Power Point Tracking is a method to obtain maximum harvest of PV solar cell. Due to PV nonlinearity, a lot of novel approach has been. One of the most prominence is neural network, that usually can solve this nonlinearity formulation, although needs relatively longer time in order to train, making it unfeasible for real implementation. This research tried to accelerate the training of the neural network based MPPT, using Extreme Learning Machine, with quite promising results.
Index Terms—Maximum Power Point Tracking, Neural Network, PV Solar Cell, Extreme Learning machine.
Downloads
Download data is not yet available.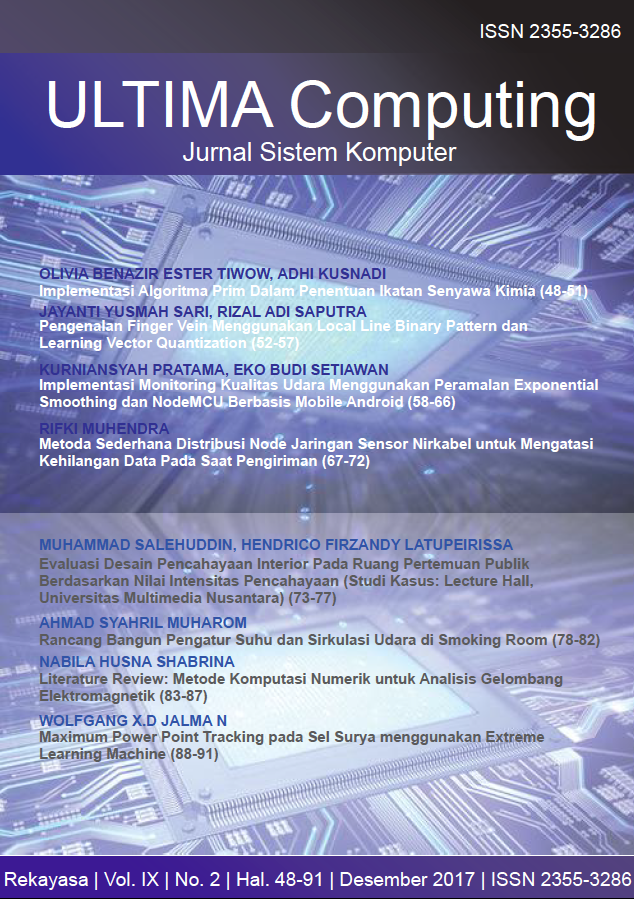 How to Cite
Jalma, W. (2018). Maximum Power Point Tracking pada Sel Surya menggunakan Extreme Learning Machine. Ultima Computing : Jurnal Sistem Komputer, 9(2), 88-91. https://doi.org/https://doi.org/10.31937/sk.v9i2.701
This work is licensed under a Creative Commons Attribution-ShareAlike 4.0 International License.