Aplikasi Asesmen Anak Berkebutuhan Khusus di SLB Rafaha Arjasari Menggunakan Progressive Web App
Nawan Tutu Syah Lampah

Universitas Komputer Indonesia

Eko Budi Setiawan

Universitas Komputer Indonesia
Abstract
Rafaha Arjasari Special School is one of the schools that provide special education for children with special needs. Learning in Rafaha Arjasari Special School refers to the applicable national curriculum then adapted to the abilities, barriers and needs of each child. Education will not run optimally if the educator does not know the obstacles, risks, and potential of each student. Assessment is the process of collecting, analyzing and interpreting data or information about students and their environment. Based on interviews with the headmaster of Rafaha Special School, the assessment is an absolute process that must be done so teachers can find out the obstacles, risks, and potential of each children. The purpose of this research is to build assessment applications that can help teachers in carrying out the assessment process. This system provides features for assessing visual perceptions and perceived perceptions by utilizing the flash and vibrate features on the Android smartphone. The features that provided can help teachers make the assessment process easier.
Downloads
Download data is not yet available.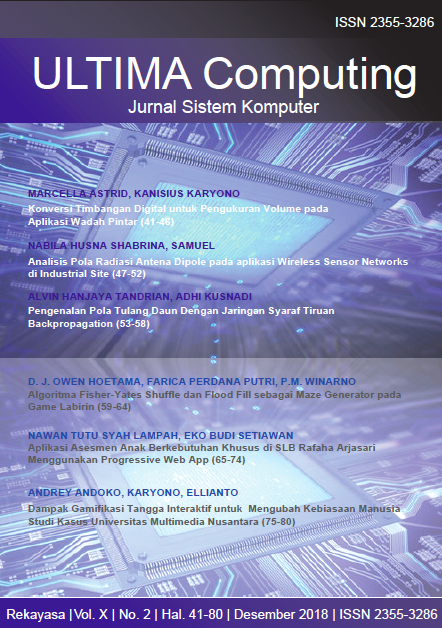 How to Cite
Syah Lampah, N., & Setiawan, E. (2019). Aplikasi Asesmen Anak Berkebutuhan Khusus di SLB Rafaha Arjasari Menggunakan Progressive Web App. Ultima Computing : Jurnal Sistem Komputer, 10(2), 65-74. https://doi.org/https://doi.org/10.31937/sk.v10i2.958
This work is licensed under a Creative Commons Attribution-ShareAlike 4.0 International License.