Startup Bisnis Sebagai Alaternatif Investasi
Ika Yanuarti

Universitas Multimedia Nusantara

Helena Dewi

Universitas Multimedia Nusantara
Abstract
Abstract
The main purpose of the investment activity is to obtain profits for both the company and the investor. To generate profits for investors, the company requires initial capital to manage its operational to do business. In general, investors will make investment decisions based on the intrinsic value of the company or based on the growth of the company's profitability from the previous period. To measure those reference, investors needs historical data of financial reports as a baseline to calculate and for comparison. The barriers for startup companies are the lack or unavailability of historical financial data due to the age of startups more likely in the early stages (less than or equal to one year).
This research uses the method of discounted cash flows based on the company's financial report. The rates of return to discount the cashflow are based on return from real assets, such as gold and property and stock price as financial asset.
The result shows that the company is good enough to be one of investment alternative since its net present value is positive for all rate of return and its payback period is relatively short.
Key words Discounted Cash flow, Intrinsic Value, Startup Company, Angel Investors
Downloads
Download data is not yet available.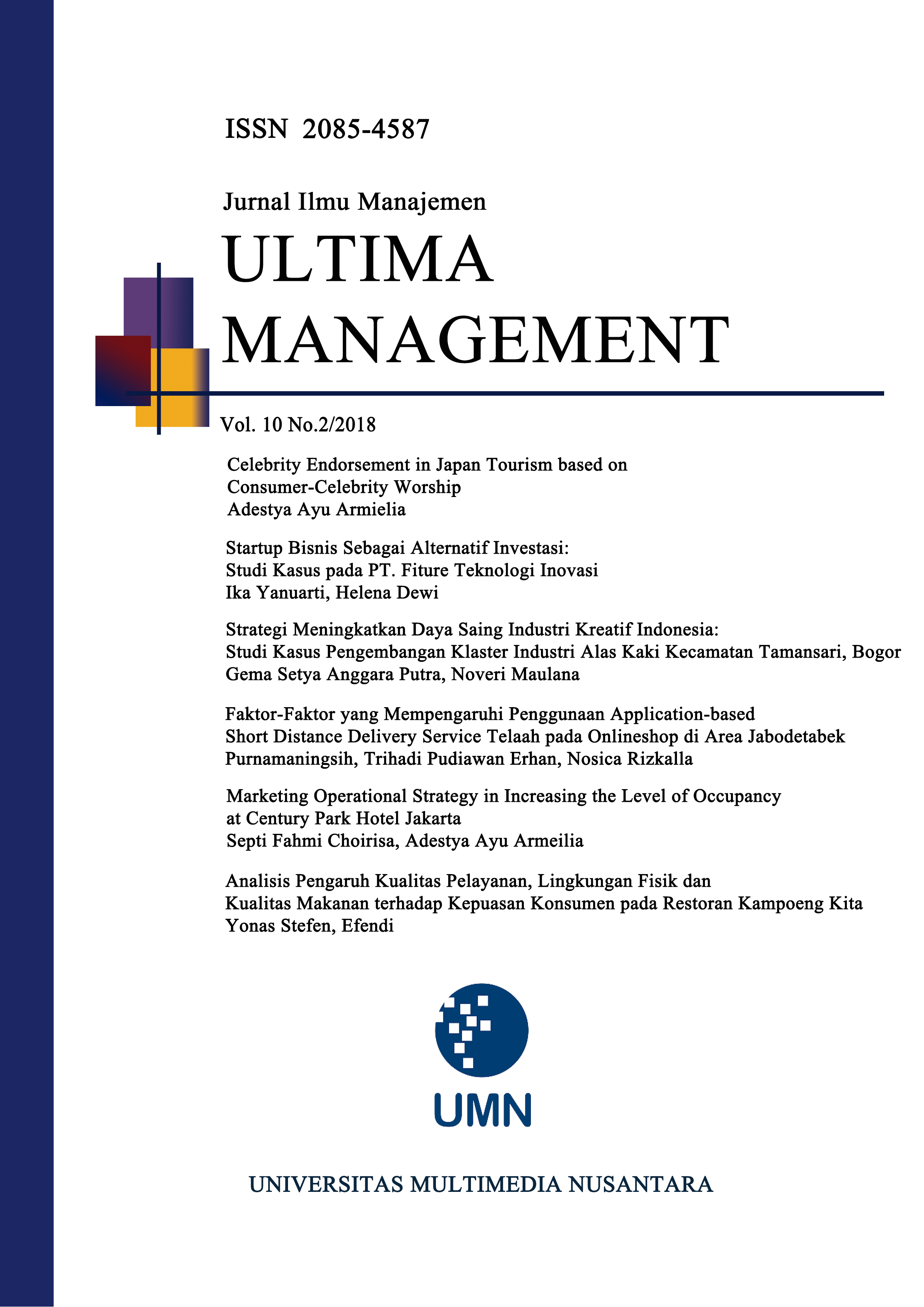 How to Cite
Yanuarti, I., & Dewi, H. (2019). Startup Bisnis Sebagai Alaternatif Investasi. Ultima Management : Jurnal Ilmu Manajemen, 10(2), 81-96. https://doi.org/https://doi.org/10.31937/manajemen.v10i2.979
This work is licensed under a Creative Commons Attribution-ShareAlike 4.0 International License.
Authors retain copyright and grant the journal right of first publication with the work simultaneously licensed under a Creative Commons Attribution-ShareAlike International License (CC-BY-SA 4.0) that allows others to share the work with an acknowledgement of the work's authorship and initial publication in this journal.
Authors are able to enter into separate, additional contractual arrangements for the non-exclusive distribution of the journal's published version of the work (e.g., post it to an institutional repository or publish it in a book), with an acknowledgement of its initial publication in this journal.