PENGARUH INTELLECTUAL CAPITAL DAN KUALITAS AUDIT TERHADAP NILAI PERUSAHAAN DENGAN DIVIDEND POLICY SEBAGAI VARIABEL MODERASI
Elvia Puspa Dewi

T. Husain
Abstract
This study aims to empirically examine the influence of intellectual capital and audit quality towards firms value and also its influence while being moderated by dividend policy. Measuring of intellectual capital used in this study determined based approach to component's of value added capital employee (VACA). This study uses purposive sampling to determine samples from manufacturing company sub sectors of automotive and components was listed the Indonesia Stock Exchange in 2014–2018. The total sample obtained in this study is 11 from the 13 population of company throughout the research year. Data analysis techniques use moderated regression analysis (MRA) methods with pure moderator approach. The results of this study show that intellectual capital does not has a significant effect towards firms value while audit quality has a significant effect towards firms value. Terminable, intellectual capital and audit quality does not have a significant effect on moderating the influence of dividend policty towards firms value.
Downloads
Download data is not yet available.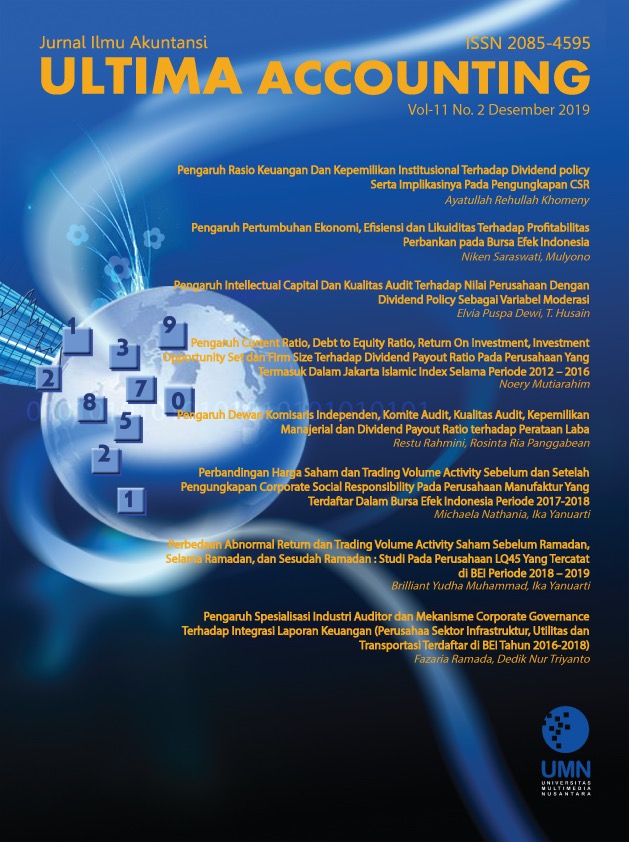 How to Cite
Dewi, E., & Husain, T. (2020). PENGARUH INTELLECTUAL CAPITAL DAN KUALITAS AUDIT TERHADAP NILAI PERUSAHAAN DENGAN DIVIDEND POLICY SEBAGAI VARIABEL MODERASI. Ultimaccounting : Jurnal Ilmu Akuntansi, 11(2), 142-159. https://doi.org/https://doi.org/10.31937/akuntansi.v11i2.1428
Authors retain copyright and grant the journal right of first publication with the work simultaneously licensed under a Creative Commons Attribution-ShareAlike International License (CC-BY-SA 4.0) that allows others to share the work with an acknowledgement of the work's authorship and initial publication in this journal.
Authors are able to enter into separate, additional contractual arrangements for the non-exclusive distribution of the journal's published version of the work (e.g., post it to an institutional repository or publish it in a book), with an acknowledgement of its initial publication in this journal.