PENGARUH SPESIALISASI INDUSTRI AUDITOR DAN MEKANISME CORPORATE GOVERNANCE TERHADAP INTEGRASI LAPORAN KEUANGAN (PERUSAHAAN SEKTOR INFRASTRUKTUR, UTILITAS DAN TRANSPORTASI TERDAFTAR DI BEI TAHUN 2016-2018)
Fazaria Ramadani

Universitas Telkom

Dedik Nur Triyanto

Universitas Telkom
Abstract
ABSTRACT
Financial statements presented with equity, ones that are unbiased, provide a genuine information free from all kinds of manipulation, does not mislead or cause disadvantage to users of financial statements. Financial statements will be considered to have high integrity if they provide reliability and other qualities as described in GAAP. A fair and just, reliable financial statements preparation provide users a good basis in the decision making process. The purpose of this study is to determine the effect of independent variables on the dependent variable both simultaneously and partially. Independent variable consists of auditor industry specialization, audit committee, institutional and managerial ownership while the dependent variable consists only of integrity of financial statements. The population in this study contains the infrastructure, utility and transportation sector companies listed on the Indonesia Stock Exchange in 2016-2018. The companies applied with a purposive sampling method resulting in 117 companies. In this study, descriptive analysis and panel data methods are used along with the help of E-Views 10 software. Based on the sample results, the study shows that auditor industry specialization, independent commissioners, audit committees, institutional ownership and managerial ownership variables simultaneously affect the integrity of financial statements. On the other hand, institutional ownership partially affects the integrity of financial statements in a negative way while auditor industry specialization variable, independent commissioner, audit committee and managerial ownership have no partial effect on the integrity of financial statements.
Key words : Auditor Industry Specialization, Independen Commissioner, Audit Committee, Managerial Ownership, Institutional Ownership
Downloads
Download data is not yet available.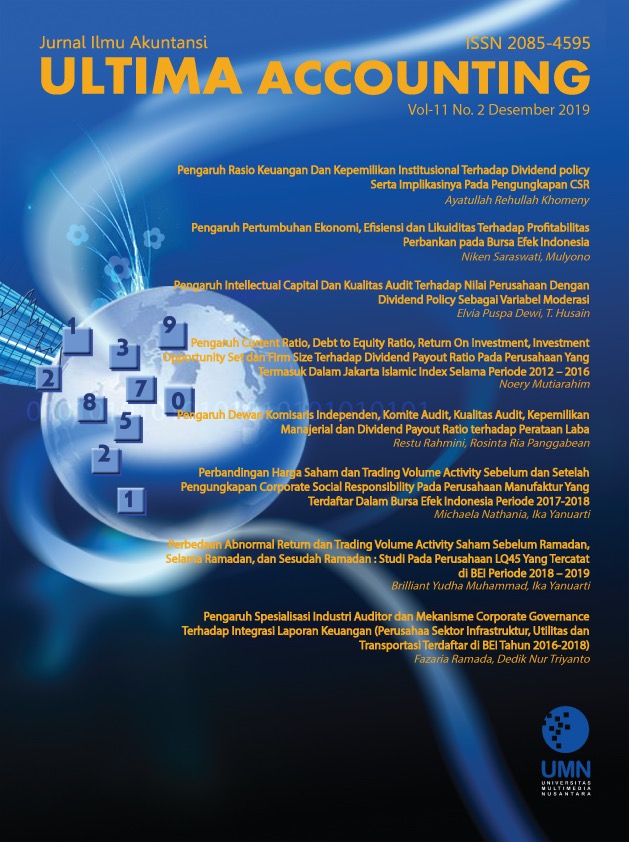 How to Cite
Ramadani, F., & Triyanto, D. (2020). PENGARUH SPESIALISASI INDUSTRI AUDITOR DAN MEKANISME CORPORATE GOVERNANCE TERHADAP INTEGRASI LAPORAN KEUANGAN (PERUSAHAAN SEKTOR INFRASTRUKTUR, UTILITAS DAN TRANSPORTASI TERDAFTAR DI BEI TAHUN 2016-2018). Ultimaccounting : Jurnal Ilmu Akuntansi, 11(2), 244-260. https://doi.org/https://doi.org/10.31937/akuntansi.v11i2.1469
Authors retain copyright and grant the journal right of first publication with the work simultaneously licensed under a Creative Commons Attribution-ShareAlike International License (CC-BY-SA 4.0) that allows others to share the work with an acknowledgement of the work's authorship and initial publication in this journal.
Authors are able to enter into separate, additional contractual arrangements for the non-exclusive distribution of the journal's published version of the work (e.g., post it to an institutional repository or publish it in a book), with an acknowledgement of its initial publication in this journal.