AGRESIVITAS PAJAK BERDASARKAN UKURAN PERUSAHAAN, PENDANAAN ASET DAN KOMPOSISI ASET SERTA PROFITABILITAS (STUDI SEKTOR MANUFAKTUR DI NEGARA BERKEMBANG)
Shahnas Regina Fajar

Universitas Multimedia Nusantara

Patricia Diana

Universitas Multimedia Nusantara
Abstract
The purpose of this research is to investigate the association between firm size using Ln total asset, asset funding using Debt to Total Asset (DAR) and asset composition, and also  profitability using Return on Asset (ROA) on tax aggressiveness using Effective Tax Rate (ETR). Sample in this research were manufacturing public company which listed consecutively during period 2016-2018. The others criteria were publishing audited financial statement, using Rupiah as reporting currency, have same reporting period which ended at December 31, positively profit and also have assets value within 1 up to 4 trillion. Data analysis method used multiple regression. The result of this research found that only asset funding (DAR) has significant positive effect towards tax aggressiveness (ETR) while firm size, profitability (ROA) and asset composition (CAIR) has no effect on tax  aggressiveness (ETR.
Keywords: Capital Intensity, Firm Size, Leverage, Profitability, Tax Aggressiveness.
Downloads
Download data is not yet available.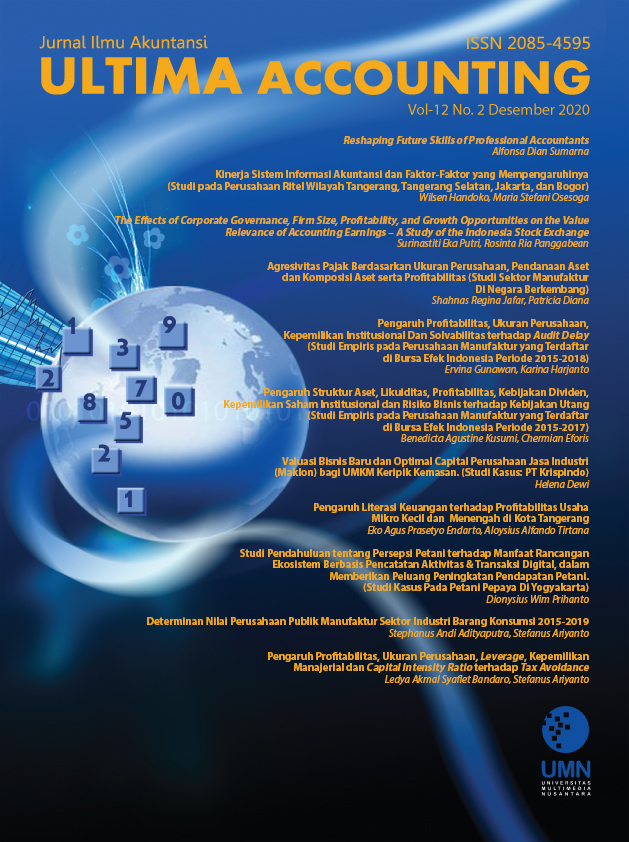 How to Cite
Fajar, S., & Diana, P. (2020). AGRESIVITAS PAJAK BERDASARKAN UKURAN PERUSAHAAN, PENDANAAN ASET DAN KOMPOSISI ASET SERTA PROFITABILITAS (STUDI SEKTOR MANUFAKTUR DI NEGARA BERKEMBANG). Ultima Accounting : Jurnal Ilmu Akuntansi, 12(2), 194-213. https://doi.org/https://doi.org/10.31937/akuntansi.v12i2.1713
This work is licensed under a Creative Commons Attribution-ShareAlike 4.0 International License.
Authors retain copyright and grant the journal right of first publication with the work simultaneously licensed under a Creative Commons Attribution-ShareAlike International License (CC-BY-SA 4.0) that allows others to share the work with an acknowledgement of the work's authorship and initial publication in this journal.
Authors are able to enter into separate, additional contractual arrangements for the non-exclusive distribution of the journal's published version of the work (e.g., post it to an institutional repository or publish it in a book), with an acknowledgement of its initial publication in this journal.