DETERMINAN NILAI PERUSAHAAN PUBLIK MANUFAKTUR SEKTOR INDUSTRI BARANG KONSUMSI 2015-2019
Stephanus Andi Adityaputra

Universitas Multimedia Nusantara

Stefanus Ariyanto

Universitas Multimedia Nusantara
Abstract
This research examines several determinants that may have effect to firm value of the consumer goods manufacturing sector in Indonesia in 2015-2018, proxied with Price to Book Value (PBV). The factors that are thought to to have effect against firm value are Price Earning Ratio (PER) which shows potential future profits and investment choices, financial leverage (DER) which reflects the comparison between source of firm's funding, Dividend Payout Ratio (DPR) which is a factor that attracts investor interest, and Return on Equity (ROE) which reflects the ability of the firm to generate net income from its equity. This research is important because firm value is a reflection of the shareholder's welfare. The study reveals that DER negatively and significantly influence the PBV, as well as significant effect of all other independent variables simultaneously on PBV.
Keywords: Firm Value, financial leverage, Dividend Payout Ratio, Price Earning Ratio, Return On Equity.
Downloads
Download data is not yet available.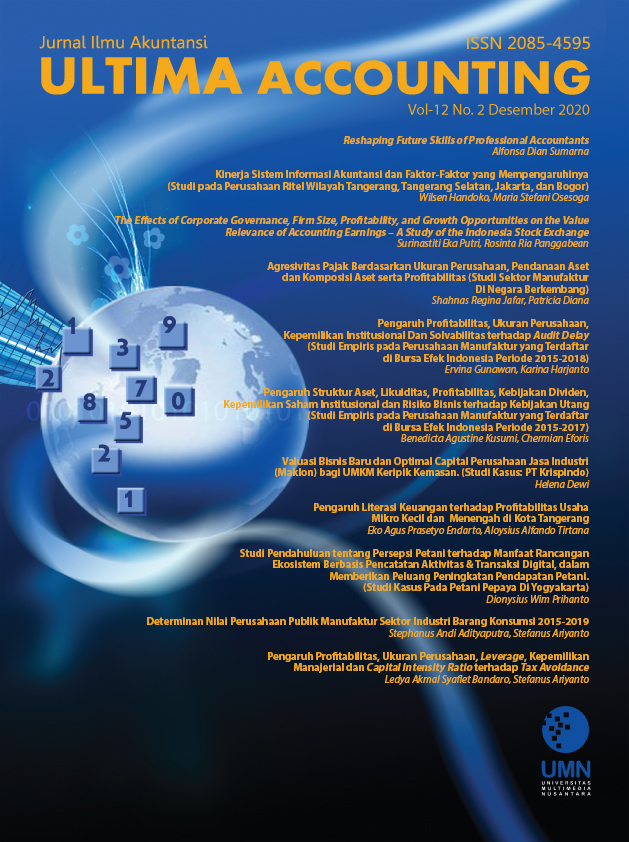 How to Cite
Adityaputra, S., & Ariyanto, S. (2020). DETERMINAN NILAI PERUSAHAAN PUBLIK MANUFAKTUR SEKTOR INDUSTRI BARANG KONSUMSI 2015-2019. Ultimaccounting : Jurnal Ilmu Akuntansi, 12(2), 308-319. https://doi.org/https://doi.org/10.31937/akuntansi.v12i2.1882
This work is licensed under a Creative Commons Attribution-ShareAlike 4.0 International License.
Authors retain copyright and grant the journal right of first publication with the work simultaneously licensed under a Creative Commons Attribution-ShareAlike International License (CC-BY-SA 4.0) that allows others to share the work with an acknowledgement of the work's authorship and initial publication in this journal.
Authors are able to enter into separate, additional contractual arrangements for the non-exclusive distribution of the journal's published version of the work (e.g., post it to an institutional repository or publish it in a book), with an acknowledgement of its initial publication in this journal.