DETERMINANTS OF BANK CAPITAL STRUCTURE: EVIDENCE FROM INDONESIA
Dewi Tamara

Bina Nusantara University

Nadia Heraini

Bina Nusantara University

Dimas Ivan

Bina Nusantara University
Abstract
Abstract –The capital structure in banking has become discussed due to the competition with the fintech and bank digital and debate about the efficiency of its choices. The purpose of this paper is to investigate the dynamics that go into determining a bank's capital structure in Indonesia. The capital structure of Indonesian banks is examined using a panel regression model. Profitability, corporate tax, growth, collateral, and bank size all influence banks' financing or capital structure decisions, according to the findings of this study. The study's most important result is that debts finance more than 87 percent of banks' assets, with short-term obligations accounting for more than three-quarters of bank capital. This emphasizes the importance of short-term borrowing in Indonesian bank funding over long-term debts. The fundamental contribution of this article is the identification of factors that influence the capital structure of Indonesian banks.
Keywords: Capital Structure Determinants; Banks; Trade-Off Theory; Pecking Order Theory
Downloads
Download data is not yet available.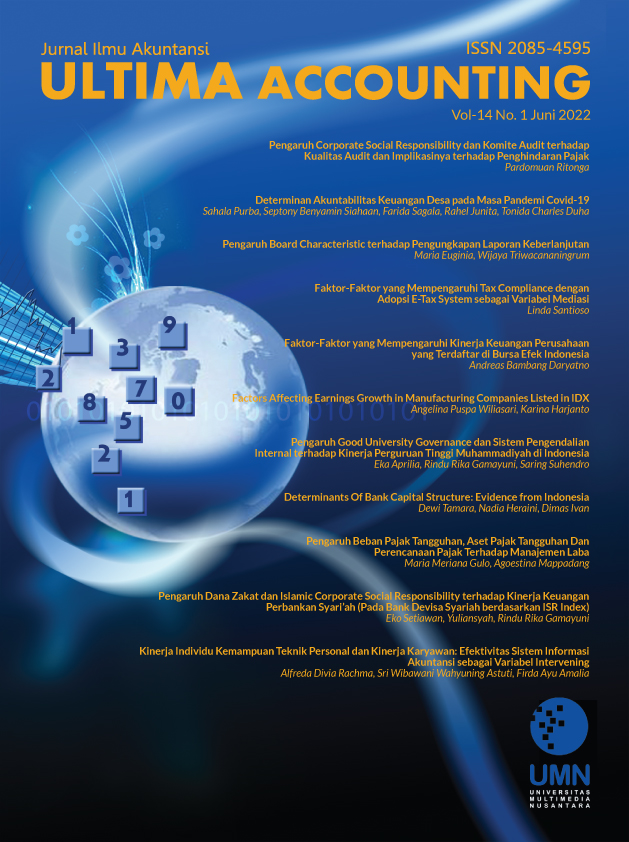 How to Cite
Tamara, D., Heraini, N., & Ivan, D. (2022). DETERMINANTS OF BANK CAPITAL STRUCTURE: EVIDENCE FROM INDONESIA. Ultima Accounting : Jurnal Ilmu Akuntansi, 14(1), 145-161. https://doi.org/https://doi.org/10.31937/akuntansi.v14i1.2619
This work is licensed under a Creative Commons Attribution-ShareAlike 4.0 International License.
Authors retain copyright and grant the journal right of first publication with the work simultaneously licensed under a Creative Commons Attribution-ShareAlike International License (CC-BY-SA 4.0) that allows others to share the work with an acknowledgement of the work's authorship and initial publication in this journal.
Authors are able to enter into separate, additional contractual arrangements for the non-exclusive distribution of the journal's published version of the work (e.g., post it to an institutional repository or publish it in a book), with an acknowledgement of its initial publication in this journal.