Simulation of Digital Radio Mondiale (DRM) Coverage Prediction – A study case with Radio Republik Indonesia (RRI)
Nabila Husna Shabrina

Department of Electrical Engineering, Universitas Multimedia Nusantara, Tangerang, Indonesia
Abstract
In this paper, DRM is applied for simulating coverage prediction in Radio Republik Indonesia (RRI). The proposed method is developed by simulating high frequency propagation from RRI Pro 3 transmitter with VOACAP online software. The simulation is undertaken in some different conditions. The variation of antenna type and transmitter power are observed in the simulation. The time of propagation also discussed to predict the coverage. The result shows that the variation of parameter influences the coverage result of DRM propagation in HF band. Changing the antenna type and time of propagation will make impact in the range of coverage while adding power transmitter gives insignificantly effect to the range of coverage.
Keywords—DRM, Prediction Coverage, VOACAP
REFERENCES
[1] ITU R-REP-BS.2144-2009-PDF-E, "Planning parameters and coverage for Digital Radio Mondiale (DRM) broadcasting at frequencies below 30 MHz", 2009.
[2] M. J. Bradley, "Digital Radio Mondiale: System and Receivers",Roke Manor Research Ltd, UK, 2003
[3] G. Prieto, I. Pichel, D. Guerra, P. Angueira, J.M. Matias, J.L. Ordiales, A. Arrinda, "Digital Radio Mondiale: Broadcasting and Reception", IEEE Press, 2004.
[4] DRM Features, available under http://www.drm.org
[5] "Digital Radio Mondiale (DRM); System Specification," European Telecommunication Standards Institute (ETSI), ETSI TS 101980, 2001.
[6] D. Setiawan, "Alokasi Frekuensi, Kebijakan dan Perencanaan Spektrum Indonesia", Departemen Komunikasi dan Informatika, 2010.
[7] P.A Bradley, Th Dambold, P.Suessmann, "Propagation model for HF Radio Service Planning", HF Radio Systems and Techniques, Conference Publication No 474 0 IEE, 2000.
[8] J.J. Carr, "Practical Antenna Handbook 4th Edition", McGraw Hill, 1990.
[9] J.M Matias et al, "DRM (Digital Radio Mondiale) Local Coverage Tests Using the 26 Mhz Broadcasting Band", IEEE Transactions on Broadcasting, Vol. 53, No. 1, August 2007.
[10] C. A. Balanis, "Antenna Theory Analysis and Design", 2nd ed, John Wiley & Sons, 2005.
[11] Keputusan Direktorat Jendral Pos dan Telekomunikasi Nomor 85/DIRJEN/1999, "Spesifikasi Teknis Perangkat Telekomunikasi, Persyaratan Teknis Perangkat Radio Siaran", Jakarta, 1999.
Downloads
Download data is not yet available.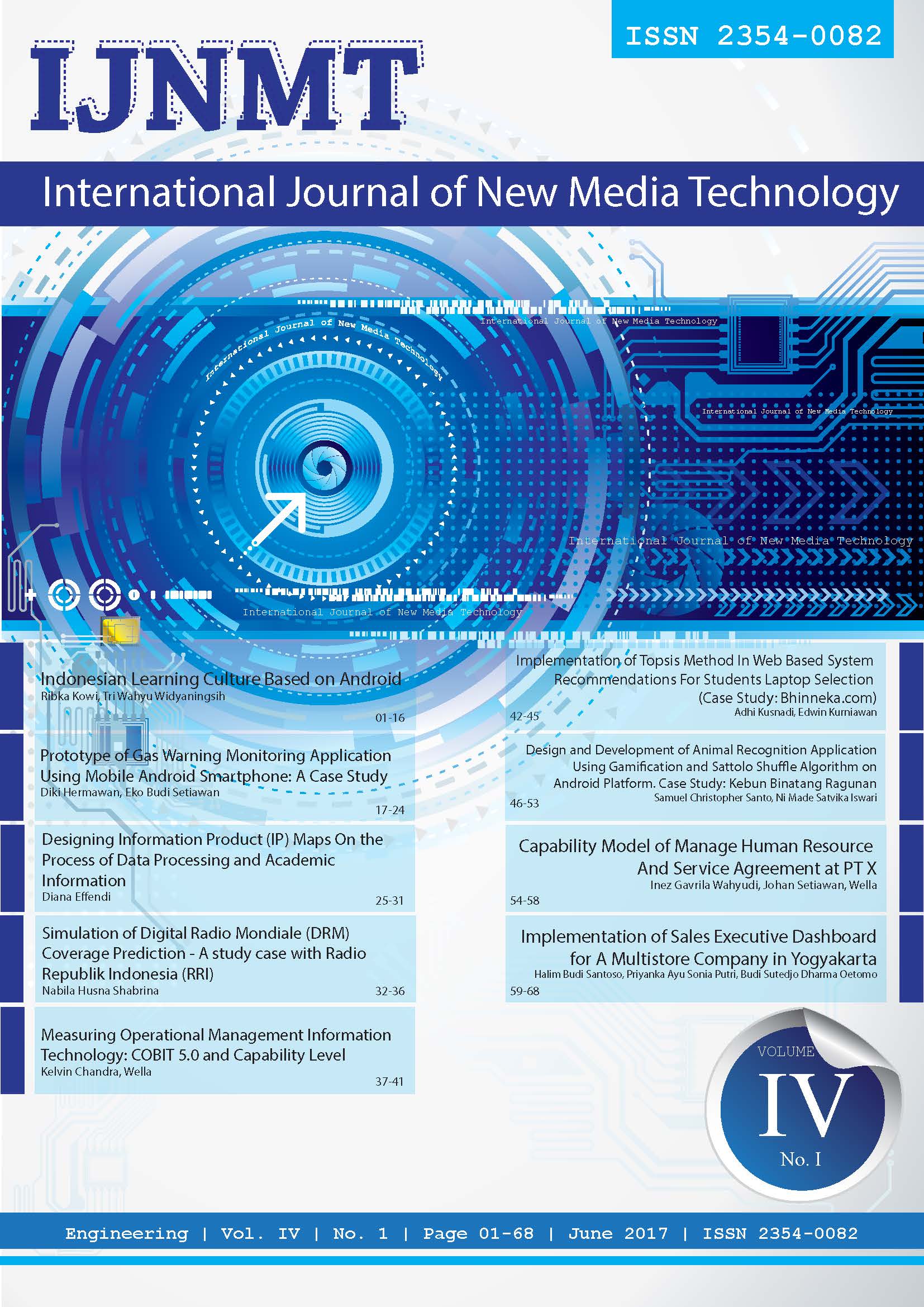 How to Cite
Shabrina, N. (2017). Simulation of Digital Radio Mondiale (DRM) Coverage Prediction – A study case with Radio Republik Indonesia (RRI). IJNMT (International Journal of New Media Technology), 4(1), 32-36. https://doi.org/https://doi.org/10.31937/ijnmt.v4i1.535
This work is licensed under a Creative Commons Attribution-ShareAlike 4.0 International License.
Authors retain copyright and grant the journal right of first publication with the work simultaneously licensed under a Creative Commons Attribution-ShareAlike International License (CC-BY-SA 4.0) that allows others to share the work with an acknowledgement of the work's authorship and initial publication in this journal.
Authors are able to enter into separate, additional contractual arrangements for the non-exclusive distribution of the journal's published version of the work (e.g., post it to an institutional repository or publish it in a book), with an acknowledgement of its initial publication in this journal.
Copyright without Restrictions
The journal allows the author(s) to hold the copyright without restrictions and will retain publishing rights without restrictions.
The submitted papers are assumed to contain no proprietary material unprotected by patent or patent application; responsibility for technical content and for protection of proprietary material rests solely with the author(s) and their organizations and is not the responsibility of the IJNMT or its Editorial Staff. The main (first/corresponding) author is responsible for ensuring that the article has been seen and approved by all the other authors. It is the responsibility of the author to obtain all necessary copyright release permissions for the use of any copyrighted materials in the manuscript prior to the submission.