Measuring Operational Management Information Technology: COBIT 5.0 and Capability Level
Kelvin Chandra

Departemen Sistem Informasi, Universitas Multimedia Nusantara, Tangerang, Indonesia

Wella Wella

Departemen Sistem Informasi, Universitas Multimedia Nusantara, Tangerang, Indonesia
Abstract
Abstrack—Every system need to be well organized so it can achieve what the company expected. So,  very company need to do some measurement to create a well organize system. A type of action that can be used for creating a well organize system is quantify their IT governance PT XYZ is a company that engaged in property business. Their company want to measure their IT governance, to measured their IT governance framework COBIT 5.0 was use and as what the company request process that being measure are Manage Service Agreements, Manage Change, Manage Operations, and Manage Service Request and Incidents. Every process have their own importance and will be measured based on framework COBIT 5.0 capability
level. Capability level have 5 kind of stage. PT XYZ expectation that they can achieved level 4. But, the esult that came out doesn't match what their company has expected, the result was level 3 and on of their process stop at level 2. So, to attain the level that PT XYZ wanted they need to some improvement based on COBIT 5.0 recommendation.
Index Terms—Capability Level, COBIT 5.0, Information System, IT Governance.
REFERENCES
[1] S. Tata, "Sistem Informasi Manajemen," Yogyakarta, Andi, 2005.
[2] R. Weber, "Information System Control and Audit," Prentice Hall, New Jersey, 1999.
[3] Kompas. http://tekno.kompas.com. 24 Agustus 2016.
[4] BCA.http://www.bca.co.id/id/TentangBCA/Korporasi/Siaran-Pers/2016/02/09/04/48/Terapkan-ISO9001-2008. 25 Agustus 2016.
[5] ISACA, http://www.isaca.org/. 23 August 2016. [6] Gondodiyoto et al., "Pengolahan Fungsi Audit Sistem Informasi," Penerbit Mitra Wacana Media, Jakarta, 2007. [7] E. J. Hunton, "Core Concept of Information Technology Auditing," New Jersey, John Willey and Sons Inc, 2004.
Downloads
Download data is not yet available.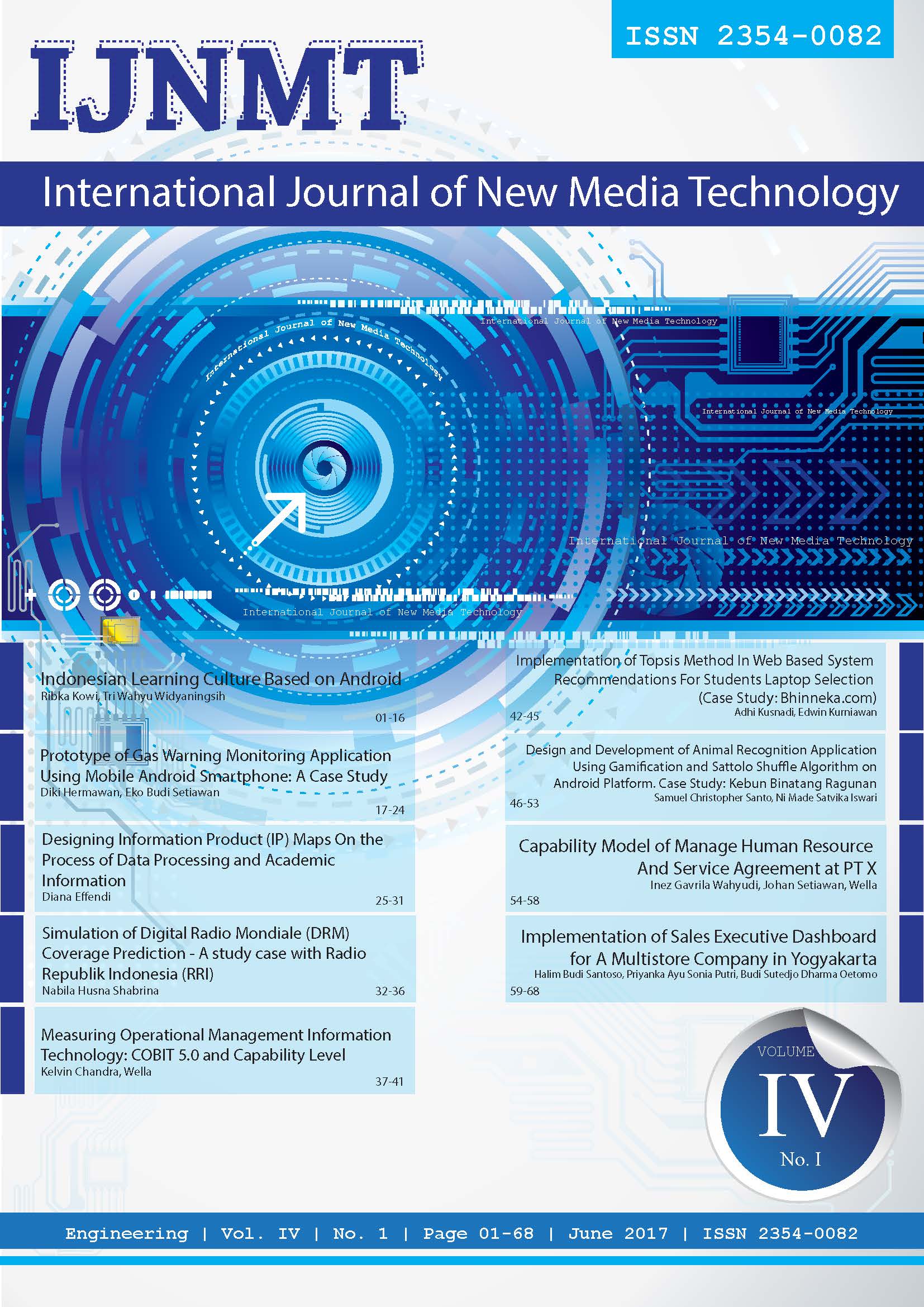 How to Cite
Chandra, K., & Wella, W. (2017). Measuring Operational Management Information Technology: COBIT 5.0 and Capability Level. IJNMT (International Journal of New Media Technology), 4(1), 37-41. https://doi.org/https://doi.org/10.31937/ijnmt.v4i1.536
This work is licensed under a Creative Commons Attribution-ShareAlike 4.0 International License.
Authors retain copyright and grant the journal right of first publication with the work simultaneously licensed under a Creative Commons Attribution-ShareAlike International License (CC-BY-SA 4.0) that allows others to share the work with an acknowledgement of the work's authorship and initial publication in this journal.
Authors are able to enter into separate, additional contractual arrangements for the non-exclusive distribution of the journal's published version of the work (e.g., post it to an institutional repository or publish it in a book), with an acknowledgement of its initial publication in this journal.
Copyright without Restrictions
The journal allows the author(s) to hold the copyright without restrictions and will retain publishing rights without restrictions.
The submitted papers are assumed to contain no proprietary material unprotected by patent or patent application; responsibility for technical content and for protection of proprietary material rests solely with the author(s) and their organizations and is not the responsibility of the IJNMT or its Editorial Staff. The main (first/corresponding) author is responsible for ensuring that the article has been seen and approved by all the other authors. It is the responsibility of the author to obtain all necessary copyright release permissions for the use of any copyrighted materials in the manuscript prior to the submission.