Implementation of Topsis Method In Web Based System Recommendations For Students Laptop Selection (Case Study: Bhinneka.com)
Adhi Kusnadi

ICT Faculty, University of Multimedia Nusantara, Tangerang, Indonesia

Edwin Kurniawan

ICT Faculty, University of Multimedia Nusantara, Tangerang, Indonesia
Abstract
Computer needs at work are very helpful and make easier for human to complete his work. The usage
of laptops growing rapidly with increasing mobility of the community who uses laptop to run the activities. In addition, laptop continues to update its technology with the variation of the specification so that it can attract the interest of consumers, especially for students, but the variety of laptops is confusing for some users to choose. Based on a survey that has been done to the students, it concluded that laptop is 80% more interesting than desktop computer. Some students really need a recommendation system for choosing alaptop. In making a recommendation system, using TOPSIS method is the recommended one because the concept is simple, easy to understand, efficient, and have the ability to measure the relative performance of alternatives decision. According to the implementation, the recommendation system with TOPSIS method has 70% accuracy rate.
Index Terms—System Recommendation, TOPSIS, Laptop,
REFERENCES
[1] Hendra, dkk. 2007. "Keluhan Kesehatan pada Penggunaan Laptop pada Mahasiswa FKM UI". (pdf). Depok: Universitas Indonesia.
[2] Paays, N. 2013. Rancang Bangun Meja Laptop Yang Adjustable Berdasarkan Aspek Ergonomi. Pontianak: Universitas Tanjungpura.
[3] Iqbal, M. 2014. Perilaku Pembelian Laptop Oleh Mahasiswa Strata 1 Universitas Brawijaya Malang. S1 thesis. Malang: Universitas Brawijaya.
[4] Setiawan, H. 2014. Rancang Bangun Aplikasi Rekomendasi Pembelian Laptop Dengan Metode Fuzzy Database Tahani Model Berbasis Web (Studi Kasus: Toko Ricky Komputer). S1 thesis. Tangerang: Universitas Multimedia Nusantara.
[5] Fitriani, S. A. 2014. Perbandingan Metode Weighted Product dengan Metode Technique for Order Preference by Similarity to Ideal Solution dalam Pendukung Keputusan Perekruten Siswa/Mahasiswa Praktek Kerja Lapangan. S1 thesis. Bandung : Universitas Pendidikan Indonesia.
[6] Buaton, R.2014. 15 Metode Menyelesaikan Data Mining, Sistem Pakar, dan Sistem Pendukung Keputusan (.pdf). Medan.
[7] Salehah, A. 2014. Penerapan TOPSIS (Technique for Order Preference by Similarity to Ideal Solution) Untuk Seleksi Penerimaan Beasiswa (Studi Kasus Pendaftar Beasiswa dari Fakultas MIPA di Universitas Brawijaya). S1 thesis. Malang : Universitas Brawijaya.
[8] Gay, L.R. dan Diehl, P.L. (1992), Research Methods for Business and. Management, MacMillan Publishing Company, New York
Downloads
Download data is not yet available.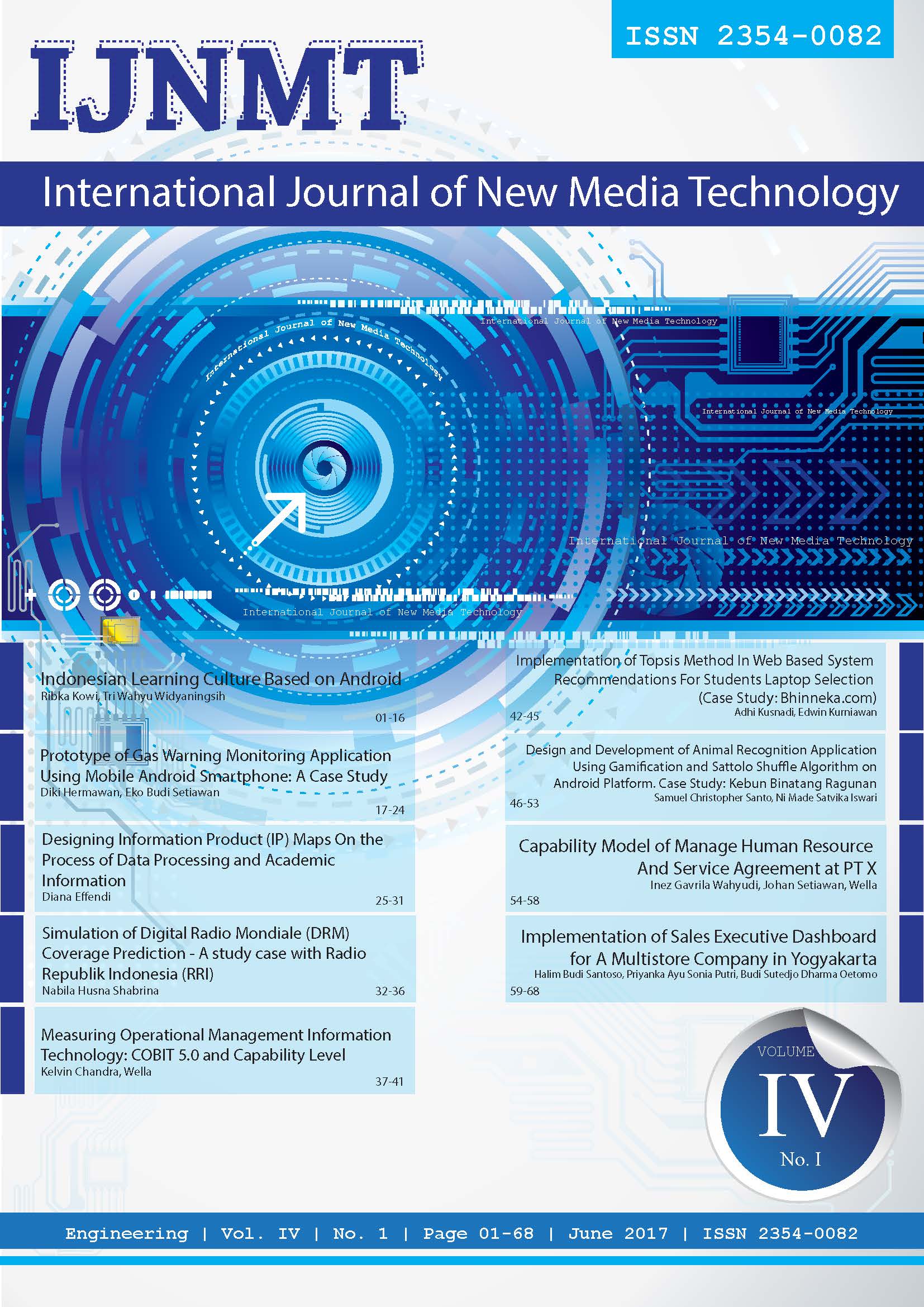 How to Cite
Kusnadi, A., & Kurniawan, E. (2017). Implementation of Topsis Method In Web Based System Recommendations For Students Laptop Selection (Case Study: Bhinneka.com). IJNMT (International Journal of New Media Technology), 4(1), 42-45. https://doi.org/https://doi.org/10.31937/ijnmt.v4i1.537
This work is licensed under a Creative Commons Attribution-ShareAlike 4.0 International License.
Authors retain copyright and grant the journal right of first publication with the work simultaneously licensed under a Creative Commons Attribution-ShareAlike International License (CC-BY-SA 4.0) that allows others to share the work with an acknowledgement of the work's authorship and initial publication in this journal.
Authors are able to enter into separate, additional contractual arrangements for the non-exclusive distribution of the journal's published version of the work (e.g., post it to an institutional repository or publish it in a book), with an acknowledgement of its initial publication in this journal.
Copyright without Restrictions
The journal allows the author(s) to hold the copyright without restrictions and will retain publishing rights without restrictions.
The submitted papers are assumed to contain no proprietary material unprotected by patent or patent application; responsibility for technical content and for protection of proprietary material rests solely with the author(s) and their organizations and is not the responsibility of the IJNMT or its Editorial Staff. The main (first/corresponding) author is responsible for ensuring that the article has been seen and approved by all the other authors. It is the responsibility of the author to obtain all necessary copyright release permissions for the use of any copyrighted materials in the manuscript prior to the submission.