E-Health as a Service Software of Medical System in Prototype Modeling
Agus Nursikuwagus

Universitas Komputer Indonesia
Abstract
Information system at community health center is an information system that has several activities, such as registration, medical record, health care, and reporting.  Day to day operation, community health service, is using process manually. It is cause the stack of service. Sometime, the patient has to wait within several times. For Further, the patient did not know that the queuing is full. In order to help the problem, this paper wants to show about E-Health as service software. The research is completed by conveying the model like UML diagram. The UML diagrams are consisting such as usecase, class, activity, and component. The sequence of system construct is using Prototype Paradigm. The result is the software which has ability to service patient start from registration, medical check, medical prescription, until reporting. As an impact for Community health service is the service more efficiency. The system is able to control the medicine and reporting on day to day operation.
REFERENCES
[1] Susanto, Gunawan," Sistem Informasi Rekam Medis Pada
Rumah Sakit Umum Daerah (RSUD) Pacitan Berbasis Web
Base". Pacitan. 2012.
[2] B, Nugroho, S.H. Fitriasih, B. Widada, "Sistem Informasi
Rekam Medis Di Puskesmas Masaran I Sragen". Journal
TIKomSiN, vol.5, no.1, p.49-56, 2017.
[3] G.G.S. Bagja," Membangun Sistem Informasi Kesehatan
Puskesmas Cibaregbeg", Univ. Komp. Indonesia, 2010.
[4] A.M. Herdy, Aulia, M. Amran, D. Novita, "Perancangan
Sistem Informasi Pelayanan Medis Di Puskesmas Sungai
Dua", STMIK MDP. 2014.
[5] J. Sundari, "Sistem Informasi Pelayanan Puskesmas Berbasis
Web", Int.Journal.on Soft.Eng, vol.2, no.1, p.57-62, 2016.
[6] R.S. Pressman, Software Engineering A Practitioners
Approach. Nineth Edition, Addsion Wesley, 2011.
[7] G. Booch, J. Rumbaugh, I. Jacobson, Unified Modeling
Language User Guide, Addison-Wesley, 1999.
[8] I, Daqiqil. (2011, August 2). Framework CodeIgnite. [Online].
Available: http://koder.web.id/buku-codeigniter-gratis/
Downloads
Download data is not yet available.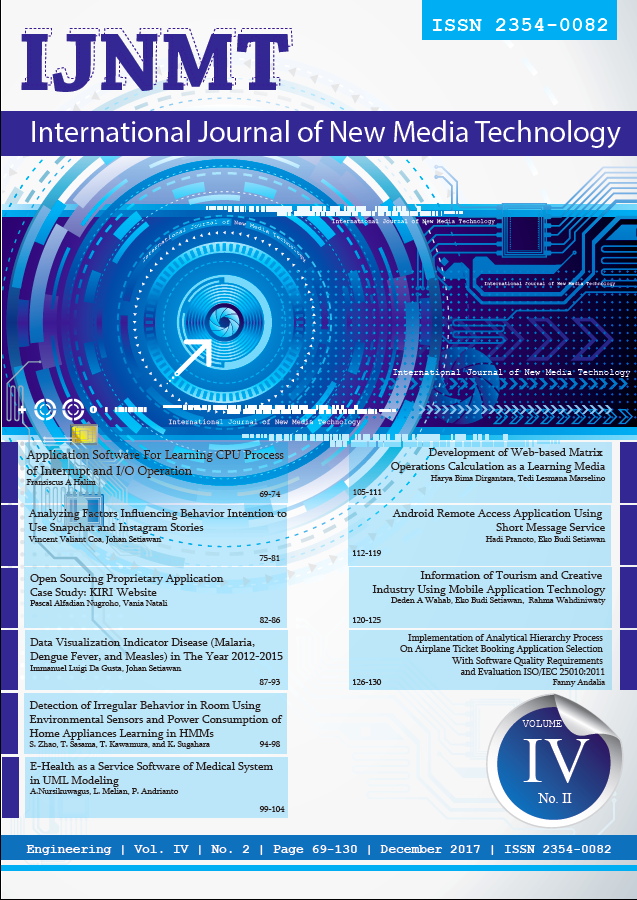 How to Cite
Nursikuwagus, A. (2017). E-Health as a Service Software of Medical System in Prototype Modeling. IJNMT (International Journal of New Media Technology), 4(2), 99-104. https://doi.org/https://doi.org/10.31937/ijnmt.v4i2.620
This work is licensed under a Creative Commons Attribution-ShareAlike 4.0 International License.
Authors retain copyright and grant the journal right of first publication with the work simultaneously licensed under a Creative Commons Attribution-ShareAlike International License (CC-BY-SA 4.0) that allows others to share the work with an acknowledgement of the work's authorship and initial publication in this journal.
Authors are able to enter into separate, additional contractual arrangements for the non-exclusive distribution of the journal's published version of the work (e.g., post it to an institutional repository or publish it in a book), with an acknowledgement of its initial publication in this journal.
Copyright without Restrictions
The journal allows the author(s) to hold the copyright without restrictions and will retain publishing rights without restrictions.
The submitted papers are assumed to contain no proprietary material unprotected by patent or patent application; responsibility for technical content and for protection of proprietary material rests solely with the author(s) and their organizations and is not the responsibility of the IJNMT or its Editorial Staff. The main (first/corresponding) author is responsible for ensuring that the article has been seen and approved by all the other authors. It is the responsibility of the author to obtain all necessary copyright release permissions for the use of any copyrighted materials in the manuscript prior to the submission.