Evaluasi Desain Pencahayaan Interior Pada Ruang Pertemuan Publik Berdasarkan Nilai Intensitas Pencahayaan
Studi Kasus: Lecture Hall, Universitas Multimedia Nusantara
Muhammad Salehuddin

Universitas Multimedia Nusantara

Hednrico Firzandy Latupeirissa

Universitas Multimedia Nusantara
Abstract
The emphasis of green building design is not only based on the use of energy consumption as efficiently as possible purpose, but another important aspect that it is also the comfort factor should be considered for the occupants in the building space itself. In this paper, we evaluate the comfort factor of public meeting room at New Media Tower Building, Universitas Multimedia Nusantara (C-UMN Building). The comfort factor to be evaluated is the artificial lighting inside the room (interior) according to standards that have been standardized locally and internationally. The evaluation process includes a quantitative approach through measuring the existing conditions by utilizing photometric elements such as illuminance and uniformity. The results of this measurement can practically provide information on whether the C-UMN Building space that has been meets the criteria of the ideal standard or not.
Index Terms—DIALux, Green Building, Iluminance, Uniformity
Downloads
Download data is not yet available.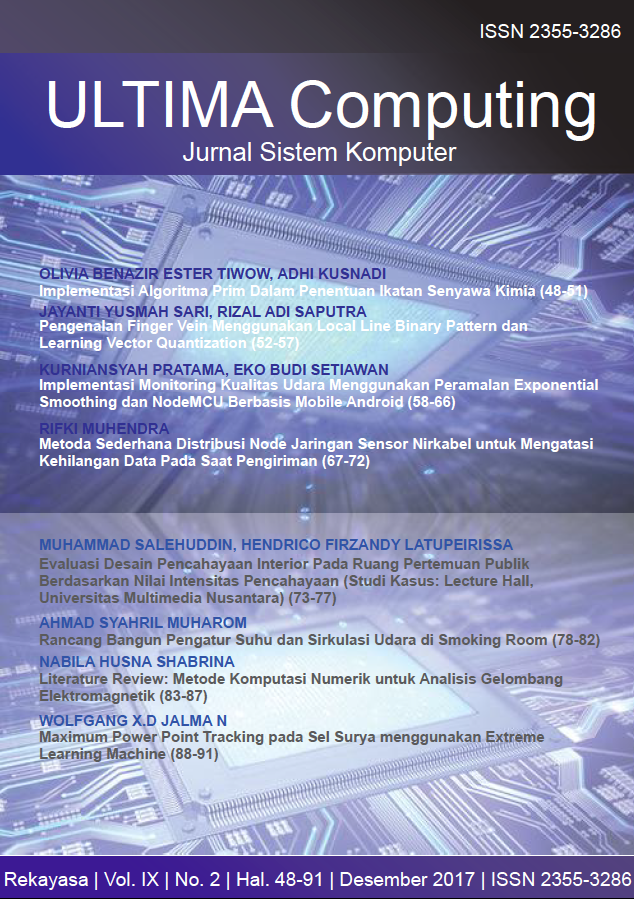 How to Cite
Salehuddin, M., & Latupeirissa, H. (2018). Evaluasi Desain Pencahayaan Interior Pada Ruang Pertemuan Publik Berdasarkan Nilai Intensitas Pencahayaan. Ultima Computing : Jurnal Sistem Komputer, 9(2), 73-77. https://doi.org/https://doi.org/10.31937/sk.v9i2.672
This work is licensed under a Creative Commons Attribution-ShareAlike 4.0 International License.