Analisis Pengaruh Informativeness, Credibility, Entertainment, dan Irritation Terhadap Advertising Value Serta Implikasinya Terhadap Purchase Intention (Telaah Pada Iklan Gillette Mach 3 di Youtube)
Gregorius Rivaldo

Universitas Multimedia Nusantara
Abstract
With the growth of YouTube users, it's advertising features gave an opportunitiy for many manufacturers and companies to market their products. One of the companies that advertise through YouTube is Gillette. Gillette uses YouTube to advertise one of their main products Gillette Mach 3 Turbo. The issues raised in this study is to determine whether or not the customer's intention to purchase of Gillette Mach 3 Turbo inflicted by their Youtube Ad is influenced by informativeness, credibility, entertainment, and irritation through advertising value. The theoretical model presented in this study includes 5 hypotheses and to be tested using Structural Equation Model. The sample in this study were 120 respondents, androgynous male, shaved at least 3 days, have a minimum age of 17 years, a YouTube user, and have never bought Gillette Mach 3 Turbo razor. A questionnaire is designed to gather information from prospective buyers of Gillette Mach 3 Turbo razor based on the YouTube ad. Results of the analysis showed that informativeness, credibility and entertainment positive effect on purchase intention through advertising value. While irritation negative effect on purchase intention through advertising value. The conclusion of this study is that Gillette Mach 3 Turbo advertisement provides high value to prospective customers that is YouTube users.
Keywords: informativeness, credibility, irritation, entertainment, advertising value, purchase intention
Downloads
Download data is not yet available.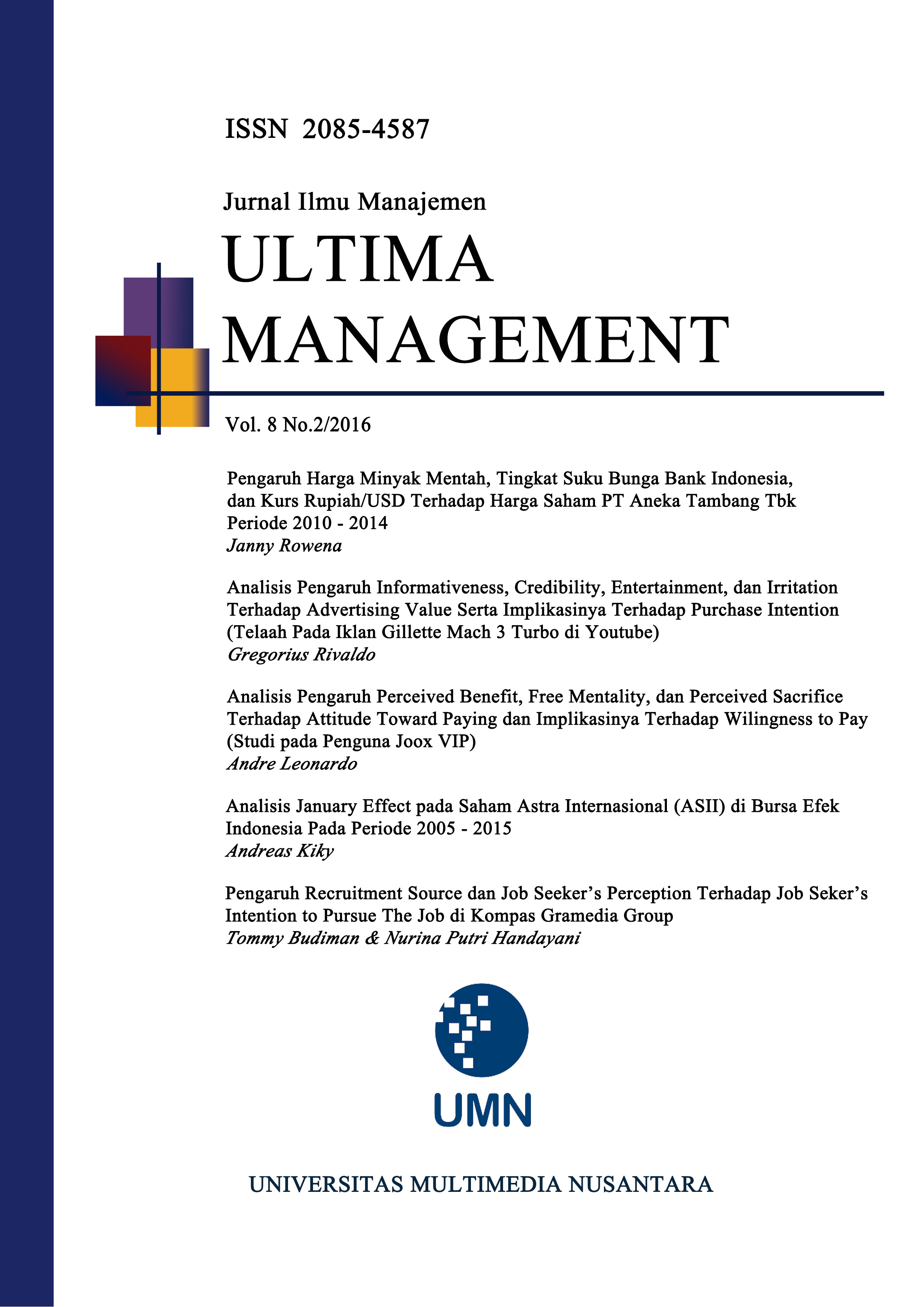 How to Cite
Rivaldo, G. (2016). Analisis Pengaruh Informativeness, Credibility, Entertainment, dan Irritation Terhadap Advertising Value Serta Implikasinya Terhadap Purchase Intention (Telaah Pada Iklan Gillette Mach 3 di Youtube). Ultima Management : Jurnal Ilmu Manajemen, 8(2), 13-31. https://doi.org/https://doi.org/10.31937/manajemen.v8i2.590
This work is licensed under a Creative Commons Attribution-ShareAlike 4.0 International License.