Analisis Pengaruh Perceived Benefit, Free Mentality Dan Perceived Sacrifice Terhadap Attitude Toward Paying Dan Implikasinya Terhadap Willingness To Pay (Studi Pada Pengguna Joox VIP)
Andre Leonardo

Universitas Multimedia Nusantara
Abstract
The purpose of this research was to determine whether willingness to pay on Joox VIP influenced by perceived benefit, free mentality, and perceived sacrifice through attitude toward paying. Joox was chosen to be the object of this research because it was a new comer in Indonesian market and it has a good rating in AppStore and PlayStore just within a week after it was launched. The theoretical model in this study is presented with 4 hypothesis be tested by using Structural Equation Modeling (SEM). This study uses 125 respondents who subscribe Joox VIP and has used it more than a month. These results indicate that perceived benefit was positively related to attitude toward paying, free mentality and perceived sacrifice negatively related to attitude toward paying. Then attitude toward paying positively related to willingness to pay.
Keywords: Perceived Benefit, Free Mentality, Perceived Sacrifice, Attitude Toward Paying, and Willingness to Pay.
Downloads
Download data is not yet available.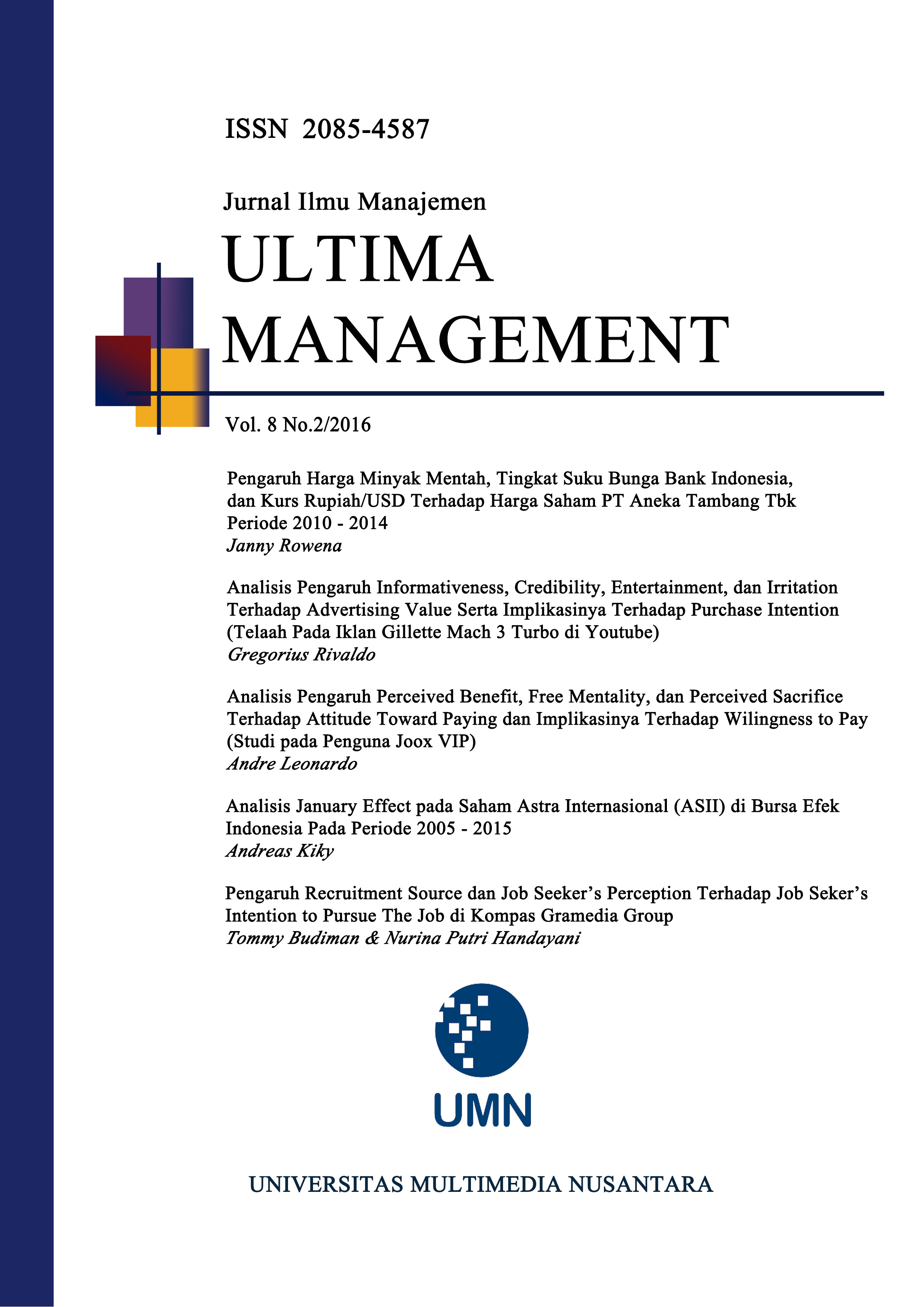 How to Cite
Leonardo, A. (2016). Analisis Pengaruh Perceived Benefit, Free Mentality Dan Perceived Sacrifice Terhadap Attitude Toward Paying Dan Implikasinya Terhadap Willingness To Pay (Studi Pada Pengguna Joox VIP). Ultima Management : Jurnal Ilmu Manajemen, 8(2), 32-53. https://doi.org/https://doi.org/10.31937/manajemen.v8i2.591
This work is licensed under a Creative Commons Attribution-ShareAlike 4.0 International License.