Analisis Pengaruh Interactivity Dan Sincerity Pada Social Mediaaccount Musisi Terhadap Sense Of Closeness Dan Reciprocity Antara Musisi Dengan Fans dan Implikasinya Terhadap Legal Purchase Intent Telaah Pada Social Media Account Instagram @Duadrum
Moses Natadirja

Universitas Multimedia Nusantara
Abstract
Social media nowadays can be used not only for interacting with each other, exchanges ideas, and develop new friends, furthermore it can be used to promote and selling products or services. It is also used for musician for sales and promotion of their CD album to their fans through social media, especially for musicians , who choose to be independent with limited budget and distribution channel. One of the musician who choose to be independent is Dua Drum. The purpose of this study is to examine the relationship between musician's social media (Interactivity & Sincerity), the tie that fans may develop via social media (Sense of Closeness & Reciprocity), and purchase legal CD album. This Research is using a quantitative approach with gathering 127 responses through online questionnaire and analyzed using Structural Model Equation (SEM). The result of this research is there are a positive relationship between Interactivity & Sincerity with Sense of Closeness & Reciprocity, and also a positive relationship between Sense of Closeness & Reciprocity with Legal Purchase Intention of CD album.
Keywords: Music, Internet Marketing, Social Media Marketing, Purchase Intention
Downloads
Download data is not yet available.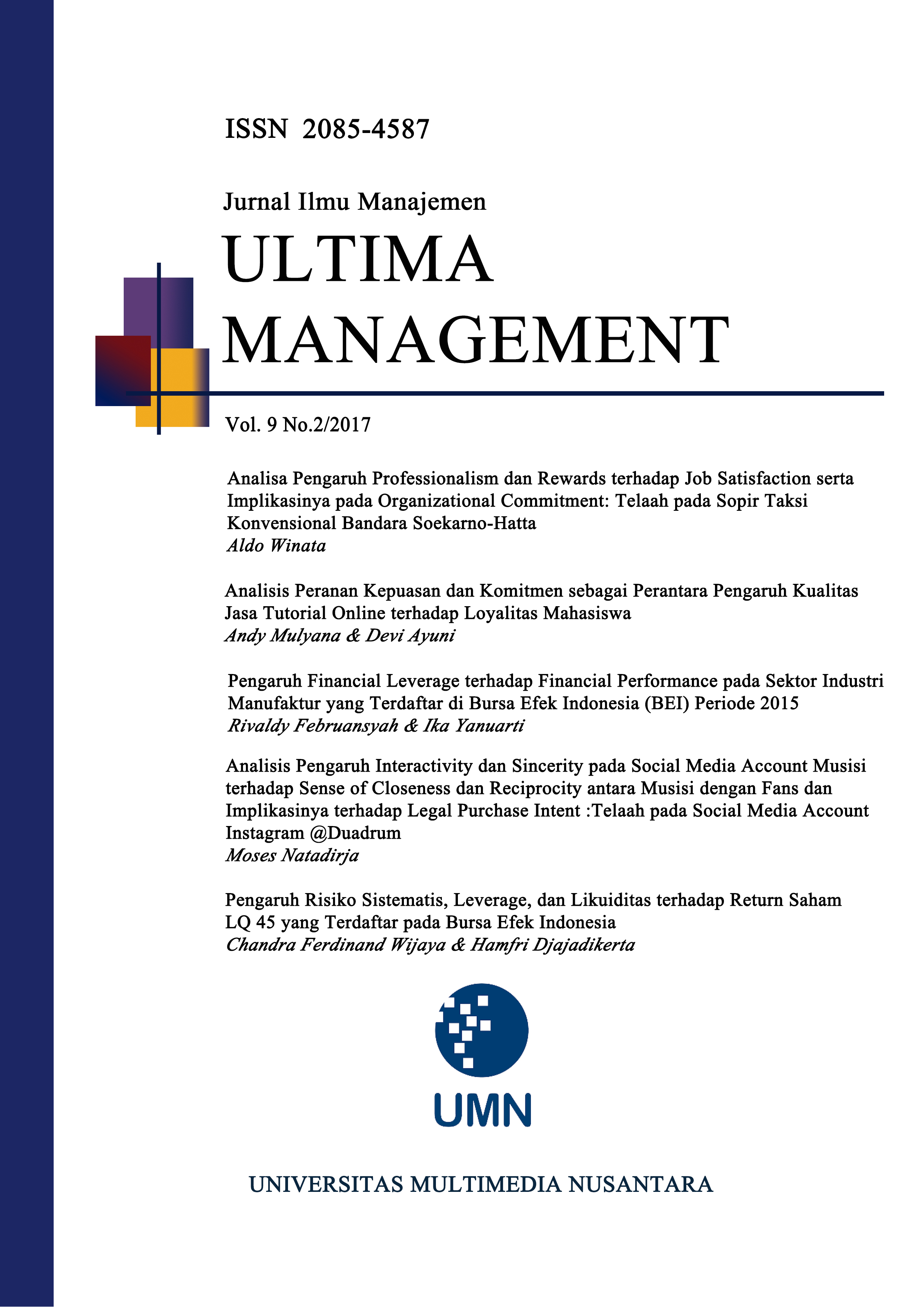 How to Cite
Natadirja, M. (2018). Analisis Pengaruh Interactivity Dan Sincerity Pada Social Mediaaccount Musisi Terhadap Sense Of Closeness Dan Reciprocity Antara Musisi Dengan Fans dan Implikasinya Terhadap Legal Purchase Intent Telaah Pada Social Media Account Instagram @Duadrum. Ultima Management : Jurnal Ilmu Manajemen, 9(2), 49-61. https://doi.org/https://doi.org/10.31937/manajemen.v9i2.720
This work is licensed under a Creative Commons Attribution-ShareAlike 4.0 International License.