Celebrity Endorsement in Japan Tourism based on Consumer Celebrity Worship
Adestya Ayu Armielia

Universitas Multimedia Nusantara
Abstract
Abstract
85% commercials in Japan are promoted with celebrity endorsers, and that trend seems phenomenal knowing other Asian countries start to imitate Japan's marketing path. One of the most influential celebrity in Japan today is Arashi, a band formed 20 years ago, who grows mature along with their solid fan base throughout the nation and outside the country. In the tight business competition, both in entertainment and tourism industry, Arashi gives fresh air to Japan economic.
This study is aimed at examining the effects of the celebrity endorsement, which consist of three dimensions, and consumer celebrity worship, which consist of two dimensions, to the purchase intention with destination image as the intervening. 
This is a descriptive study, with approximately 18.000 of Arashi's foreign fans in an online community; livejournal, as the population. The samples, which was taken based on Slovin's formula, are 206 people by using non probability sampling method and purposive sampling. The technique of collecting data is online questionnaires. The validity that is used is Pearson product-moment correlation coefficient. The reliability of this study is using Cronbach Alpha; meanwhile, to measure the model, SEM with path analysis is used. Further, Moderating Regression is used to measure the moderating variables used in this study.
From this study, it is concluded that the Consumer-Celebrity Worship will positively affect the Destination Image, Destination Image will positively affect Purchase Intention, Celebrity Endorsement will positively affect the Purchase Intention, Socio-demographic & economic will strengthen the link of Consumer-Celebrity Worship and Destination Image, Socio-demographic &economic will strengthen the link of Consumer-Celebrity Worship and Purchase Intention.
Keywords: Celebrity Endorsement, Purchase Intention, Consumer-Celebrity Worship
Downloads
Download data is not yet available.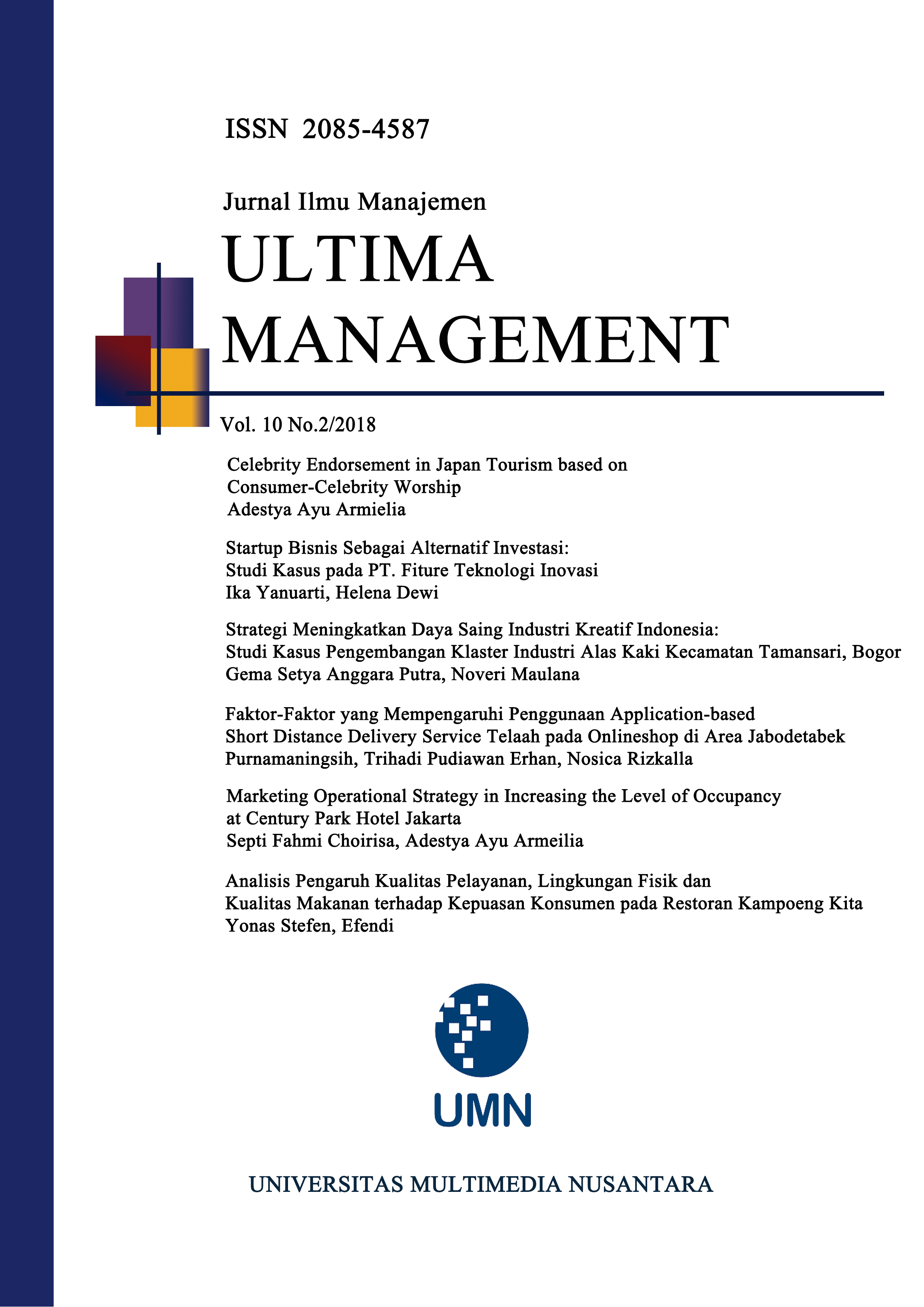 How to Cite
Armielia, A. (2019). Celebrity Endorsement in Japan Tourism based on Consumer Celebrity Worship. Ultima Management : Jurnal Ilmu Manajemen, 10(2), 65-80. https://doi.org/https://doi.org/10.31937/manajemen.v10i2.982
This work is licensed under a Creative Commons Attribution-ShareAlike 4.0 International License.
Authors retain copyright and grant the journal right of first publication with the work simultaneously licensed under a Creative Commons Attribution-ShareAlike International License (CC-BY-SA 4.0) that allows others to share the work with an acknowledgement of the work's authorship and initial publication in this journal.
Authors are able to enter into separate, additional contractual arrangements for the non-exclusive distribution of the journal's published version of the work (e.g., post it to an institutional repository or publish it in a book), with an acknowledgement of its initial publication in this journal.