Indonesia PENGARUH LITERASI KEUANGAN TERHADAP INKLUSI KEUANGAN DENGAN MENGGUNAKAN SOCIAL CAPITAL SEBAGAI VARIABEL MEDIATOR
Maya Angela Natalia

Universitas Multimedia Nusantara

FLORENTINA KURNIASARI

Universitas Multimedia Nusantara

Ernie Hendrawaty

Universitas Lampung

Vina Medya Oktaviani

Universitas Multimedia Nusantara
Abstract
Abstract-MSMEs plays an important role to support Indonesia's economic growth. There is an urgency to increase the financial literacy and skills for MSMEs, especially in managing their fund to make their businesses alive. The government believed that the financial literacy was one way to achieve the society prosperity by taking advantage from the collectivisim culture of Indonesian. This study is to examine the effect of financial literacy on financial inclusion by using social capital mediation at MSMEs in South Tangerang City. The questionnaires were distributed to some MSME's district in South Tangerang regency. All data collection were furthered analyzed using Structural Equation Model on AMOS 24. The research showed that financial literacy does not affect financial inclusion, financial literacy affects social capital and social capital as a mediator variable on the relationship of financial literacy affects financial inclusion in MSMEs in South Tangerang City. It can be concluded that there is an influence of social capital that connects financial literacy to financial inclusion. All the stakeholders in the financial ecosystem in Indonesia, including financial institutions and the government as regulators, will be better to use the power of social capital to increase financial literacy and financial inclusion in Indonesia.
 Keywords: Financial Literacy, Financial Inclusion, Social Capital, SMEs, South Tangerang City 
Downloads
Download data is not yet available.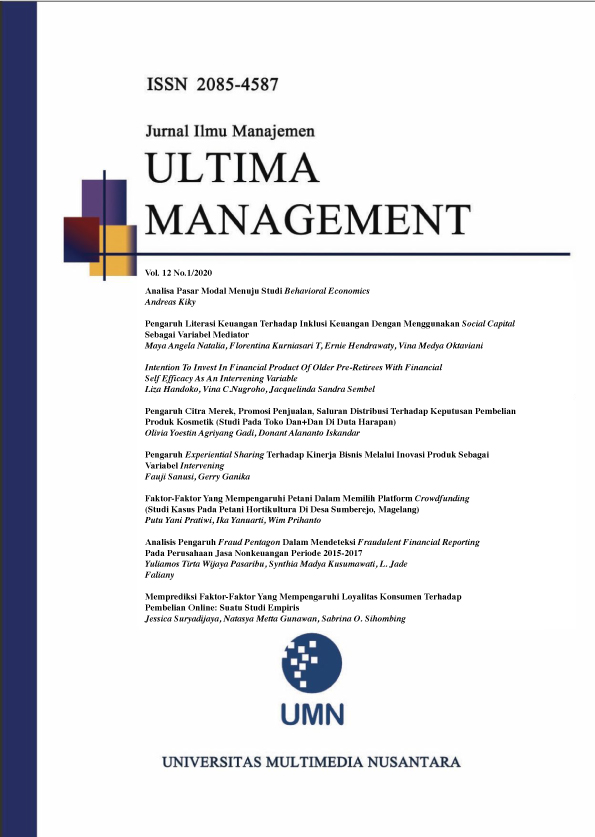 How to Cite
Natalia, M., KURNIASARI, F., Hendrawaty, E., & Oktaviani, V. (2020). Indonesia PENGARUH LITERASI KEUANGAN TERHADAP INKLUSI KEUANGAN DENGAN MENGGUNAKAN SOCIAL CAPITAL SEBAGAI VARIABEL MEDIATOR. Ultima Management : Jurnal Ilmu Manajemen, 12(1), 16-33. https://doi.org/https://doi.org/10.31937/manajemen.v12i1.1522
This work is licensed under a Creative Commons Attribution-ShareAlike 4.0 International License.
Authors retain copyright and grant the journal right of first publication with the work simultaneously licensed under a Creative Commons Attribution-ShareAlike International License (CC-BY-SA 4.0) that allows others to share the work with an acknowledgement of the work's authorship and initial publication in this journal.
Authors are able to enter into separate, additional contractual arrangements for the non-exclusive distribution of the journal's published version of the work (e.g., post it to an institutional repository or publish it in a book), with an acknowledgement of its initial publication in this journal.