PENGARUH EXPERIENTIAL SHARING TERHADAP KINERJA BISNIS MELALUI INOVASI PRODUK SEBAGAI VARIABEL INTERVENING
Abstract
Abstract- Internal problems of small and medium enterprises (SMEs) have been extensively studied, especially those related to low level of knowledge and skills of their workforce, thus impacting company's business performance. This study aims to examine whether experiential sharing can improve business performance of SMEs through product innovation as an intervening variable. This research develops a concept of experiential sharing or sharing experiences as a process that can improve a company's business performance through product innovation variables. This study show that experiential sharing will have a stronger influence on company's business performance if it is mediated by product innovation. Samples taken in this study were 173 managers and / or metal casting SME owners in Central Java. To test research hypothesis, data is processed by using Smart PLS. Experiential sharing can directly influence product innovation and business performance of SMEs. Similarly, product innovation can directly affect business performance and can partially mediate relationship between experiential sharing and business performance. SMEs can improve business performance by increasing experiential sharing as a antecendent factor. In addition, experiential sharing can improve product innovation which can then improve the performance of SME businesses.

Keywords: experiential sharing, innovation, business performance, partial least square
Downloads
Download data is not yet available.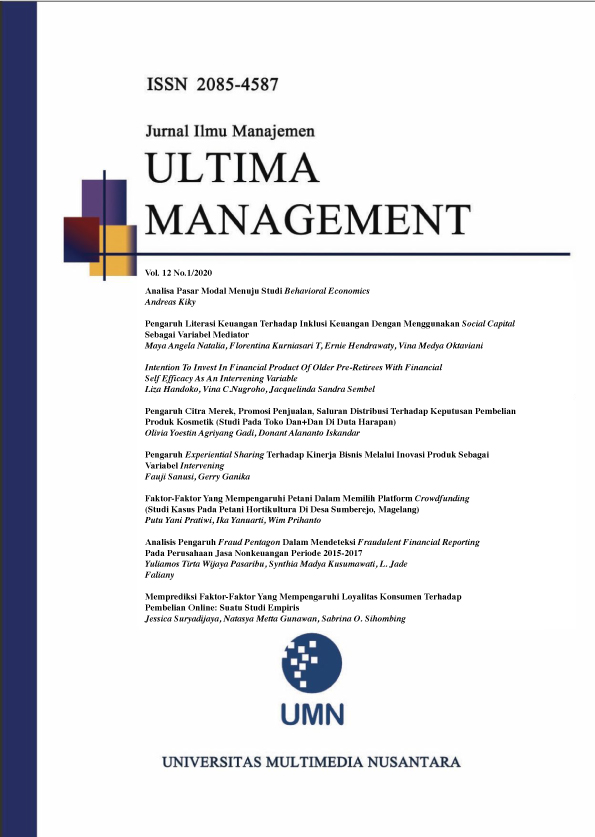 How to Cite
Sanusi, F., & Ganika, G. (2020). PENGARUH EXPERIENTIAL SHARING TERHADAP KINERJA BISNIS MELALUI INOVASI PRODUK SEBAGAI VARIABEL INTERVENING. Ultima Management : Jurnal Ilmu Manajemen, 12(1), 62-82. https://doi.org/https://doi.org/10.31937/manajemen.v12i1.1571
This work is licensed under a Creative Commons Attribution-ShareAlike 4.0 International License.
Authors retain copyright and grant the journal right of first publication with the work simultaneously licensed under a Creative Commons Attribution-ShareAlike International License (CC-BY-SA 4.0) that allows others to share the work with an acknowledgement of the work's authorship and initial publication in this journal.
Authors are able to enter into separate, additional contractual arrangements for the non-exclusive distribution of the journal's published version of the work (e.g., post it to an institutional repository or publish it in a book), with an acknowledgement of its initial publication in this journal.