MEMPREDIKSI FAKTOR-FAKTOR YANG MEMPENGARUHI LOYALITAS KONSUMEN TERHADAP PEMBELIAN ONLINE: SUATU STUDI EMPIRIS
Jessica Suryadijaya

Universitas Pelita Harapan

Natasya Metta Gunawan

Universitas Pelita Harapan

Sabrina Oktaria Sihombing

Universitas Pelita Harapan
Abstract
Abstract– This study aims to test consumer loyalty to GrabFood in terms of security, privacy, service fulfillment, non decptionand satisfaction from GrabFood consumers themselves. The sampling design used is purposive sampling which is a nonprobability sampling. All research indicators come from previous studies. Before testing hypotheses using structural equation modeling, the reliability and validity tests were carried out. The results of this study indicate that there is a significant relationship between security and non-deception on consumer satisfaction, and not deception and fulfillment of services to loyalty, both directly and indirectly. Based on the results of this study also, it was said that between customer satisfaction and customer loyalty, there was a significant relationship. This study suggests factors that must be considered by an online business in gaining customer loyalty.
Keywords: Consumer Satisfaction, Consumer Loyalty, Security, Fulfillment, Non Deception, Privacy
Downloads
Download data is not yet available.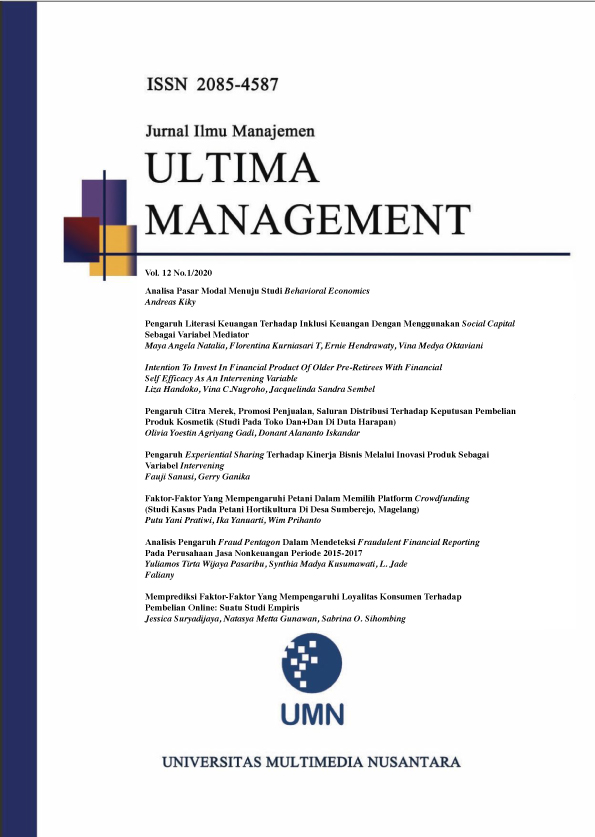 How to Cite
Suryadijaya, J., Gunawan, N., & Sihombing, S. (2020). MEMPREDIKSI FAKTOR-FAKTOR YANG MEMPENGARUHI LOYALITAS KONSUMEN TERHADAP PEMBELIAN ONLINE: SUATU STUDI EMPIRIS. Ultima Management : Jurnal Ilmu Manajemen, 12(1), 125-146. https://doi.org/https://doi.org/10.31937/manajemen.v12i1.1595
This work is licensed under a Creative Commons Attribution-ShareAlike 4.0 International License.
Authors retain copyright and grant the journal right of first publication with the work simultaneously licensed under a Creative Commons Attribution-ShareAlike International License (CC-BY-SA 4.0) that allows others to share the work with an acknowledgement of the work's authorship and initial publication in this journal.
Authors are able to enter into separate, additional contractual arrangements for the non-exclusive distribution of the journal's published version of the work (e.g., post it to an institutional repository or publish it in a book), with an acknowledgement of its initial publication in this journal.