PENGARUH THEORY OF PLANNED BEHAVIOUR TERHADAP ENTREPRENEURIAL INTENTION MAHASISWA DI TANGERANG
Zoel Hutabarat

Universitas Pelita Harapan
Abstract
The trend of young entrepreneurs coming from students is growing and this is in line with government programs that want to introduce and create resilient young entrepreneurs from an early age. When on campus, the desire of students to build a business is huge. But when they return to the community, the number of students who want to build a business is not as big as when they were in college. This study wants to look at the impact of the presence of entrepreneurship programs at the college level on entrepreneurial intentions on students. Can the program increase the desire of students to become entrepreneurs? This research was conducted by distributing questionnaires to as many as 200 students at three private universities in Tangerang who have an entrepreneurship program and the data collected were processed using SEM PLS 3. The results of this study indicate that the variables of personal attitude, perceived behavioral control, and subjective norm, affect entrepreneurial Student intentions at the three universities studied. This can be the basis for universities to develop existing entrepreneurship programs to enhance student creativity. Not only facilitating students with exhibition programs, but also providing students with the tools to be more creative and innovative, not only in product development but also in the process of experiencing consumers.
Key Words: Theory of Planned Behaviour, Entrepreneurial Iintention, Students.
Downloads
Download data is not yet available.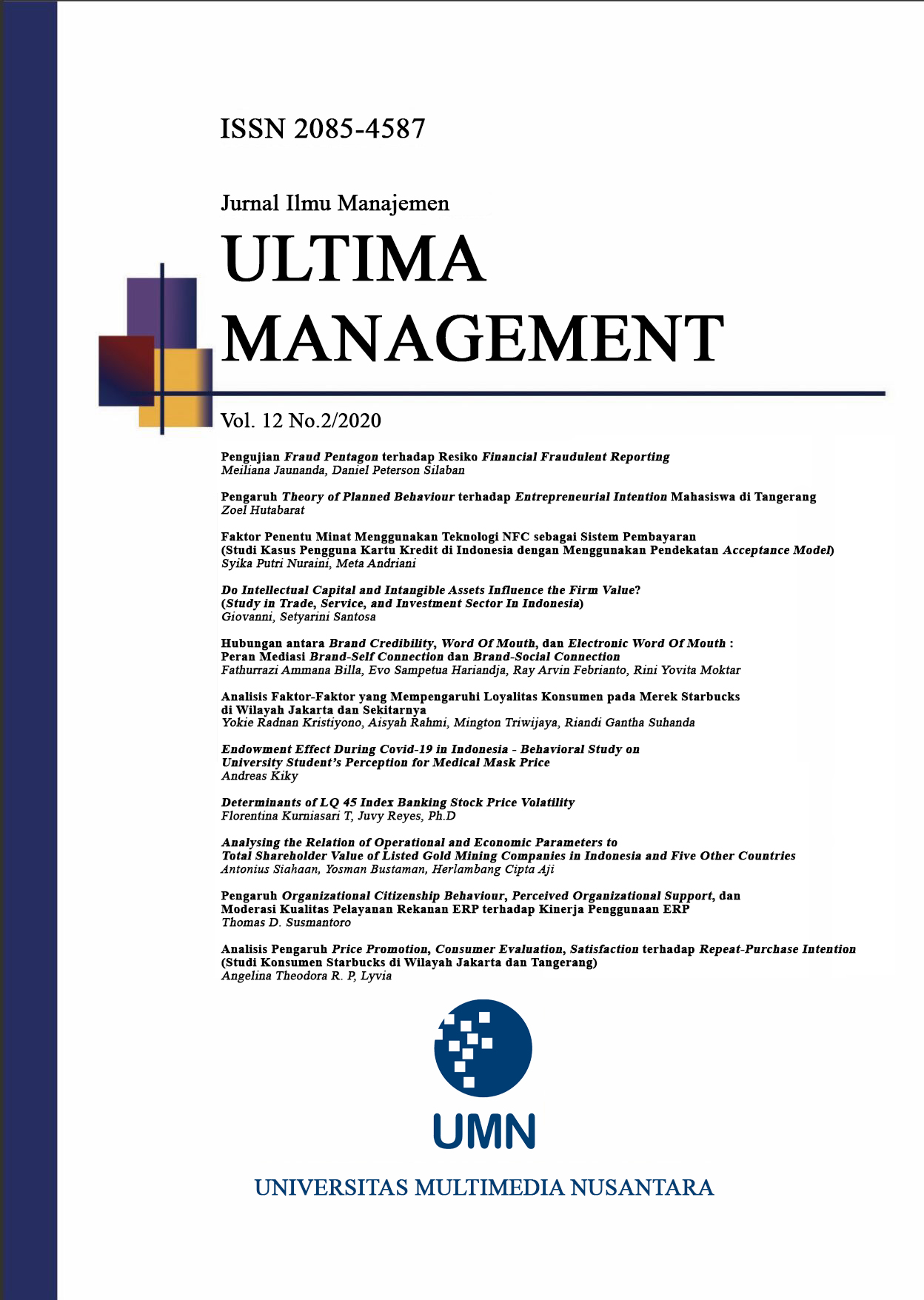 How to Cite
Hutabarat, Z. (2020). PENGARUH THEORY OF PLANNED BEHAVIOUR TERHADAP ENTREPRENEURIAL INTENTION MAHASISWA DI TANGERANG. Ultima Management : Jurnal Ilmu Manajemen, 12(2), 159-174. https://doi.org/https://doi.org/10.31937/manajemen.v12i2.1629
This work is licensed under a Creative Commons Attribution-ShareAlike 4.0 International License.
Authors retain copyright and grant the journal right of first publication with the work simultaneously licensed under a Creative Commons Attribution-ShareAlike International License (CC-BY-SA 4.0) that allows others to share the work with an acknowledgement of the work's authorship and initial publication in this journal.
Authors are able to enter into separate, additional contractual arrangements for the non-exclusive distribution of the journal's published version of the work (e.g., post it to an institutional repository or publish it in a book), with an acknowledgement of its initial publication in this journal.