ANALISIS FAKTOR-FAKTOR YANG MEMPENGARUHI LOYALITAS KONSUMEN PADA MEREK STARBUCKS DI WILAYAH JAKARTA DAN SEKITARNYA
Yokie Radnan Kristiyono

Universitas Pelita Harapan

Aisyah Rahmi

Universitas Pelita Harapan

Mington Triwijaya Triwijaya

Universitas Pelita Harapan

Riandi Gantha Suhanda

Universitas Pelita Harapan
Abstract
One of the factors in the movement of the economy in Indonesia is supported by the development of new businesses, one of which is a coffee beverage business. Coffee drinks business in Indonesia is one of the fastest growing business. Developments in the business sector can be seen from the emergence of enhancement of new starbucks coffee shops . The top-leading coffee shop in the Indonesian market today is Starbucks, it is shown by numbers of Starbucks' branches located almost in the entire region of Indonesia. The factor that makes Starbucks one of the strongest brand is the presence of customers who became loyal to the brand and make Starbucks as their first choice. The other factors that also affect the customer loyalty towards Starbucks are Brand Image, Brand Experience, Customer Satisfaction, Brand Trust, and Brand Love. Therefore, this research aims to examine the determinant factors of building customer loyalty of Starbucks' customers in Jakarta and surrounding areas. The method of analysis used by researchers in this study was SmartPLS 3.0 with 150 respondents who have enjoyed Starbucks coffee. In this study there were nine hypotheses supported by previous researches. In the results of this study, there were six hypotheses accepted and three hypotheses were rejected. Through this research, researchers hope to provide benefits for the reader especially for those who want to know about the factors that affect the customer loyalty of Starbucks in Jakarta and its surrounding areas.

Key Words: Brand Image, Brand Experience, Customer Satisfaction, Brand Trust, Brand
Love. Customer Loyalty, Starbucks
Downloads
Download data is not yet available.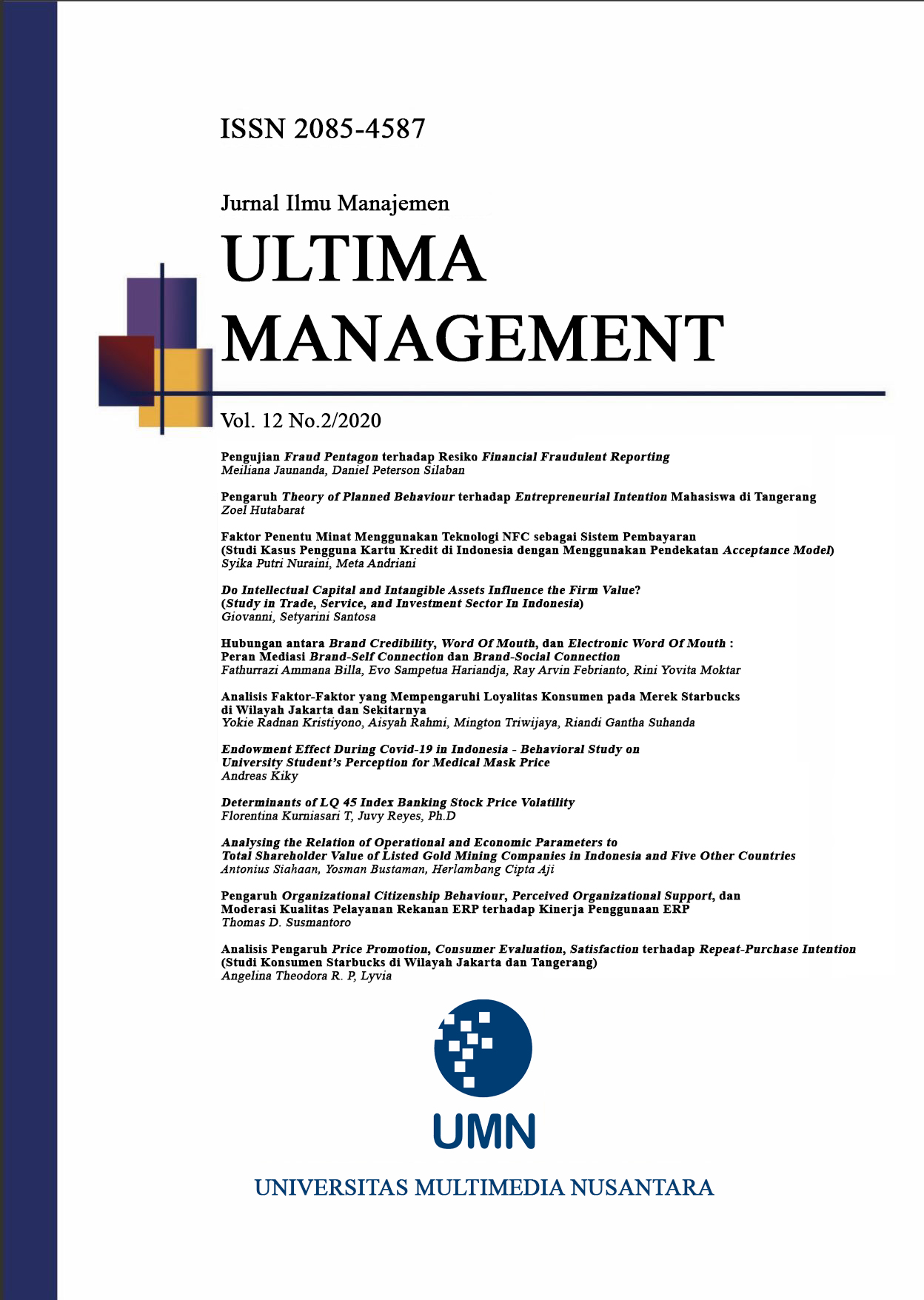 How to Cite
Kristiyono, Y., Rahmi, A., Triwijaya, M. T., & Gantha Suhanda, R. (2020). ANALISIS FAKTOR-FAKTOR YANG MEMPENGARUHI LOYALITAS KONSUMEN PADA MEREK STARBUCKS DI WILAYAH JAKARTA DAN SEKITARNYA. Ultima Management : Jurnal Ilmu Manajemen, 12(2), 233-247. https://doi.org/https://doi.org/10.31937/manajemen.v12i2.1734
This work is licensed under a Creative Commons Attribution-ShareAlike 4.0 International License.
Authors retain copyright and grant the journal right of first publication with the work simultaneously licensed under a Creative Commons Attribution-ShareAlike International License (CC-BY-SA 4.0) that allows others to share the work with an acknowledgement of the work's authorship and initial publication in this journal.
Authors are able to enter into separate, additional contractual arrangements for the non-exclusive distribution of the journal's published version of the work (e.g., post it to an institutional repository or publish it in a book), with an acknowledgement of its initial publication in this journal.