ENDOWMENT EFFECT DURING COVID-19 IN INDONESIA - BEHAVIORAL STUDY ON UNIVERSITY STUDENT'S PERCEPTION FOR MEDICAL MASK PRICE
Andreas Kiky

Pradita Institut Sains dan Teknologi
Abstract
Behavioral study about how people make decision becomes very popular nowadays. Many various researches address a problem or an error in people action. One of the errors that would like to be explored in this article is endowment effect. Endowment effect explains that people perceive fairness based on prior knowledge or a "frame" that put into their mind. This would be a problem because it could cause inconsistency in people action. Purpose of this research is to detect the endowment effect on university student when COVID-19 is taking place. The issue that would like to be explored is medical mask price increase during this outbreak. Simple survey on two groups of university students is conducted to detect this endowment effect. If the response from research respondents is the same on both groups then there is no endowment effect. Independent t-test is applied to test research hypothesis and validate the result. The finding is quite surprising; there is inconsistency between descriptive and hypothetical result. Most of respondents agree that the price is actually tradable at Rp 4,000 (it increases from normal price and about 0.27 USD) but they are reluctant to say this action fair. Some discussion and analysis are performed to expand this finding.
Key Words: Behavioral Economics, Bounded Rationality, Endowment Effect, Opportunity Cost, and Self-Control
Downloads
Download data is not yet available.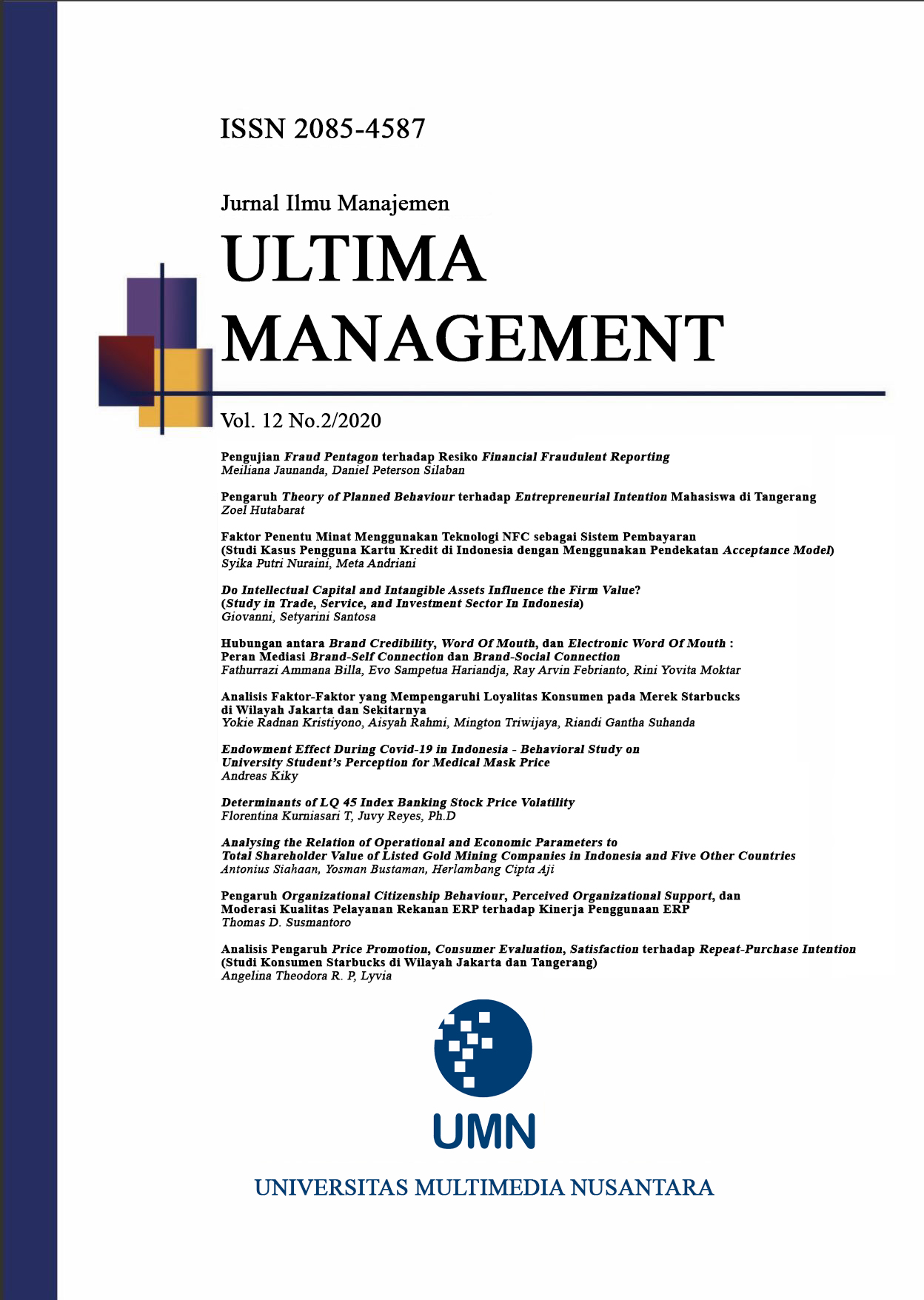 How to Cite
Kiky, A. (2020). ENDOWMENT EFFECT DURING COVID-19 IN INDONESIA - BEHAVIORAL STUDY ON UNIVERSITY STUDENT'S PERCEPTION FOR MEDICAL MASK PRICE. Ultima Management : Jurnal Ilmu Manajemen, 12(2), 248-260. https://doi.org/https://doi.org/10.31937/manajemen.v12i2.1752
This work is licensed under a Creative Commons Attribution-ShareAlike 4.0 International License.
Authors retain copyright and grant the journal right of first publication with the work simultaneously licensed under a Creative Commons Attribution-ShareAlike International License (CC-BY-SA 4.0) that allows others to share the work with an acknowledgement of the work's authorship and initial publication in this journal.
Authors are able to enter into separate, additional contractual arrangements for the non-exclusive distribution of the journal's published version of the work (e.g., post it to an institutional repository or publish it in a book), with an acknowledgement of its initial publication in this journal.