ANALYSING THE RELATION OF OPERATIONAL AND ECONOMIC PARAMETERS TO TOTAL SHAREHOLDER VALUE OF LISTED GOLD MINING COMPANIES IN INDONESIA AND FIVE OTHER COUNTRIES
Antonius Siahaan

Swiss German University
Abstract
Even though Indonesia was famous due to its mineral resources, only few gold mining companies is listed in the Indonesia stock exchange. In the other hand, there is a need to increase investment in the mining sector from stock market as reserve has been stagnant while production keeps going. To understand the nature of published gold mining companies, this study is conducted to analyze the effect of published operational parameter: ore processed, gold production, mining grade, process recovery, as well as external factors such as gross-domestic product and gold price to the share return of public listed gold mining companies. From panel data regression of quarter reports of eighteen (18) world mining companies in the period 2012 to 2017, it shows that process recovery and gold price is significant to the change of share price. Furthermore, the study finds that when operational parameter of existing mines can be good and positively increase, mining companies still need to look at their reserve to ensure sustainability of the business in the long run.
Key Words: Public Listed Gold Company, Share Return, Panel Data Regression, Operational Parameters, External Factors
Downloads
Download data is not yet available.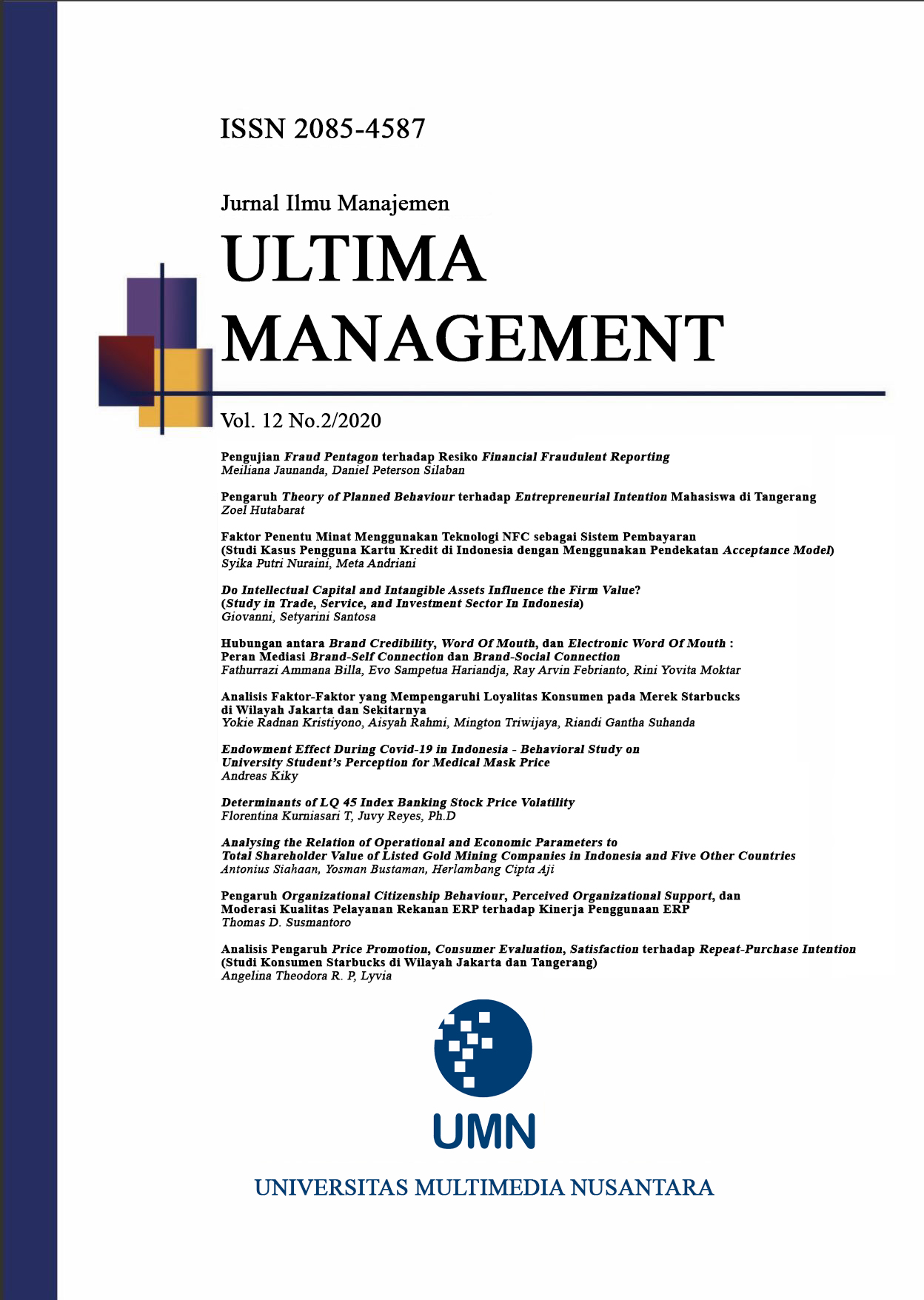 How to Cite
Siahaan, A. (2020). ANALYSING THE RELATION OF OPERATIONAL AND ECONOMIC PARAMETERS TO TOTAL SHAREHOLDER VALUE OF LISTED GOLD MINING COMPANIES IN INDONESIA AND FIVE OTHER COUNTRIES. Ultima Management : Jurnal Ilmu Manajemen, 12(2), 275-292. https://doi.org/https://doi.org/10.31937/manajemen.v12i2.1772
This work is licensed under a Creative Commons Attribution-ShareAlike 4.0 International License.
Authors retain copyright and grant the journal right of first publication with the work simultaneously licensed under a Creative Commons Attribution-ShareAlike International License (CC-BY-SA 4.0) that allows others to share the work with an acknowledgement of the work's authorship and initial publication in this journal.
Authors are able to enter into separate, additional contractual arrangements for the non-exclusive distribution of the journal's published version of the work (e.g., post it to an institutional repository or publish it in a book), with an acknowledgement of its initial publication in this journal.