ANALISIS PENGARUH PRICE PROMOTION, CONSUMER EVALUATION, SATISFACTION, TERHADAP REPEAT-PURCHASE INTENTION (STUDI KONSUMEN STARBUCKS DI WILAYAH JAKARTA DAN TANGERANG)
Angelina Theodora Ratna Primantina

Universitas Multimedia Nusantara

Lyvia Lyvia

Universitas Multimedia Nusantara
Abstract
Coffee is an important aspect of the modern lifestyle. Not only products but also services for most city goers, especially in the Jakarta and Tangerang areas. This research is motivated by the growing trend of coffee shops with the emergence of many local brands, even though there is a very strong brand that has entered this business for a long time, namely Starbucks. One of the strategies carried out by Starbucks is through the price promotion. This strategy increases consumer desire to buy and also influences consumer evaluation of product quality through food quality and service quality. The results of this study indicate a relationship between price promotion with food quality and service quality. In terms of satisfaction, service quality variables affect customer satisfaction. Meanwhile, food quality and price promotion have no effect on satisfaction. Repeat purchase intention is influenced by customer satisfaction and price promotion. This study uses Structural Equation Modeling (SEM).
Key Words: Price Promotion; Service Quality, Food Quality;Repeat-Purchase Intention, Satisfaction;  Coffee Business
Downloads
Download data is not yet available.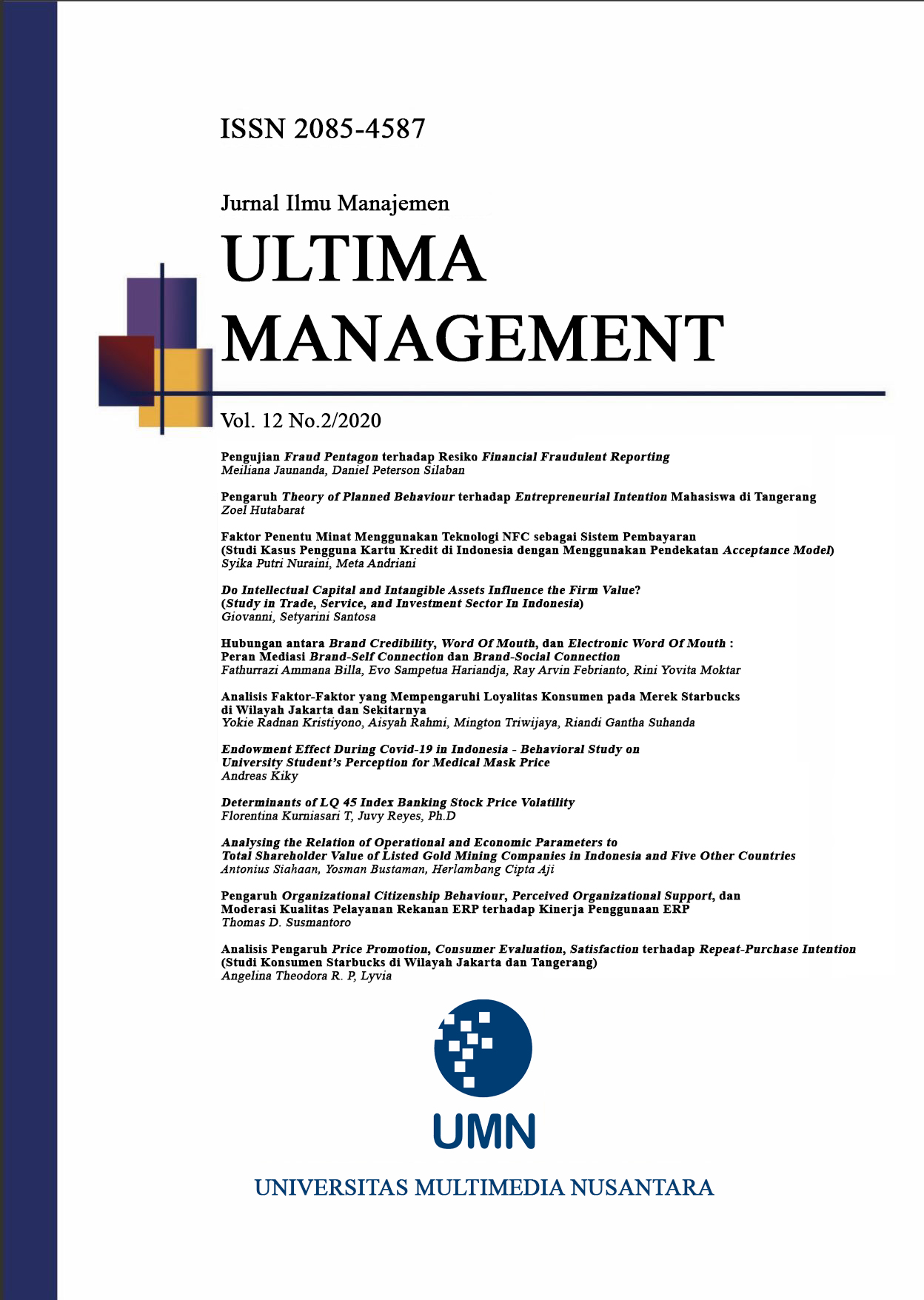 How to Cite
Primantina, A., & Lyvia, L. (2020). ANALISIS PENGARUH PRICE PROMOTION, CONSUMER EVALUATION, SATISFACTION, TERHADAP REPEAT-PURCHASE INTENTION (STUDI KONSUMEN STARBUCKS DI WILAYAH JAKARTA DAN TANGERANG). Ultima Management : Jurnal Ilmu Manajemen, 12(2), 308-331. https://doi.org/https://doi.org/10.31937/manajemen.v12i2.1875
This work is licensed under a Creative Commons Attribution-ShareAlike 4.0 International License.
Authors retain copyright and grant the journal right of first publication with the work simultaneously licensed under a Creative Commons Attribution-ShareAlike International License (CC-BY-SA 4.0) that allows others to share the work with an acknowledgement of the work's authorship and initial publication in this journal.
Authors are able to enter into separate, additional contractual arrangements for the non-exclusive distribution of the journal's published version of the work (e.g., post it to an institutional repository or publish it in a book), with an acknowledgement of its initial publication in this journal.