ANTESEDEN DARI TEORI UTAUT DAN KONSEKUENSINYA (STUDI EMPIRIS PURCHASE INTENTION GENERASI Z)
Juniarty Juniarty

Universitas Pelita Harapan

Verrell Valentinus Gunawan

Universitas Pelita Harapan
Abstract
Abstract - With the huge number of social media accesses today, many people are trying to develop their marketing strategies by using social media to influence consumer buying interest through advertisements on social media. The research purpose was to see the impact of the antecedents of theory technology acceptance and use, planned behavior on media social advertising on buying interest of z generation in Jabodetabek who are active in the use of media social with a total sample of 161 respondents. The technique used for distributing questionnaires is by distributing questionnaires online using a Likert scale. The data was processed using the SmartPLS program. Based on the examination, concluded that Interactivity influences Purchase Intention, Interactivity influences Performance Expectancy, Interactivity influences Hedonic Motivation, Informativeness influences Purchase Intention, Perceived Relevance influences Purchase Intention, Perceived Relevance influences Performance Expectancy, Performance Expectancy has no influence on purchase intention,  Hedonic Motivation has no impact on Purchase Intention, Habit does not influence Purchase Intention, and Informativeness has no impact on Performance Expectancy. This research provide information to companies or organizations about the influence of advertising on social media to improve their customers' buying interest. This research also gives some limitations and recommendations for future researchers so that they can conduct better analysis in the future.
Keywords: Hedonic Motivation; Interactivity; Perceived Relevance; Performance Expectancy;  Purchase Intention
Downloads
Download data is not yet available.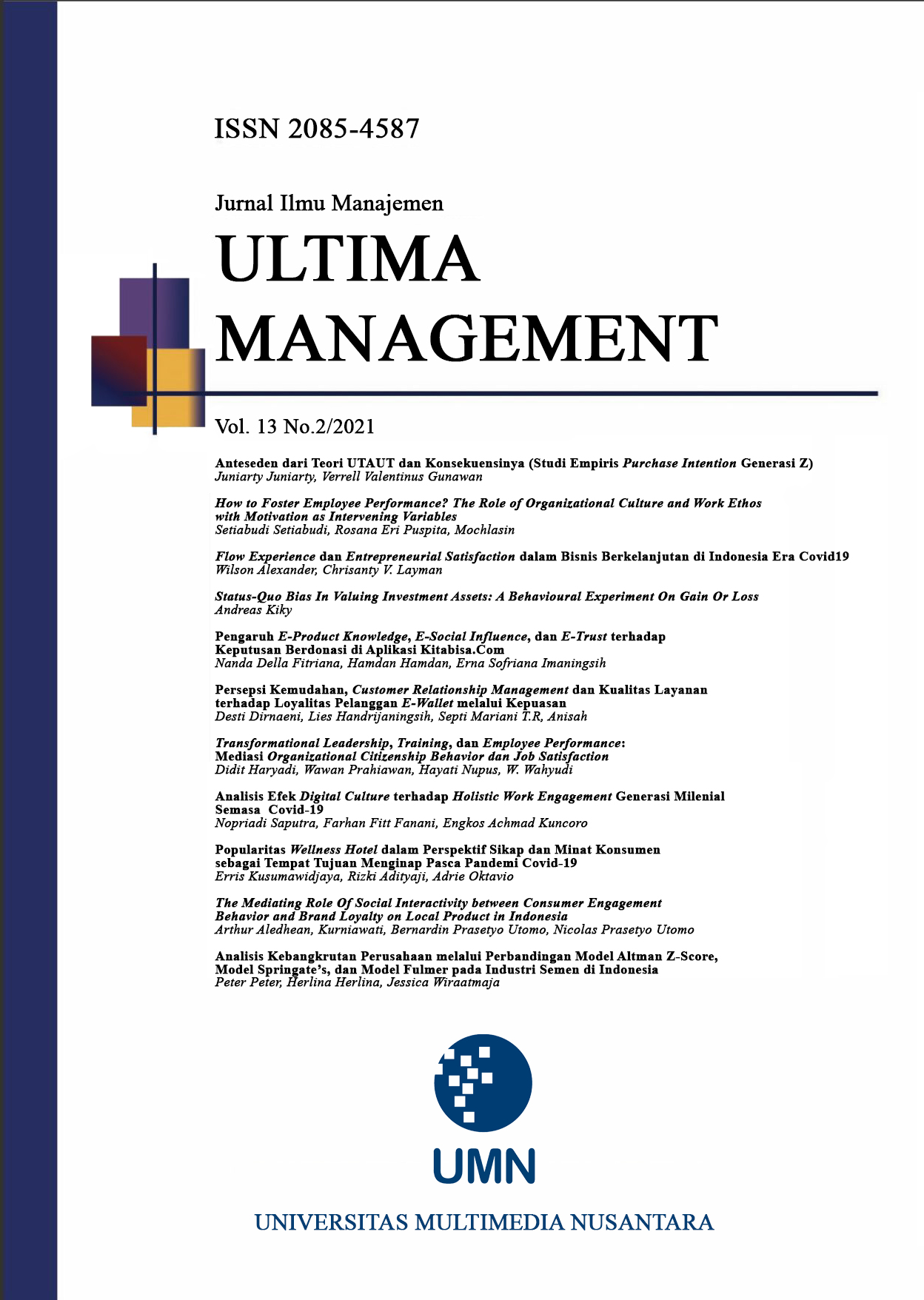 How to Cite
Juniarty, J., & Gunawan, V. (2021). ANTESEDEN DARI TEORI UTAUT DAN KONSEKUENSINYA (STUDI EMPIRIS PURCHASE INTENTION GENERASI Z). Ultima Management : Jurnal Ilmu Manajemen, 13(2), 197-222. https://doi.org/https://doi.org/10.31937/manajemen.v13i2.1958
This work is licensed under a Creative Commons Attribution-ShareAlike 4.0 International License.
Authors retain copyright and grant the journal right of first publication with the work simultaneously licensed under a Creative Commons Attribution-ShareAlike International License (CC-BY-SA 4.0) that allows others to share the work with an acknowledgement of the work's authorship and initial publication in this journal.
Authors are able to enter into separate, additional contractual arrangements for the non-exclusive distribution of the journal's published version of the work (e.g., post it to an institutional repository or publish it in a book), with an acknowledgement of its initial publication in this journal.