THE MEDIATING ROLE OF SOCIAL INTERACTIVITY BETWEEN CONSUMER ENGAGEMENT BEHAVIOR AND BRAND LOYALTY ON LOCAL PRODUCT IN INDONESIA
Arthur Aledhean

Magister Manajemen, Fakultas Ekonomi dan Bisnis, Universitas Trisakti, Indonesia

Kurniawati Kurniawati

Magister Manajemen, Fakultas Ekonomi dan Bisnis, Universitas Trisakti, Indonesia

Bernardin Prasetyo Utomo

Magister Manajemen, Fakultas Ekonomi dan Bisnis, Universitas Trisakti, Indonesia

Nicolas Prasetyo Utomo

Magister Manajemen, Fakultas Ekonomi dan Bisnis, Universitas Trisakti, Indonesia
Abstract
Abstract - This study aims to analyze the effect of consumer engagement behavior on brand loyalty mediated by social interactivity. The phenomenon that occurs is that the intensity of the use of media social in Indonesia is still not able to increase the competitiveness of Indonesian local products. This study use three dimensions on the variables of consumer engagement behavior then social interactivity and brand loyalty as research variables, yet local fashion brand as research object. The sample determined by puposive sampling method was 170 respondents. Data analysis technique uses Structural Equation Model (SEM) supported by AMOS version 21. The result show that the mediation of social interactivity partially influences consumer engagement behavior on brand loyalty, which means consumer engagement behavior can affect brand loyalty either with or without mediation of social interactivity. This study does not categorize brands so that they are not competitively equivalent to brands, then there is no cultural interaction that is considered in interpreting consumer engagement behavior.
Keywords: Brand Loyalty; Consumer Engagement Behavior; Social Interactivity
Downloads
Download data is not yet available.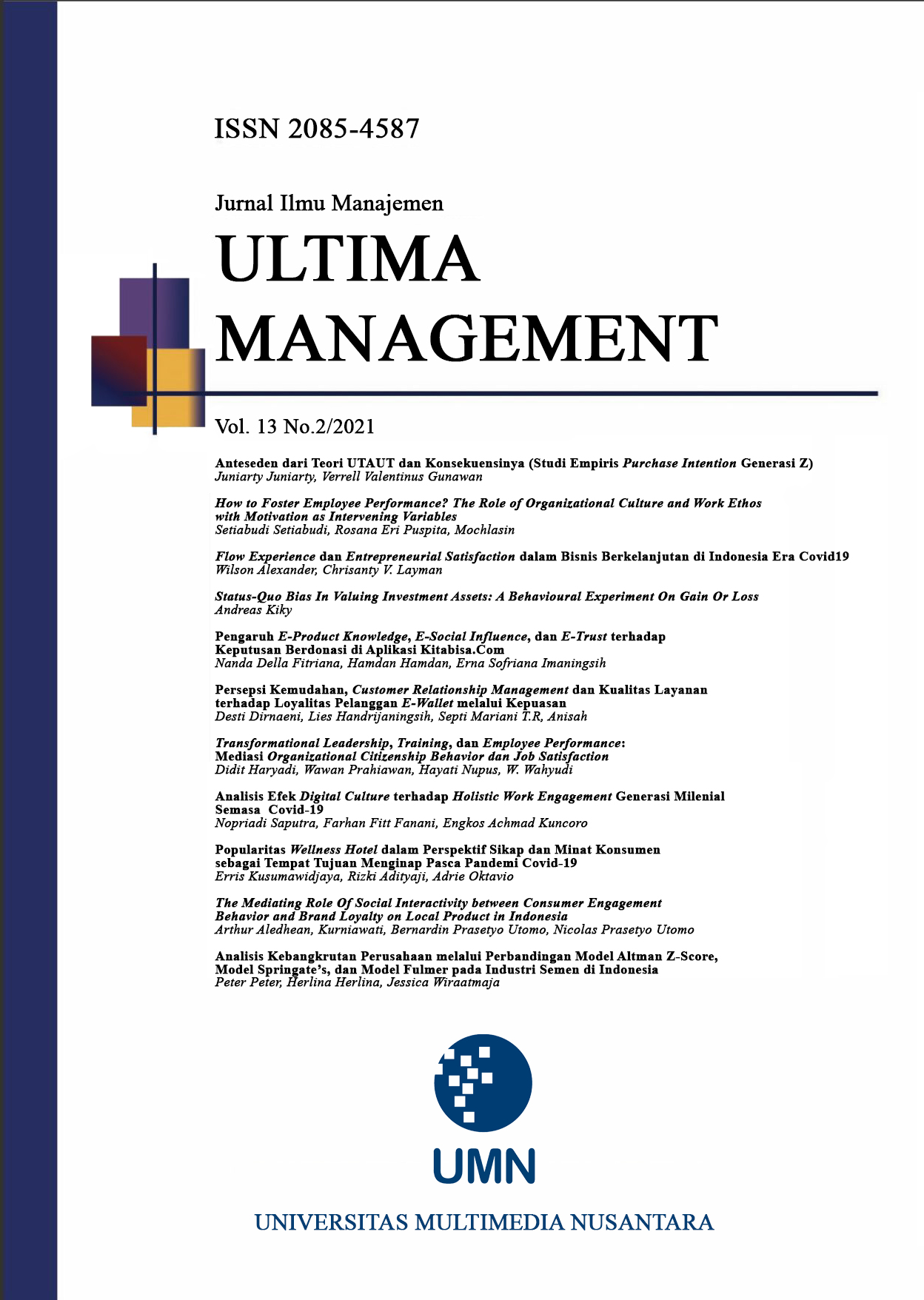 How to Cite
Aledhean, A., Kurniawati, K., Utomo, B., & Utomo, N. (2021). THE MEDIATING ROLE OF SOCIAL INTERACTIVITY BETWEEN CONSUMER ENGAGEMENT BEHAVIOR AND BRAND LOYALTY ON LOCAL PRODUCT IN INDONESIA. Ultima Management : Jurnal Ilmu Manajemen, 13(2), 352-368. https://doi.org/https://doi.org/10.31937/manajemen.v13i2.2178
This work is licensed under a Creative Commons Attribution-ShareAlike 4.0 International License.
Authors retain copyright and grant the journal right of first publication with the work simultaneously licensed under a Creative Commons Attribution-ShareAlike International License (CC-BY-SA 4.0) that allows others to share the work with an acknowledgement of the work's authorship and initial publication in this journal.
Authors are able to enter into separate, additional contractual arrangements for the non-exclusive distribution of the journal's published version of the work (e.g., post it to an institutional repository or publish it in a book), with an acknowledgement of its initial publication in this journal.