ANALISIS EFEK DIGITAL CULTURE TERHADAP HOLISTIC WORK ENGAGEMENT GENERASI MILENIAL SEMASA COVID-19
Nopriadi Saputra

BINUS Business School, Bina Nusantara University

Farhan Fitt Fanani

BINUS Business School, Bina Nusantara University

Engkos Achmad Kuncoro

BINUS Business School, Bina Nusantara University
Abstract
Abstract- This article intends to examine holistic work engagement of millennial employees who work in offices, as well as examine the influence of digital culture on work engagement in DKI Jaya during COVID-19. This article is based on a cross-sectional and quantitative-causal study by using a non-probabilistic sampling approach. Respondents are the first and second layers of the personal and professional network of the research team. They all live and/or work in Central Jakarta. The data from 399 office millennial employees were structured by utilizing PLS-SEM and processed with SmartPLS version 3.3. The results show that digital culture has a direct positive and significant effect on the four aspects of holistic work engagement. However, when the analysis tried to examined further, it turns out that the influence of digital culture is multi-layered, where at first it directly affects on physical engagement and then indirectly affects intellectual and emotional engagement, and finally impact on spiritual engagement. The development of digital culture is effective enough to be applied for  engaging millennial employees holistically during this COVID-19 pandemic.
Keywords: Holistic Work Engagement; Learning Culture; Millennials
Downloads
Download data is not yet available.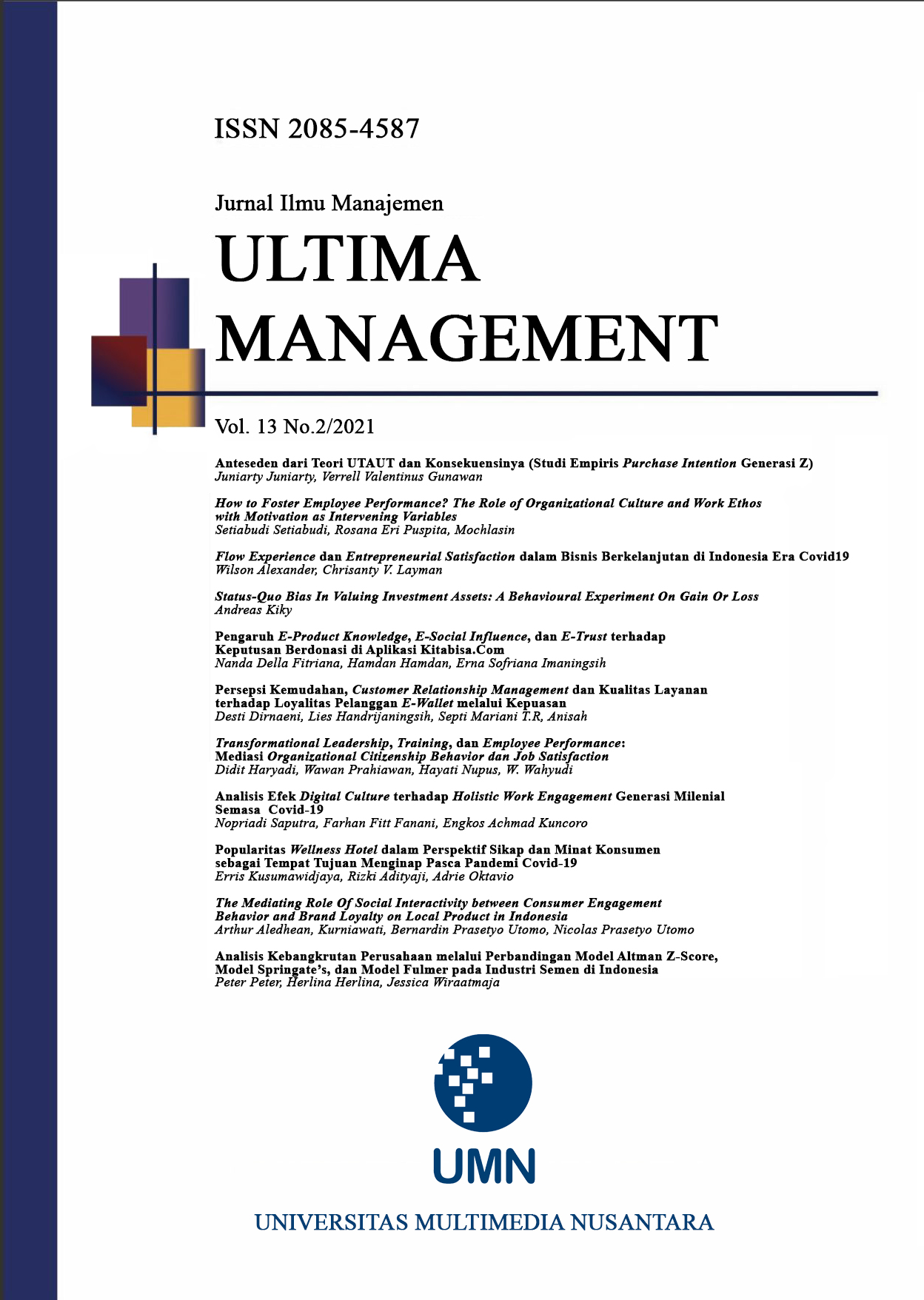 How to Cite
Saputra, N., Fanani, F., & Kuncoro, E. (2021). ANALISIS EFEK DIGITAL CULTURE TERHADAP HOLISTIC WORK ENGAGEMENT GENERASI MILENIAL SEMASA COVID-19. Ultima Management : Jurnal Ilmu Manajemen, 13(2), 324-337. https://doi.org/https://doi.org/10.31937/manajemen.v13i2.2188
This work is licensed under a Creative Commons Attribution-ShareAlike 4.0 International License.
Authors retain copyright and grant the journal right of first publication with the work simultaneously licensed under a Creative Commons Attribution-ShareAlike International License (CC-BY-SA 4.0) that allows others to share the work with an acknowledgement of the work's authorship and initial publication in this journal.
Authors are able to enter into separate, additional contractual arrangements for the non-exclusive distribution of the journal's published version of the work (e.g., post it to an institutional repository or publish it in a book), with an acknowledgement of its initial publication in this journal.