POPULARITAS WELLNESS HOTEL DALAM PERSPEKTIF SIKAP DAN MINAT KONSUMEN SEBAGAI TEMPAT TUJUAN MENGINAP PASCA PANDEMI COVID-19
Erris Kusumawidjaya

Universitas Ciputra Surabaya

Rizki Adityaji

Universitas Ciputra Surabaya

Adrie Oktavio

Universitas Ciputra Surabaya
Abstract
Abstract- After the Covid-19 pandemic where tourist attractions have begun to reopen, it is hoped that the movement of tourists will also start to live, by no exception is Indonesia. Naturally, tourism supporting industries, such as the hotel industry, have also begun to fully operate after experiencing a decline in operations for long enough time due to the social restriction policy made by the government. As a result, the number of guests staying is significantly reduced. In the research area in the hospitality sector, there have been quite several studies that observed the relationship between attitudes and interest in staying overnight among tourists, especially during the Covid-19 pandemic. However, studies that specifically examine attitudes and intentions to stay in the context of wellness hotels have not been found. Therefore, this study is aiming to investigate the attitudes and interests of consumers to stay at wellness hotels after the Covid-19 pandemic. In forming this attitude, the motivation of tourists is investigated, especially regarding social media motivation and egoistic motivation. Survey research is conducted and has succeeded in collecting 163 samples of the results from the respondents' participation. The results of statistical data processing show that social media motivation and egoistic motivation can influence consumer attitudes positively and significantly. Furthermore, consumer attitudes also have a positive and significant effect on consumer interest in wellness hotels as a choice of place to stay. Based on the research findings, the theoretical and practical implications for wellness hotels stakeholders are also discussed in the closing section, including the limitations of the study.
Keywords: Consumer Attitude; Egoistic Motivation; Intention to Stay; Social Media Motivation; Wellness Hotel
Downloads
Download data is not yet available.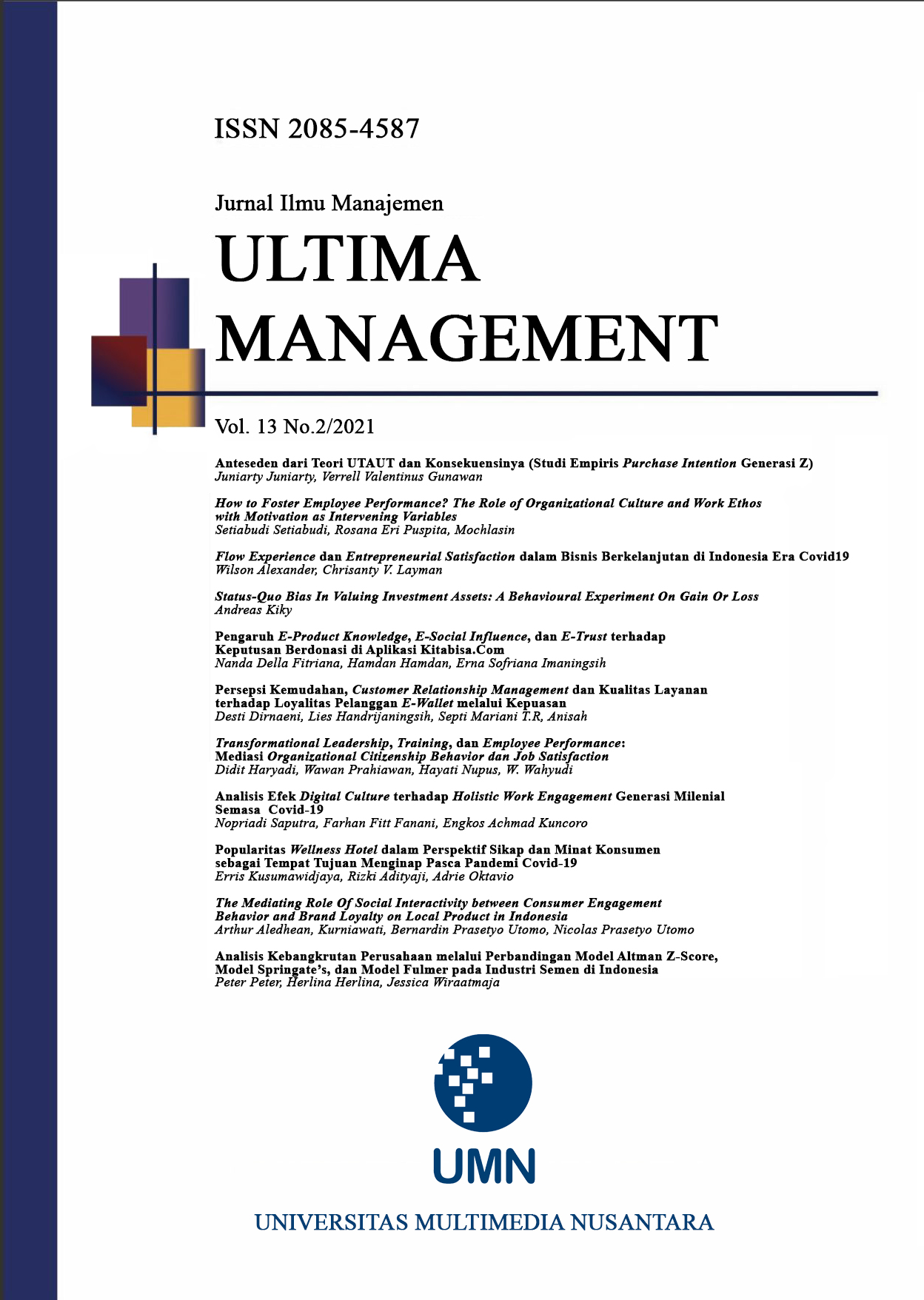 How to Cite
Kusumawidjaya, E., Adityaji, R., & Oktavio, A. (2021). POPULARITAS WELLNESS HOTEL DALAM PERSPEKTIF SIKAP DAN MINAT KONSUMEN SEBAGAI TEMPAT TUJUAN MENGINAP PASCA PANDEMI COVID-19. Ultima Management : Jurnal Ilmu Manajemen, 13(2), 338-351. https://doi.org/https://doi.org/10.31937/manajemen.v13i2.2312
This work is licensed under a Creative Commons Attribution-ShareAlike 4.0 International License.
Authors retain copyright and grant the journal right of first publication with the work simultaneously licensed under a Creative Commons Attribution-ShareAlike International License (CC-BY-SA 4.0) that allows others to share the work with an acknowledgement of the work's authorship and initial publication in this journal.
Authors are able to enter into separate, additional contractual arrangements for the non-exclusive distribution of the journal's published version of the work (e.g., post it to an institutional repository or publish it in a book), with an acknowledgement of its initial publication in this journal.