THE IMPORTANCE OF EMPLOYEES' MOTIVATION AND TRAINING ON COMPANY PERFORMANCE IN A FAMILY BUSINESS
Lila Maria Kaban

Fakultas Ekonomi dan Bisnis, Universitas Pelita Harapan

Jacklyn Amanda

Fakultas Ekonomi dan Bisnis, Universitas Pelita Harapan
Abstract
Abstract – Business nowadays has no boundaries of time, place, or information, so any firm must evaluate its performance regularly to ensure long-term viability. This study aims to determine the impact of employees' motivation and job training on company performance in a family business called PT Anugrah Mandiri. It is an automotive spare parts distribution company in Medan, Indonesia established in 2010. As a family business run by many family members, PT Anugrah Mandiri tends to undervalue the importance of providing motivation and delivering practical training to its employees. This results in most employees being overwhelmed, and the business performance is decreasing. As this study's quantitative research method shows, motivated and skilled employees are the keys to a successful firm. The instruments used to collect data are questionnaires about employees' motivation, job training, and company performance, and then processed using SPSS. Saturation sampling is used as the sampling method by administering the questionnaires to 50 employees of PT Anugrah Mandiri. The data analysis tool in this study is a multiple linear regression by carrying out a classic assumption test continued by testing the partial hypothesis or t-test, the simultaneous hypothesis test or the F test, and the calculation of the coefficient of determination. The statistical result shows that company performance increases by 0.422 and 0.384 when employees' motivation and job training increase by 1 unit. All hypotheses in this research are accepted, and it can be concluded that employees' motivation and job training influence company performance by as much as 68.9%. After conducting this research, PT Anugrah Mandiri is encouraged to improve its motivation and training for the employees to increase company performance.
Keywords: Company Performance; Employee Motivation; Family Business; Job Training
Downloads
Download data is not yet available.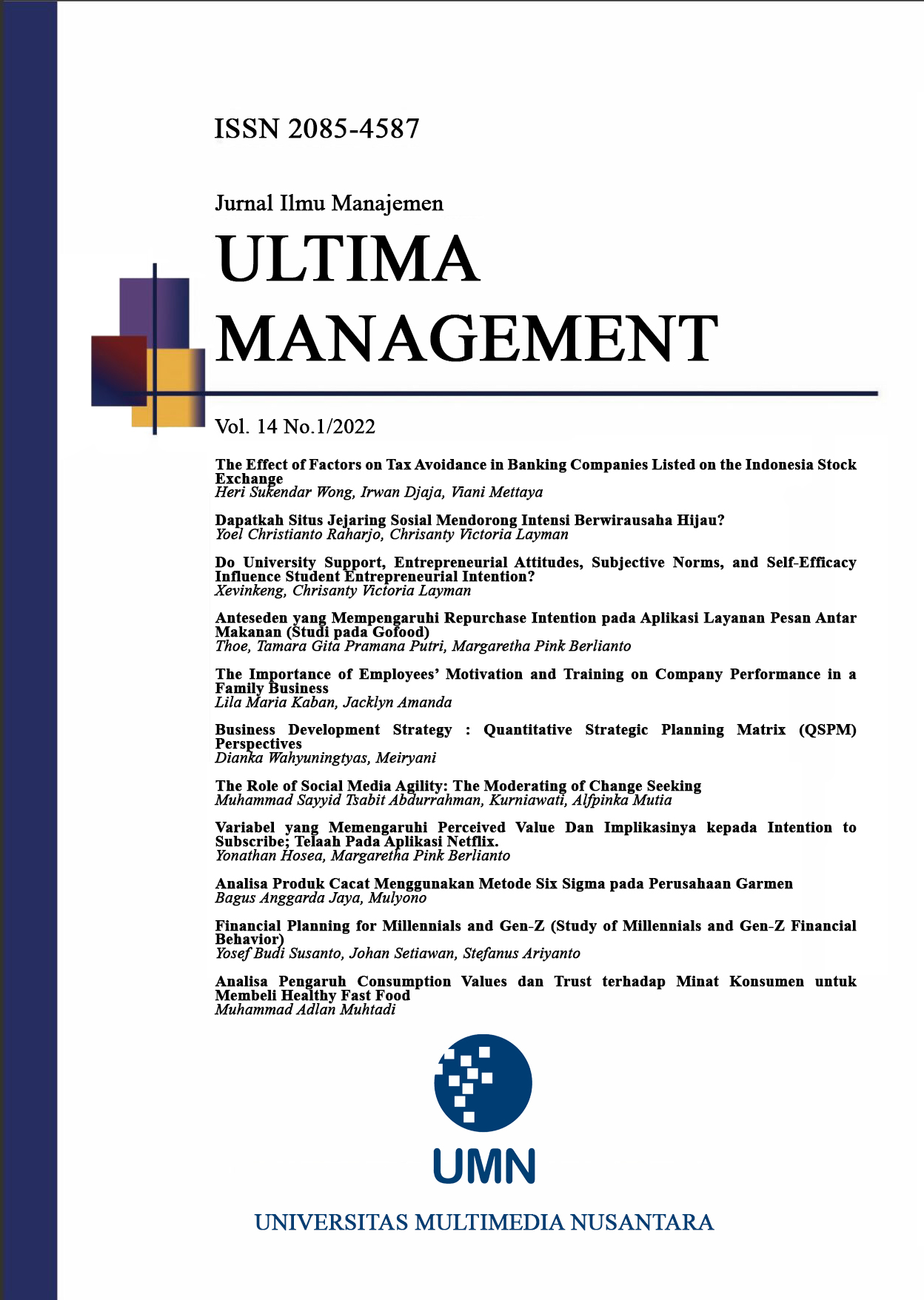 How to Cite
Kaban, L., & Amanda, J. (2022). THE IMPORTANCE OF EMPLOYEES' MOTIVATION AND TRAINING ON COMPANY PERFORMANCE IN A FAMILY BUSINESS. Ultima Management : Jurnal Ilmu Manajemen, 14(1), 83-96. https://doi.org/https://doi.org/10.31937/manajemen.v14i1.2371
This work is licensed under a Creative Commons Attribution-ShareAlike 4.0 International License.
Authors retain copyright and grant the journal right of first publication with the work simultaneously licensed under a Creative Commons Attribution-ShareAlike International License (CC-BY-SA 4.0) that allows others to share the work with an acknowledgement of the work's authorship and initial publication in this journal.
Authors are able to enter into separate, additional contractual arrangements for the non-exclusive distribution of the journal's published version of the work (e.g., post it to an institutional repository or publish it in a book), with an acknowledgement of its initial publication in this journal.