FINANCIAL PLANNING FOR MILLENNIALS AND GEN-Z (STUDY OF MILLENNIALS AND GEN-Z FINANCIAL BEHAVIOR)
Yosef Budi Susanto

Faculty of Business, Universitas Multimedia Nusantara

Johan Setiawan

Faculty of Engineering and Informatics, Universitas Multimedia Nusantara

Stefanus Ariyanto

Faculty of Business, Universitas Multimedia Nusantara
Abstract
Abstract - Covid19 pandemic made many people lose their jobs, and many have no enough savings, so that they had to reduce their living standards. This should not happen if they did financial planning.  The aim of this research to look for factors affecting interest in financial planning adoption by Millennials and Z generation. Exploratory investigation is used to identify the research problem, objectives, and framework. Quantitative approach, is used to process data from 100 respondents, using SmartPLS to test the proposed hypothesis.  The result shows that level of financial planning literacy and benefit expectancy, had a significant effect on the adoption of financial planning, and on the positive attitude towards financial planning.  In addition, Millennials and Z have high enough expectations that financial planning will provide well-being; and there is no mediation effect of Attitude Towards Financial Planning. As a conclusion, Millennials and Generation Z have not done adequate financial planning to ensure to meet their future living needs, such as the need to marry, have children, buy a house, continue their education, and emergency funds. Financial planning literacy and the expectation of the benefits are the factors that most influence the adoption of financial planning by millennials and Generation Z.
Keywords: Financial Planning Literacy; Financial Health Examination; UTAUT; Social Influence; Facilitating Condition
Downloads
Download data is not yet available.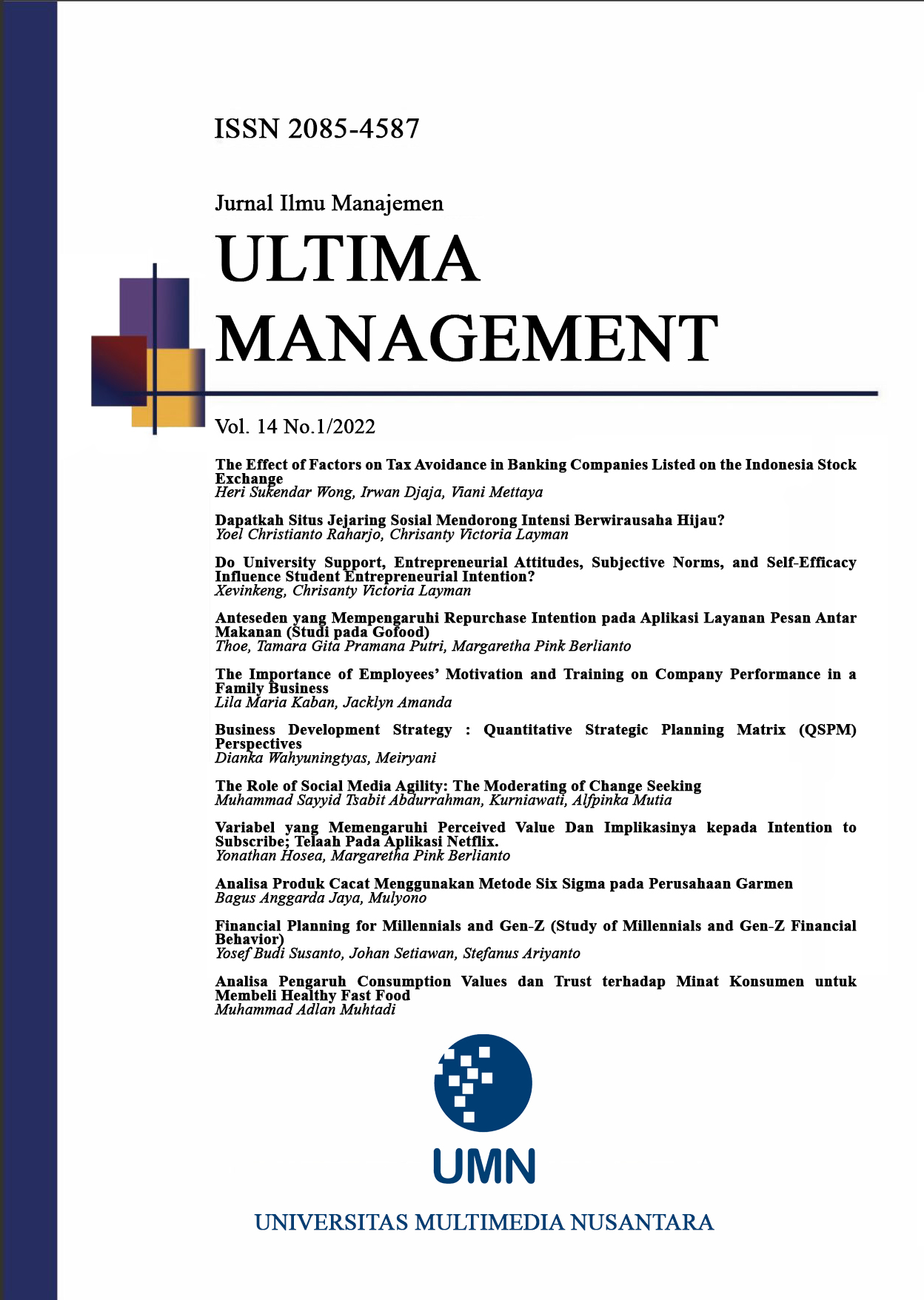 How to Cite
Susanto, Y., Setiawan, J., & Ariyanto, S. (2022). FINANCIAL PLANNING FOR MILLENNIALS AND GEN-Z (STUDY OF MILLENNIALS AND GEN-Z FINANCIAL BEHAVIOR). Ultima Management : Jurnal Ilmu Manajemen, 14(1), 156-168. https://doi.org/https://doi.org/10.31937/manajemen.v14i1.2533
This work is licensed under a Creative Commons Attribution-ShareAlike 4.0 International License.
Authors retain copyright and grant the journal right of first publication with the work simultaneously licensed under a Creative Commons Attribution-ShareAlike International License (CC-BY-SA 4.0) that allows others to share the work with an acknowledgement of the work's authorship and initial publication in this journal.
Authors are able to enter into separate, additional contractual arrangements for the non-exclusive distribution of the journal's published version of the work (e.g., post it to an institutional repository or publish it in a book), with an acknowledgement of its initial publication in this journal.