BUSINESS DEVELOPMENT STRATEGY : QUANTITATIVE STRATEGIC PLANNING MATRIX (QSPM) PERSPECTIVES
Dianka Wahyuningtias

Faculty of Digital Communication and Hotel & Tourism Bina Nusantara University

Meiryani Meiryani

Accounting Study Program Bina Nusantara University Jakarta Indonesia
Abstract
Abstract- King's Promotion Indonesia is a company engaged in international bag production services. This study uses a quantitative strategic planning matrix method by evaluating alternative options objectively, determining attractiveness, then deciding the best strategy. The purpose of this study is to analyze internal and external conditions of the company and formulate a business strategy in order to gain a competitive advantage for the company. The research method used in this research is descriptive qualitative method with the type of case study research. Data collection techniques using interviews, surveys and questionnaires conducted on related parties within the company. The data that has been obtained were analyzed using the grand strategy matrix and QSPM. The result of the grand strategy shows that the alternatives that can be applied by the company are market penetration and product development strategies. The results of this study provide alternative strategies, namely improving product quality, developing product variants and designs, and making market pricing strategies in the face of competition. The results of this study show consistency of resource-based theory which states that companies that can maintain its competitive advantage has the ability to create added value for stakeholders.
Keywords: Market Development, Product Development, Strategy Management, QSPM Matrix
Downloads
Download data is not yet available.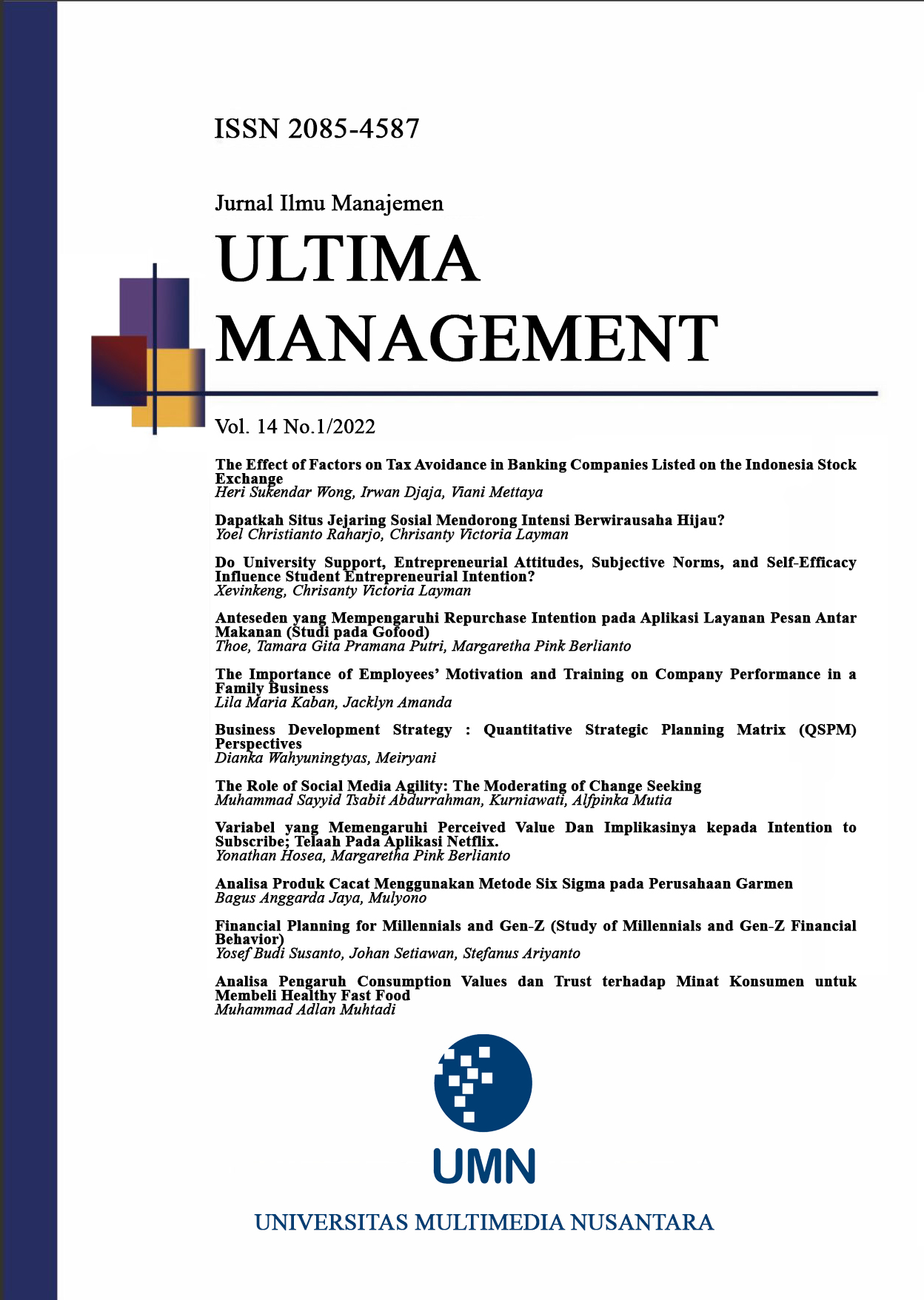 How to Cite
Wahyuningtias, D., & Meiryani, M. (2022). BUSINESS DEVELOPMENT STRATEGY : QUANTITATIVE STRATEGIC PLANNING MATRIX (QSPM) PERSPECTIVES. Ultima Management : Jurnal Ilmu Manajemen, 14(1), 97-110. https://doi.org/https://doi.org/10.31937/manajemen.v14i1.2549
This work is licensed under a Creative Commons Attribution-ShareAlike 4.0 International License.
Authors retain copyright and grant the journal right of first publication with the work simultaneously licensed under a Creative Commons Attribution-ShareAlike International License (CC-BY-SA 4.0) that allows others to share the work with an acknowledgement of the work's authorship and initial publication in this journal.
Authors are able to enter into separate, additional contractual arrangements for the non-exclusive distribution of the journal's published version of the work (e.g., post it to an institutional repository or publish it in a book), with an acknowledgement of its initial publication in this journal.