VARIABEL YANG MEMPENGARUHI PERCEIVED VALUE DAN IMPLIKASINYA KEPADA INTENTION TO SUBSCRIBE; TELAAH PADA APLIKASI NETFLIX
Yonathan Hosea

Universitas Pelita Harapan

Margaretha Pink Berlianto

Universitas Pelita Harapan
Abstract
Abstract –Many industry in the world affected by Covid-19 pandemic,it can be seen from world gross domestic product that decreased, this event also affect Indonesia. Meanwhile there are industries that are not affected by this situation such as technology industries like movie apps. Netflix as one of the leading company in the world grow a lot during the pandemic, however Netflix is not the industry leader in Indonesia despite being the number one movie apps in the world and spectacular growth during the pandemic. This event can be caused by many factors such as the number of competitors for Netflix in Indonesia that offer different content, price, and free services. Therefore this research aim to explain factors that affect consumer intention to subscribe Netflix services in Indonesia. Seven hypotheses will be tested in this study and the data will be analyzed using a structural equation model (SEM). There are 164 samples gathered across Jabodetabek. Result of this study indicate that perceived cost has a negative influence where perceived enjoyment, perceived usefulness and perceived compatibility have a positive influence on intention to subscribe through perceived value meanwhile social influence also has a direct positive influence towards perceived value and intention to subscribe. All hypotheses are supported and can be used to explain consumer intention to subscribe Netflix streaming service and managerial implications will be discussed further in this study.
Keywords: Perceived Enjoyment; Perceived Usefulness; Perceived Compatibility; Perceived Price; Perceived Value; Intention to Subscribe; Social Inflluence
Downloads
Download data is not yet available.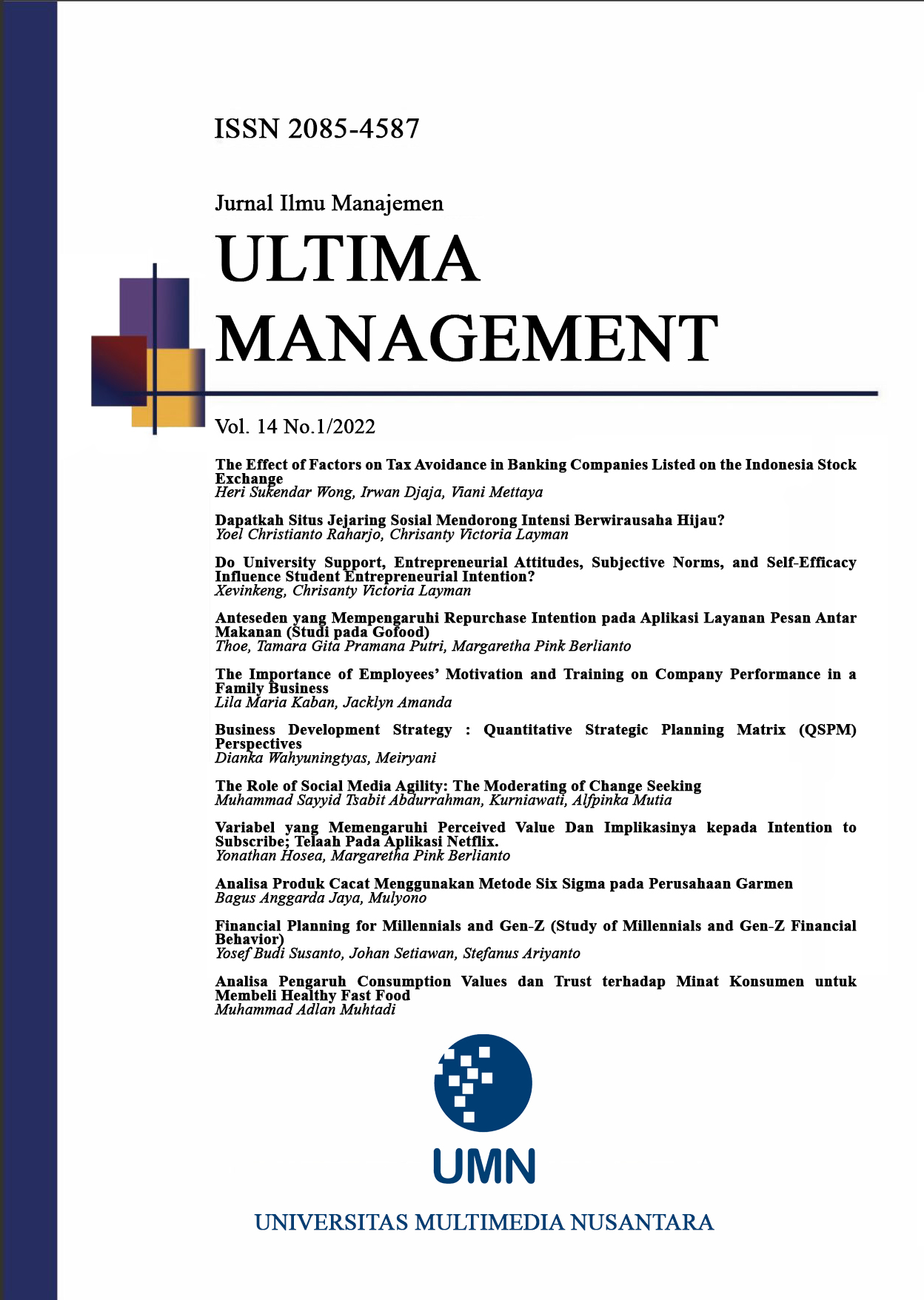 How to Cite
Hosea, Y., & Berlianto, M. (2022). VARIABEL YANG MEMPENGARUHI PERCEIVED VALUE DAN IMPLIKASINYA KEPADA INTENTION TO SUBSCRIBE; TELAAH PADA APLIKASI NETFLIX. Ultima Management : Jurnal Ilmu Manajemen, 14(1), 125-142. https://doi.org/https://doi.org/10.31937/manajemen.v14i1.2557
This work is licensed under a Creative Commons Attribution-ShareAlike 4.0 International License.
Authors retain copyright and grant the journal right of first publication with the work simultaneously licensed under a Creative Commons Attribution-ShareAlike International License (CC-BY-SA 4.0) that allows others to share the work with an acknowledgement of the work's authorship and initial publication in this journal.
Authors are able to enter into separate, additional contractual arrangements for the non-exclusive distribution of the journal's published version of the work (e.g., post it to an institutional repository or publish it in a book), with an acknowledgement of its initial publication in this journal.