ANALISA PRODUK CACAT MENGGUNAKAN METODE SIX SIGMA PADA PERUSAHAAN GARMEN
Bagus Anggarda Jaya

BINUS Business School, Bina Nusantara University

Mulyono Mulyono

BINUS Business School, Bina Nusantara University
Abstract
Abstract- The purpose of this study is to determine the level of product quality achieved or the level of six sigma produced, what factors cause defective products, how to reduce defective products at PT XYZ which is a garment company. PT XYZ was established in 2013 and has a focus on apparel production. This research contributes to the analysis to reduce product defects by using the six sigma method. The six sigma method is a program that is planned to reduce defects, reduce costs, save time and increase customer satisfaction. The six sigma method seeks to reduce the variation of the process, increase the capability of the process in producing error-free goods or services to increase value to customers. Data collection techniques using interviews with company management and observing the company. The types of data used are primary data and secondary data. The analytical method used is six sigma with DMAIC (Define, Measure, Analyze, Improve, Control). The results of the research on the quality level of the company's products are at the sigma level of 3.9 with a DPMO value of 8311 indicating the company has a competitive value that is in accordance with the industry average in Indonesia. The factors that cause defective products are machines, people, materials, and methods. Ways to reduce defective products at the company include carrying out regular maintenance, giving strict sanctions to operators who are negligent and in a hurry, providing training to operators, providing training to operator supervisors, making Standard Operating Procedures and detailed work instructions, improving quality control in selection of raw materials.
Keywords: Operation Management; Garmen Company; Product Defects; Quality Control; Six Sigma
Downloads
Download data is not yet available.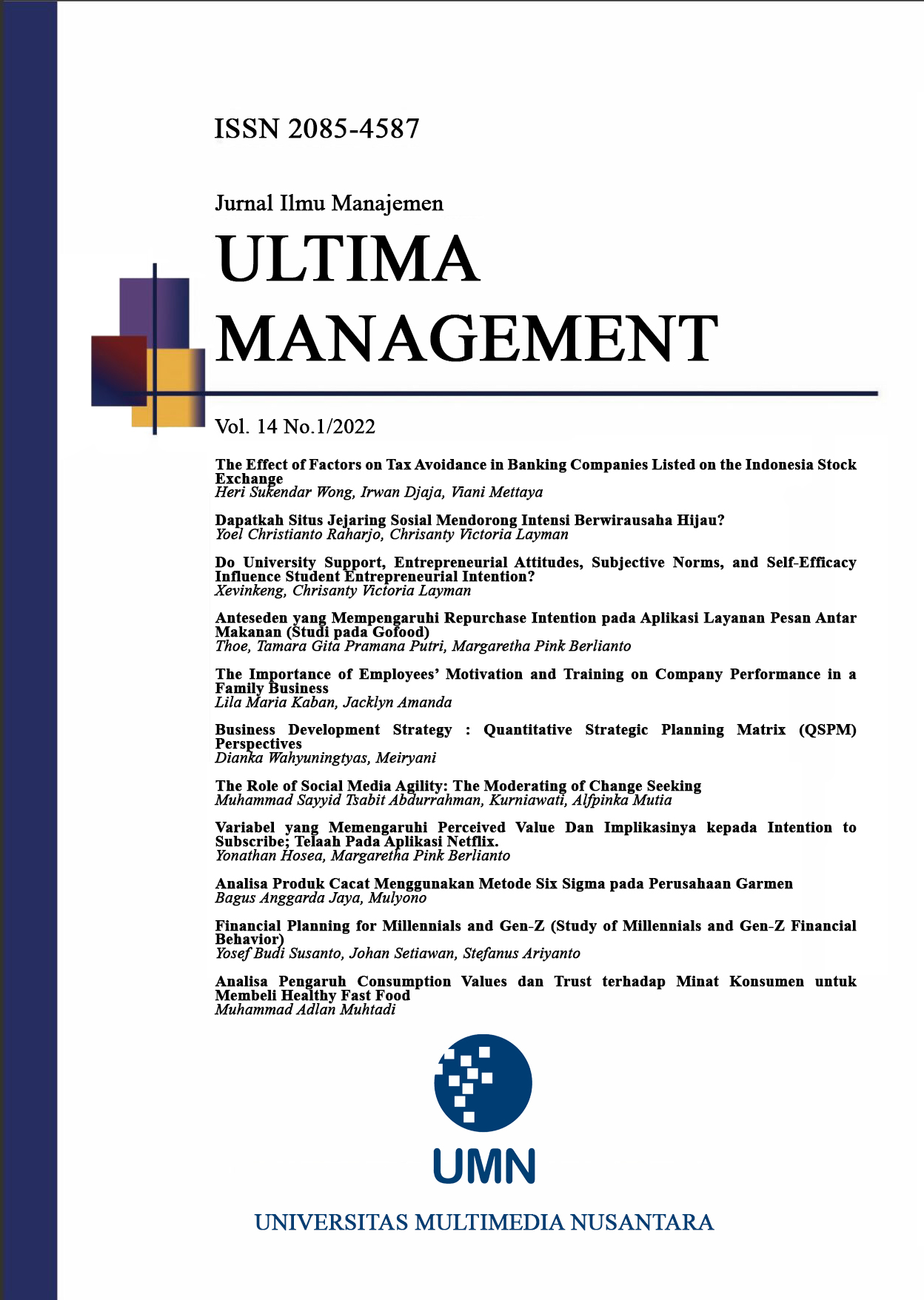 How to Cite
Jaya, B., & Mulyono, M. (2022). ANALISA PRODUK CACAT MENGGUNAKAN METODE SIX SIGMA PADA PERUSAHAAN GARMEN. Ultima Management : Jurnal Ilmu Manajemen, 14(1), 143-155. https://doi.org/https://doi.org/10.31937/manajemen.v14i1.2590
This work is licensed under a Creative Commons Attribution-ShareAlike 4.0 International License.
Authors retain copyright and grant the journal right of first publication with the work simultaneously licensed under a Creative Commons Attribution-ShareAlike International License (CC-BY-SA 4.0) that allows others to share the work with an acknowledgement of the work's authorship and initial publication in this journal.
Authors are able to enter into separate, additional contractual arrangements for the non-exclusive distribution of the journal's published version of the work (e.g., post it to an institutional repository or publish it in a book), with an acknowledgement of its initial publication in this journal.