LEGAL AND ETHICAL ASPECT OF DOUBLE INSURANCE IN INDONESIA: A LITERATURE REVIEW
Kanon Mommsen Wongkar

Universitas Multimedia Nusantara
Abstract
Abstract- This paper examines the existence of legal as well as ethical aspects of marketing particularly in the insurance sector. The matter discussed in this paper is concerning double insurance practices whereas marketers within certain insurance companies still satisfy their customer with certain insurance coverage to any loss that is already covered under another insurance product with goal to gain profit from a claim. Insurance industry shows promising future recently. Nonetheless certain practices seem to break the rules. Among others is double insurance practices. Basically this is prohibited under Indonesian commercial code but somehow is still in practice nowadays. To avoid illegal as well as unethical activities concerning double insurance practices, it is required that Indonesia have National Database of Insurance Coverage where all coverages are registered under one system by which an insurance company may avoid double insurance prior to underwriting certain risk. This research is a literature research covering literature as well as regulation enforceable in Indonesia as well as other countries for comparison. The research shows that coordination of benefit and co-insurance mechanisms are allowed mechanisms of double insurance while the other mechanisms are prohibited. Principle of contribution and subrogation well known in insurance to avoid any loss caused by waiver and estoppel arisen from a double insurance practice. In managerial ground, ethical code of conduct as well as its application and evaluation is mandatory to avoid any possible flaw concerning double insurance.
Keywords: Misrepresentation; Double Insurance; Marketing Ethics
Downloads
Download data is not yet available.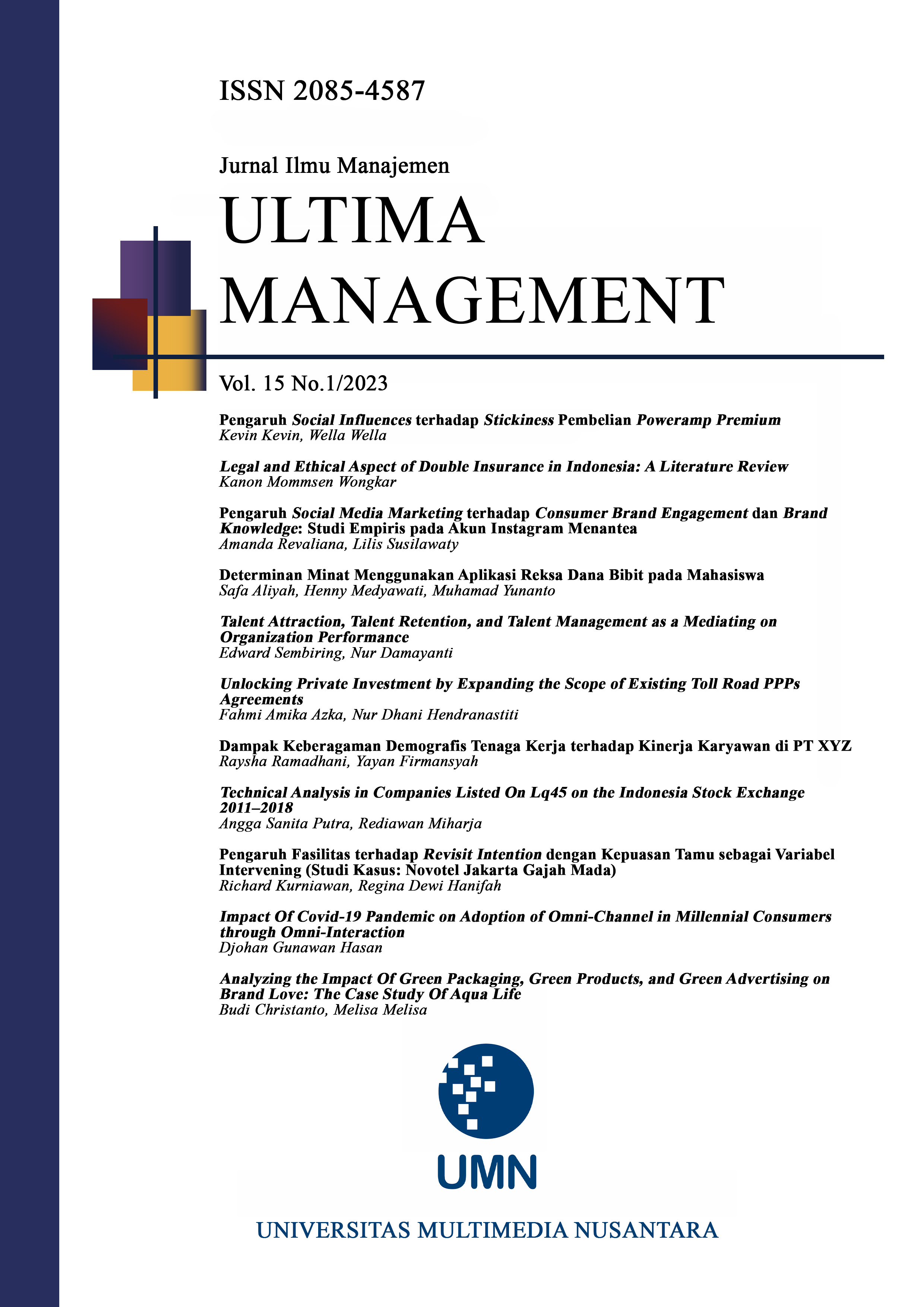 How to Cite
Wongkar, K. (2023). LEGAL AND ETHICAL ASPECT OF DOUBLE INSURANCE IN INDONESIA: A LITERATURE REVIEW. Ultima Management : Jurnal Ilmu Manajemen, 15(1), 15-24. https://doi.org/https://doi.org/10.31937/manajemen.v15i1.3011
This work is licensed under a Creative Commons Attribution-ShareAlike 4.0 International License.
Authors retain copyright and grant the journal right of first publication with the work simultaneously licensed under a Creative Commons Attribution-ShareAlike International License (CC-BY-SA 4.0) that allows others to share the work with an acknowledgement of the work's authorship and initial publication in this journal.
Authors are able to enter into separate, additional contractual arrangements for the non-exclusive distribution of the journal's published version of the work (e.g., post it to an institutional repository or publish it in a book), with an acknowledgement of its initial publication in this journal.