PENGARUH SOCIAL MEDIA MARKETING TERHADAP CONSUMER BRAND ENGAGEMENT DAN BRAND KNOWLEDGE: STUDI EMPIRIS PADA AKUN INSTAGRAM MENANTEA
Amanda Revaliana

Fakultas Ilmu Sosial dan Humaniora, Universitas Bunda Mulia

Lilis Susilawaty

Fakultas Ilmu Sosial dan Humaniora, Universitas Bunda Mulia
Abstract
Abstract - The growth of the F&B business is currently growing very rapidly in Indonesia, one of the F&B businesses currently growing rapidly is Menantea. This study aims to see the influence of social media marketing elements on Consumer Brand Engagement and Brand Knowledge on Instagram Menantea social media accounts. This study uses a quantitative approach and a sample of 155. The sampling method uses non-probability with convenience sampling techniques. Data were analyzed using Smart-PLS 3.0 software. The results of this study reveal that the elements namely EWOM, Interaction and Trendiness have a significant influence on Consumer Brand Engagement which has implications for brand knowledge. However, the variable elements, namely Entertainment and Customisation, are not significant to Consumer Brand Engagement on Menantea's Instagram social media accounts. For further researchers, they can conduct research on other social media platforms such as Tiktok or Twitter Menantea so that comparisons can be made, then they can study variables that can affect Consumer Brand Engagement and Brand Knowledge.
Keywords: Brand Knowledge; Consumer Brand Engagement; Social Media Marketing Element
Downloads
Download data is not yet available.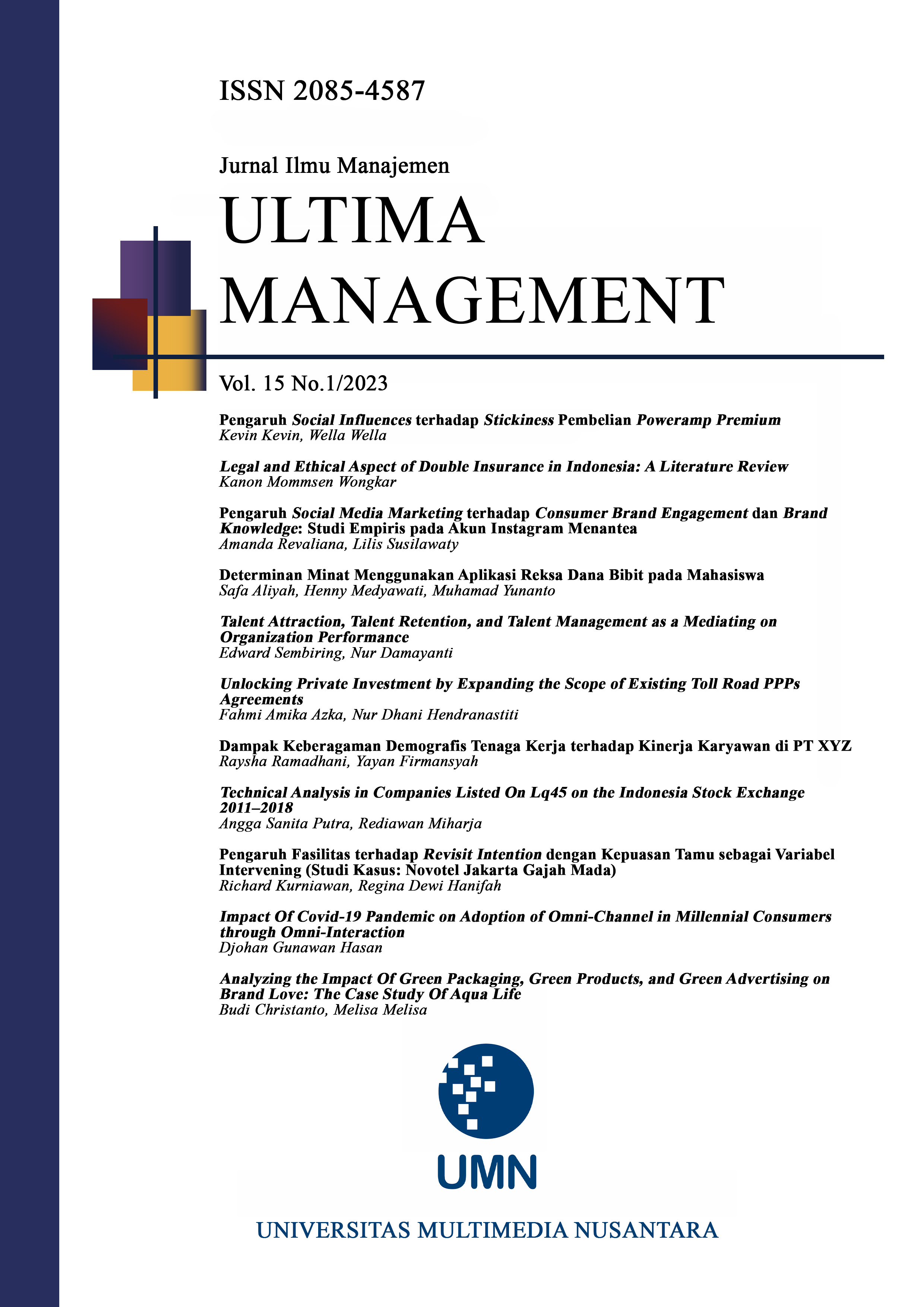 How to Cite
Revaliana, A., & Susilawaty, L. (2023). PENGARUH SOCIAL MEDIA MARKETING TERHADAP CONSUMER BRAND ENGAGEMENT DAN BRAND KNOWLEDGE: STUDI EMPIRIS PADA AKUN INSTAGRAM MENANTEA. Ultima Management : Jurnal Ilmu Manajemen, 15(1), 25-39. https://doi.org/https://doi.org/10.31937/manajemen.v15i1.3018
This work is licensed under a Creative Commons Attribution-ShareAlike 4.0 International License.
Authors retain copyright and grant the journal right of first publication with the work simultaneously licensed under a Creative Commons Attribution-ShareAlike International License (CC-BY-SA 4.0) that allows others to share the work with an acknowledgement of the work's authorship and initial publication in this journal.
Authors are able to enter into separate, additional contractual arrangements for the non-exclusive distribution of the journal's published version of the work (e.g., post it to an institutional repository or publish it in a book), with an acknowledgement of its initial publication in this journal.