TECHNICAL ANALYSIS IN COMPANIES LISTED ON LQ45 ON THE INDONESIA STOCK EXCHANGE 2011–2018
Angga Sanita Putra

Faculty Of Economics, University Of Singaperbangsa Karawang

Rediawan Miharja

Faculty Of Economics, University Of Singaperbangsa Karawang
Abstract
Abstract- Technical analysis is an investment strategy known by investors to reduce the risks that occur in stock investments. The assumption of technical analysis that uses past data contradicts the efficient market hypothesis, where technical analysis cannot obtain abnormal returns in an efficient market, and not all markets are efficient because there are things that can interfere with market efficiency, namely behavioral finance and Indonesia is an emerging market capital. This study aims to compare how significant is the difference between return obtained through a technical analysis applying simple moving average strategy and return obtained from the buy hold strategy in the sideways period, bullish period, and also during the all period of both sideways and bullish. This will imply whether or not the market in Indonesia has been efficient. To compare the differences in returns in this study, t test was conducted with SPSS 23 for companies listed on LQ45 on the Indonesia Stock Exchange. From the results of the difference in returns in this study, it was found that the market in Indonesia was efficient in the weak form because of the non-significant difference of return of the simple moving average strategy and buy-hold-startegy. This result will provide a reference for investors to choose the best investment strategy in Indonesia. Research focuses on weak form efficient markets during the bullish and sideways periods. Further researchers can also examine the bearish market.
Keywords: Technical Analysis; Efficient Market Hypothesis; Behavioral Finance; Emerging Market Capital; Simple Moving Average; Indonesia Stock Exchange
Downloads
Download data is not yet available.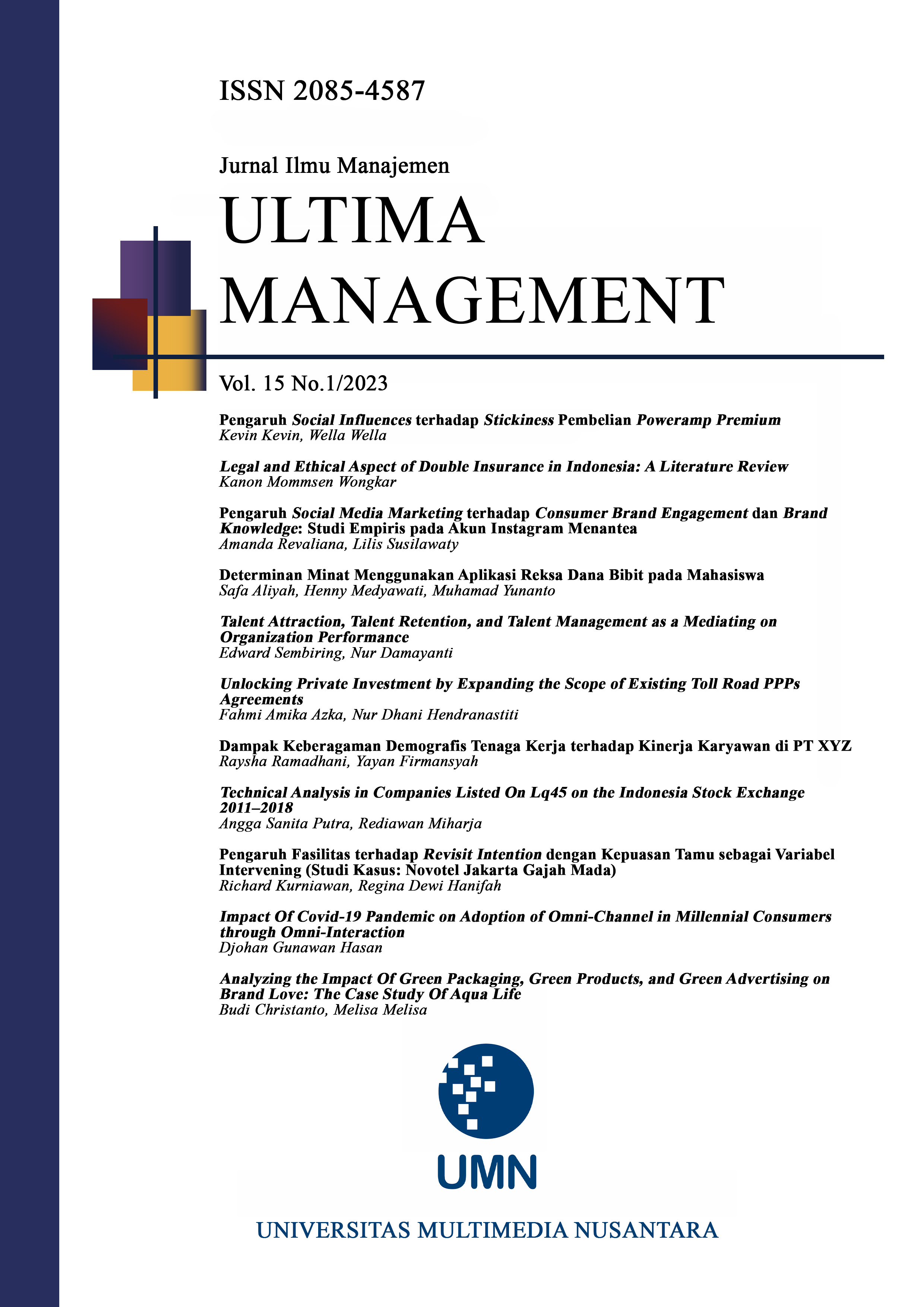 How to Cite
Putra, A., & Miharja, R. (2023). TECHNICAL ANALYSIS IN COMPANIES LISTED ON LQ45 ON THE INDONESIA STOCK EXCHANGE 2011–2018. Ultima Management : Jurnal Ilmu Manajemen, 15(1), 124-130. https://doi.org/https://doi.org/10.31937/manajemen.v15i1.3175
This work is licensed under a Creative Commons Attribution-ShareAlike 4.0 International License.
Authors retain copyright and grant the journal right of first publication with the work simultaneously licensed under a Creative Commons Attribution-ShareAlike International License (CC-BY-SA 4.0) that allows others to share the work with an acknowledgement of the work's authorship and initial publication in this journal.
Authors are able to enter into separate, additional contractual arrangements for the non-exclusive distribution of the journal's published version of the work (e.g., post it to an institutional repository or publish it in a book), with an acknowledgement of its initial publication in this journal.