IMPACT OF COVID-19 PANDEMIC ON ADOPTION OF OMNI-CHANNEL IN MILLENNIAL CONSUMERS THROUGH OMNI-INTERACTION
Djohan Gunawan Hasan

Universitas Multimedia Nusantara
Abstract
Abstract- The covid-19 pandemic with the lockdown and social distancing mandates have disrupted the consumer purchase behaviour. This disruption had the impact in adoption of omni-channel during the pandemic, specific in millennial consumers. As a young generation, and large population, their purchasing power is making them an interactive target for consumer industries. Millennials as consumers of technology on omni-channel will be the focus of this research.This research was tested with a data collected from September 2019 as pre-pandemic period and on December 2020 as within-pandemic period. The output reveals that Omni-interaction and Millennial purchase behaviour are not strengthen the Omni-experience and Adoption omni-channel within-pandemic period compare to pre-period. The key is the lockdown and social distancing mandates accelerated the digital transformation impacted direct to process of adoption of omni-channel. The quality and credibility of information influenced the millennial to make purchasing decisions. This research will contribute to the literature by providing a factors of adoption omni-channel to understands consumers and their experiences to purchase. Limitation of this research is draws conclusions based on data that were collected at pre and during pandemic period. To overcome this limitation, future research should consider the post pandemic period dataset especially when available.
Keywords: Covid-19; Omni-channel; Millennial; Adoption; Experience
Downloads
Download data is not yet available.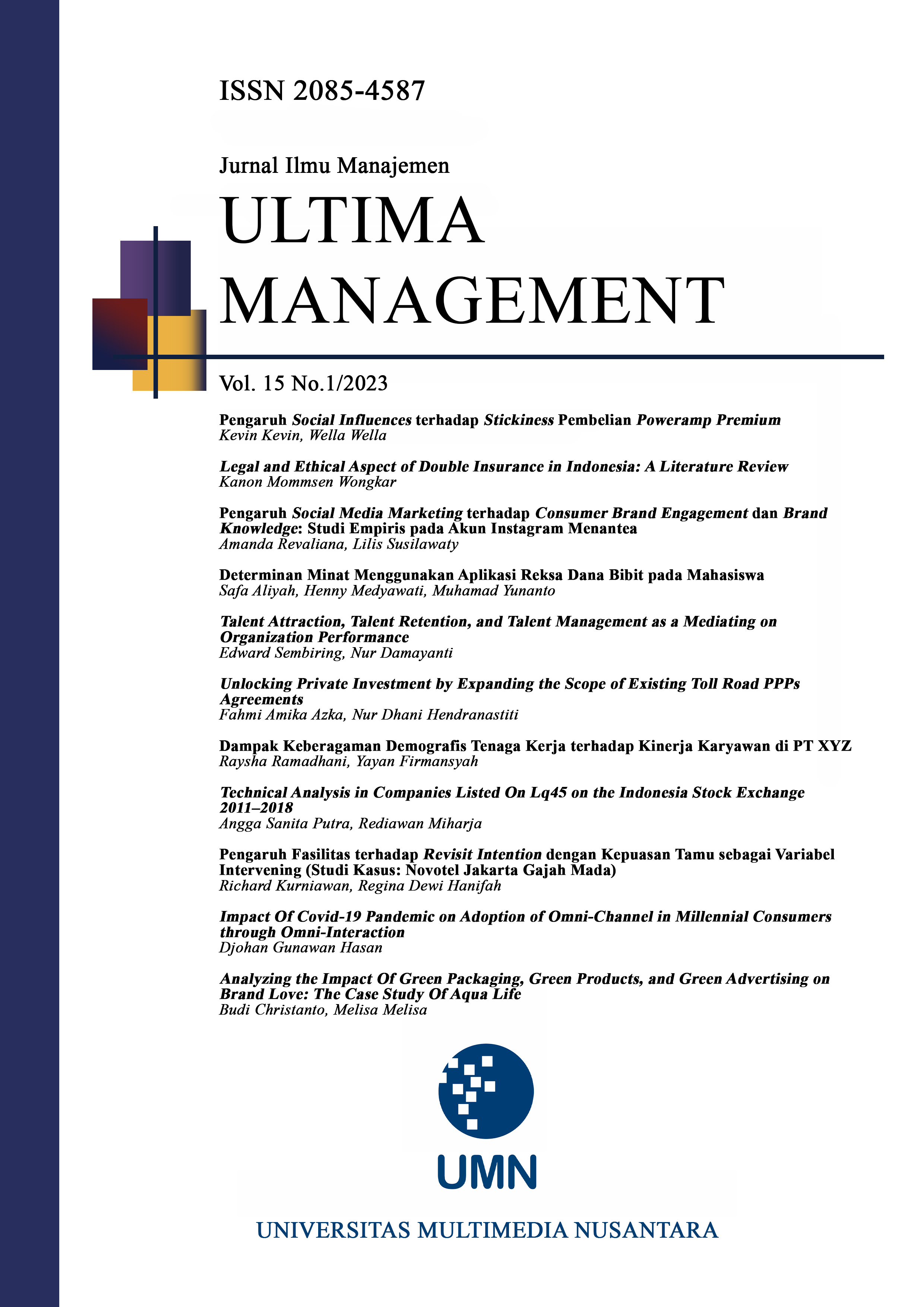 How to Cite
Hasan, D. (2023). IMPACT OF COVID-19 PANDEMIC ON ADOPTION OF OMNI-CHANNEL IN MILLENNIAL CONSUMERS THROUGH OMNI-INTERACTION. Ultima Management : Jurnal Ilmu Manajemen, 15(1), 147-165. https://doi.org/https://doi.org/10.31937/manajemen.v15i1.3209
This work is licensed under a Creative Commons Attribution-ShareAlike 4.0 International License.
Authors retain copyright and grant the journal right of first publication with the work simultaneously licensed under a Creative Commons Attribution-ShareAlike International License (CC-BY-SA 4.0) that allows others to share the work with an acknowledgement of the work's authorship and initial publication in this journal.
Authors are able to enter into separate, additional contractual arrangements for the non-exclusive distribution of the journal's published version of the work (e.g., post it to an institutional repository or publish it in a book), with an acknowledgement of its initial publication in this journal.