ANALYZING THE IMPACT OF GREEN PACKAGING, GREEN PRODUCTS, AND GREEN ADVERTISING ON BRAND LOVE: THE CASE STUDY OF AQUA LIFE
Budi Christanto

Faculty of Social Science and Humanities, Universitas Bunda Mulia

Melisa Melisa

Faculty of Social Science and Humanities, Universitas Bunda Mulia

Michael Vikend Cu

Faculty of Social Science and Humanities, Universitas Bunda Mulia
Abstract
Abstract - Global warming that has occurred lately is still an issue that is often heard by the public. Company's awareness of the importance of social responsibility and attention to the environment has become an important topic to be studied. The gap between high consumer awareness and the popularity of green products towards actual purchasing interest and behavior becomes an interesting research topic. Many previous studies have identified the reasons for this phenomenon due to the lack of comfort, lack of knowledge, lack of trust, and various risk perceptions. Therefore, the aim for this research is to understand and uncover the relationship between Green Marketing (Green Product, Green Packaging, and Green Advertising) with Brand Love by using Aqua Life product as the object of this research. Data collection used in this research is questionnaire as primary data, and the internet and journal articles related to the research title for additional data and references. The population used in this study is consumers who have purchased AQUA Life products in DKI Jakarta, Bogor, Tangerang, and Bekasi. The sample size is 176 where all of the samples are consumers of Aqua Life. In conclusion, out of the three independent variables (Green Product, Green Advertisement, Green Packaging), Green Advertisement and Green Packaging proved to have significant relationship with Brand Love and Green Product has no significant relationship on Brand Love. Furthermore, it is known from his research that Green Advertisement has a greater influence on Brand Love compared to Green Packaging. This study provides new insights from previous research that showed that green marketing and green packaging can increase brand love, but not all green marketing strategies are equally effective, and the findings help marketers and business enterprises to better understand customer behavior towards Green Products attitude and to create better marketing strategy.
Keywords: Brand Love; Green Advertising; Green Packaging; Green Products; Sustainable Marketing
Downloads
Download data is not yet available.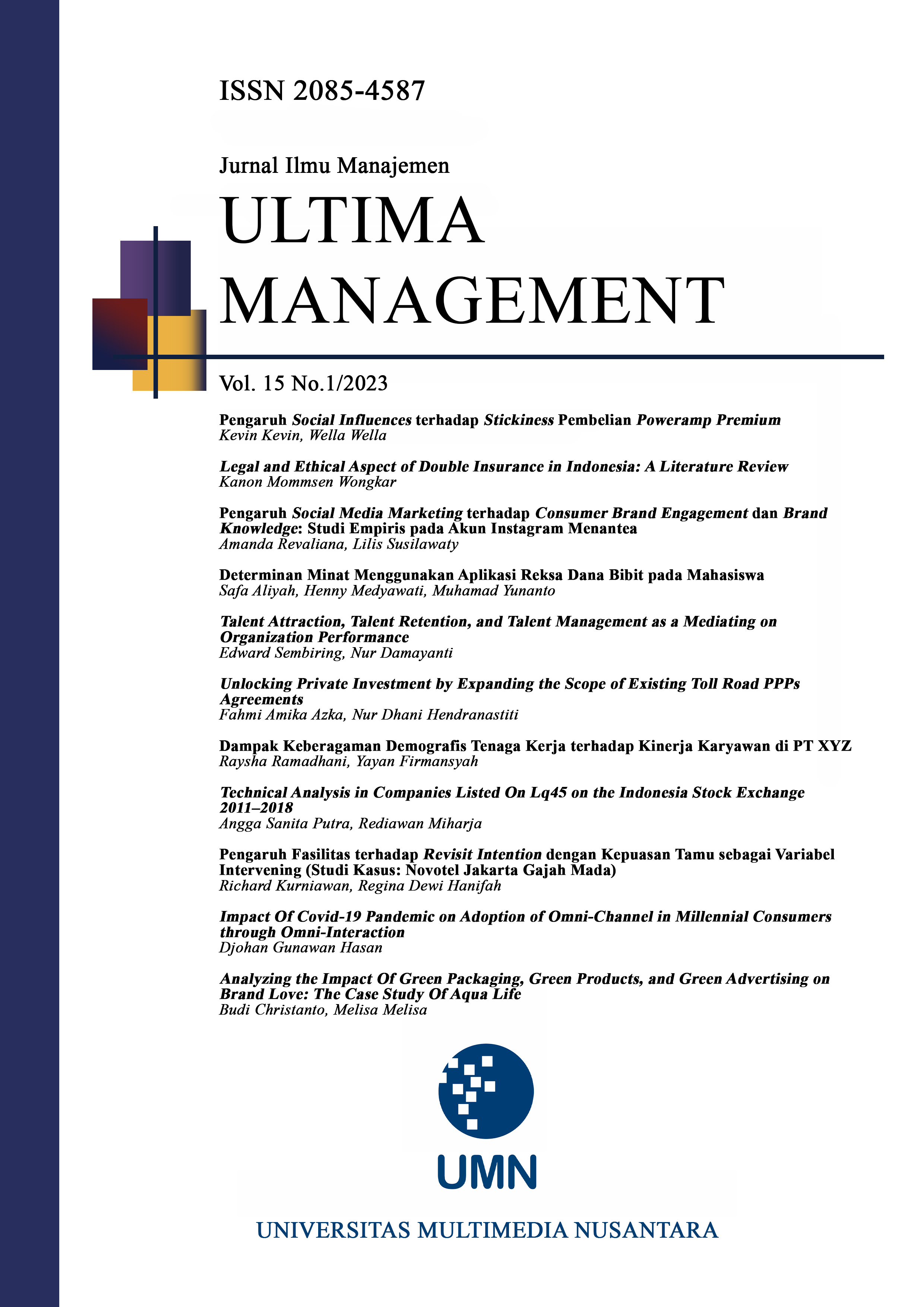 How to Cite
Christanto, B., Melisa, M., & Cu, M. (2023). ANALYZING THE IMPACT OF GREEN PACKAGING, GREEN PRODUCTS, AND GREEN ADVERTISING ON BRAND LOVE: THE CASE STUDY OF AQUA LIFE. Ultima Management : Jurnal Ilmu Manajemen, 15(1), 166-179. https://doi.org/https://doi.org/10.31937/manajemen.v15i1.3243
This work is licensed under a Creative Commons Attribution-ShareAlike 4.0 International License.
Authors retain copyright and grant the journal right of first publication with the work simultaneously licensed under a Creative Commons Attribution-ShareAlike International License (CC-BY-SA 4.0) that allows others to share the work with an acknowledgement of the work's authorship and initial publication in this journal.
Authors are able to enter into separate, additional contractual arrangements for the non-exclusive distribution of the journal's published version of the work (e.g., post it to an institutional repository or publish it in a book), with an acknowledgement of its initial publication in this journal.